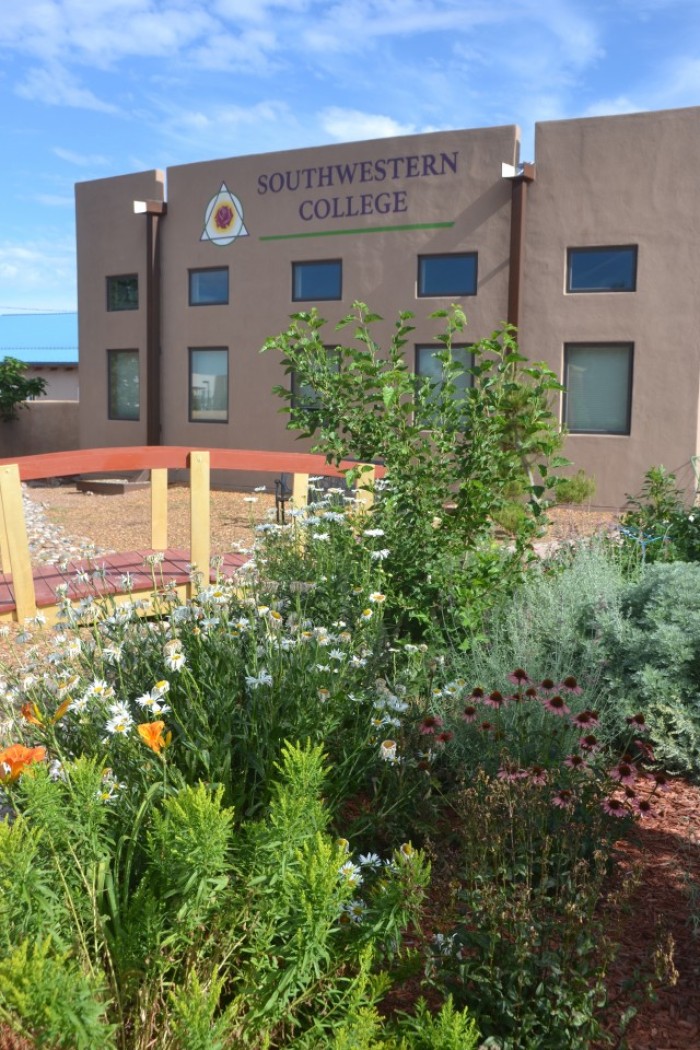 Holistic Masters Degrees are Different…
So, all of the great teachers and wisdom traditions through history have carried and offered the same general teachings. It has been called the "Perennial Wisdom" or "Philosophia Perennis" by some. The words may be different, the era and culture within which these few teachings were articulated certainly influenced the shape and the specifics of the articulation. But the teachings were fundamentally the same.
And there have always been dogmatists who, sometimes even with good intention (though often not) seized on these teachings (as articulated during their time, and as understood, often wrong-headedly by them) , and rather than embrace them as age and place-bound articulations of the ancient wisdom, proclaimed them not only sacred (which they are, or were), but indisputable, stone-carved truth, derived directly from Source, which in these cases is always understood in a very narrow and problematic manner.
Typically, these dogmatists added details and particulars (usually self-serving) which were not part of the ancient wisdom, and they insisted on making them part of their dogmatic schema. They would then position the newly constructed dogma in opposition to any and all "competing" systems that used different words (for example, God, as opposed to Allah, or Source or Yaweh), or which did not embrace the added accoutrements, scaffolding, accessories or socio-spiritual bling (such as saints, virgin births, infallibility, "literal" interpretations of long ago translated texts, and so on) that made the dogmatists' version "unique."
Three Understandings
The original lineages, pre-dogmatization, virtually all embrace, among other things, some Version of these three understandings:
1. There is "something going on" that is bigger than our individual selves and personalities
2. We all derive from, and are "part of", that bigger thing. We are understood, in a seemingly mysterious way, to be both unique and individual manifestations of Source, while at the same time part of one unified whole, or entity, or energy field, or…
3. Thus (and language on this one varies more across lineages), there is "another level" going on (and we are bound to be working in metaphor at this point—it is simply unavoidable):
As above, so below; earthly and heavenly; mundane and spiritual/etheric; form and essence; Plato's ideal and life on earth.
You are probably familiar with these notions.
What happens, somehow, over time and across cultures, is that the dogmatists, and others who are not particularly evolved, enlightened, or awake, but seem to desire structure, organization, and usually power, forget or never got #3. Maybe not #2, either.
But Many Lost These Teachings
Among the cultures that have lost one or all of these truths are those in the fat part of the western science bell curve, and the logical positivists, and indeed almost all divisions, schools and colleges within western universities. They seemed not to be able to figure out how to incorporate (perhaps literally, certainly figuratively) the ancient, shared wisdom teachings.
The "Dustbowl Empiricists" contend that" if a thing exists, it exists in some amount, and if it exists in some amount, then it can be measured." So when some of us moved our focus outside of form, outside the material, the mundane, the earth-based– well, the dogmatists and empiricists were kind of thrown off, and decided that, indeed, if something did exist outside of the realms of form, then it must be somebody else's business (philosophy, metaphysics, religion, astrology, etc.) and not worth their time. Or in older times, they just put the guys who talked about that stuff in jail, or killed them off.
Indeed, and in order to not look (to the outside world) or feel (inside) that they had punted (or killed) anything of importance, many of them declared that stuff alleged to reside outside of their comfortable and claimed realm, did not exist (at worst) or (slightly better), there was at least no evidence to support the notion of their existence. Just for safe measure, they set up rules that the only acceptable evidence would have to be gathered, analyzed, and proffered using techniques and methods that they used and declared to be valid in their own research on, for example, rocks, or musculo-skeletal systems.
They effectively (very effectively, indeed) left the other guys out of the game, out of the club. It's like saying that the only tool allowable for installing delicate glass windows is a jackhammer. Good luck with that.
The fact that these now "powers that be" denied the existence of, or turned a blind eye or deaf ear toward the most important, most widely and lastingly held teachings and understandings in the history of the human dance with meaning, did not even slightly keep the wisdom carriers of each generation and culture from continuing to hold the wisdom. They simply got relegated to the much-dissed seat in the back of the Academic Bus. Many in those seats did not even notice; indeed, some even welcomed the assignment.
There was simply too strong a track record for these ideas to drift away. And still too, key mainstream luminaries such as Albert Einstein, Albert Schweitzer, and nowadays, a subset of the quantum science guys are still publicly, joyfully, unwaveringly and unapologetically pointing to those "other levels" and insisting that that is where the action is.
Mainstream is not sure what to do with these guys, so they toss them an occasional biscuit, call them visionaries (which suggests vaguely that they are seeing visions, which again suggests vaguely that they might be "seeing things which are not really there"), and that's the best they can do with these embarrassments.
How Things Sit Now
The phenomena of #2 and #3 still remain, then, in the human experience, big as you please, big fat hippos, lounging around the aisles and pews and altars of the Church of Reason, and the Cathedral of Science. They are, indeed, inconvenient truths.
Even now, very "smart" people in Psychology, for example (I use this example because it is my own field of training) cannot get themselves to discuss the hippos unless they can do so from an "evidence base". So they make up "instruments" (itself an unacknowledged metaphor) that purports to "measure" (metaphor again) variables (hypothetical and reified constructs) that are hypothesized to be potentially related to the hypothesized phenomenon (usually a reified, noun-ified, hypothetical construct).
So, for example, a "Factor Analysis" can now suggest that spirituality can be conceptualized as consisting of seven discrete, measurable variables.
Yeah, whatever.
Seriously, and sadly, in the Academy, it often doesn't get much better than that.
So how would the Academic world wangle itself out of this corner (albeit a huge and well-appointed corner) into which it had painstakingly painted itself? How would it get back into the game? (Assuming it  would want to…)
Well, first off, Quimby/Southwestern College was founded with all three of the aforementioned perennial truths as cornerstones, so we have never found ourselves wondering how or why we got grounded solely in the "third dimension." Also, at Southwestern College, we have never subscribed to the limited base of evidence that the mainstream academy has claimed is acceptable.
Because, we believed, when you insist that the human condition be understandable without going beyond the third dimension, you are in trouble. You run into unconvincing answers, you lament the dearth of available evidence, and you collect academically stamped passports that never get you where you claim you want to go.
What Other "Evidence" Is There Besides "Scientific"?
What else is there besides "scientific evidence"? Well, all the other kinds of evidence. Experience, experience and experience. Intuition, enlightenment, epiphanies. Everything else. Divine Intervention. Inner knowing.
Everyone thinks that luminaries like Jesus, the Dalai Lama, the Buddha, Mother Teresa had a handle on some really important truths, but we all know that none of them gave a hoot about, or were ever even exposed to what now passes for "research". Of course many people find Jesus cute and visit him weekly in a structured ceremony, but few really find his idealistic ramblings relevant at the office tomorrow. He and his teachings have to be dismissed, somehow. At Southwestern College, we, of course, encourage our teachers (note the small case "t"), to awaken the student's inner teacher, the one who is truly free of the cultural trance and the yammering voices of the ten thousand personalities, the inner voice that aligns with the "bigger thing going on" and receives and critiques teachings and philosophies from that vantage point.
Admittedly, we at Southwestern College do, institutionally, align with the perennial teachings, mentioned earlier. Sometimes, prospective or even current teachers express the notion or opinion that all teaching should be welcomed, embraced, offered in a spirit of open inquiry at our school. That is a compelling notion, but we find ourselves not completely in alignment with it.
Our mission points toward some core values and beliefs. It points toward a dimension or plane beyond the third dimension, the place where there is a Unity or a coming together, or the place where all the individual fingers of the glove have full awareness of their being part of the glove. A plane on which their "Gloveness" is impossible to deny or keep in darkness. Other schools teach other things. Teachers should find schools where they feel in alignment with the mission.
What We Require In A Teacher
When an instructor or practitioner is dead-set on one theoretical approach, and one that does not acknowledge, let's call it the 4th dimension (and above) (another spatial metaphor), then it is hard to imagine how such an approach can support or be aligned with our mission.
Teachers who feel that only the physical apparatus is important or relevant to human functioning, or who believe that the body and brain constitute the whole package, are operating under a significantly different set of assumptions, beliefs, and values than those embraced at Southwestern College. We have all the respect in the world for neurobiology and brain functioning and chemistry, as relevant phenomena in Psychology and human functioning. Indeed, we teach it. We just happen to hold that these important factors are still in the realm of form and we are holding, as has been made clear, that many other important variables are outside the realm of form. (Spirit, intuition, and on and on).
We don't require anybody to share that perspective, unless they are interested in being part of Southwestern College. You can't reject Rudolf Steiner and then ask to teach at the Waldorf School, or reject Catholicism and ask to teach in a Catholic Seminary. Wouldn't make sense.
Now among the lineages and approaches that acknowledge the "higher level" we find great variability in articulation, understanding and with that we take no issue.
We do, again, embrace "experiential learning", and while we offer assistance and training for faculty in offering that style of learning, the form it takes varies wildly, from medicine walk to Light Figure work, to working with dyads, and a great number of other techniques and possibilities. We have and we exercise a lot of flexibility in defining and supporting "experiential learning."
Clinical Implications
So to state it simply, we hold that if a Counselor or Art Therapist is present only at a form or mundane level, and acknowledging and inviting (explicitly or outside of awareness) only that level of his or her clients, then great potential is being kept out of the therapeutic relationship.
Much as many clinicians bemoan the forced "treating of symptoms rather than root causes" (a medical metaphor by the way), so we at Southwestern College bemoan the "treating of form" only without reference to the "greater meaning" at what might be called the spiritual level, or destiny path level, holistic level or the like. We will hold that a clinical (again, another probably inappropriately appropriated metaphor) presentation has been co-created between a client and the universe and that the situation has a purpose, meaning or teaching embedded in it, whether the situation is desired or not (usually not).
The Counselor's job is then to assist the client in experiencing and exploring the situation for its greater meaning or teaching and to discover how, if it is indeed possible, to "get" or receive the teaching in a way that offers them relief from the undesired state or allows them to access the resources needed to tolerate or transform the situation or their consciousness surrounding the situation, symptom, emotional pain, or what have you.
To work only with symptom reduction at the level of form can bring relief but also can result in missing the teaching, learning or message that is being delivered. To be glib, and just a little silly, you would not remove the batteries from the smoke detector in your house because the noise it makes when it goes off is unpleasant. You would not put duct tape over the oil light in your car because the message "Your car is going to blow up" is unwanted and you can't afford another car now, anyway.
In Summary
This piece is not intended to be significantly judgmental. Indeed, if I were above that level of personality I have referenced in this piece of writing, it would not be judgmental at all. But alas, that's not how it is. This writer does have a judgment that addressing the "higher levels" is a more useful, loving, meaningful thing to do. I own that.
Of course no one need agree with me, or, to the extent that I am fairly representing Quimby/Southwestern College, the College itself. We obviously like what we do, and we are what has been designated a "niche school"—we do things differently, and we are not for everybody. We certainly wish our approach were mainstream, but alas, that day is not upon us, yet. Still, we reserve the right to use our discernment in choosing which teachers will continue to advance our mission, and I hope this piece helps the world understand why…
The Higher Learning Commission and the American Art Therapy Association are on board with us—they both accredited Southwestern College for the longest period of time allowed. So it is nice to have an objective arbiter of academic quality giving us their stamp of approval as well. Southwestern College, Santa Fe offers a Master's Degree in Counseling and in Art Therapy, and we are very proud of our unique positioning in higher education…
About the Moderator