Experiential Learning in Intimate Classroom Settings…
During my professional career, I have been trained by, and taught for, seven distance learning universities, primarily in doctoral Psychology programs, but also in MA Counseling programs. When I first came to Southwestern College, I stated an intention to put our MA Counseling program "online" and fully planned to launch the first Art Therapy program online as well. I figured we could do a nice, quality program online and create an income stream, like everybody else was doing.
Over the course of three years, I came to understand more fully the unique transformational education paradigm and experience SWC offered, and one day I woke up with the clear realization that we simply could not put our programs online. We could put A program online, but it would not be OUR program. (That was not easy news to break to the board of trustees or to others who were certain we were going online)…
While I fully respect what distance education can do, it became clear to me that the profound, interactive experiences we offer at Southwestern College could not be replicated in a distance, or even a blended format. They are too sophisticated, complex, energetically involved and dependent on human interactivity.
The prototypic online course has weekly readings, a couple of required posts, a couple of required responses to fellow learners' posts, maybe a group project, maybe a paper. Incredibly complex, unrealistic "rubrics" guide a numbers-based grading scale that is to be applied to each post, each response. Sometimes the online discussions are animated and thought provoking, usually less so. The residencies can he more interesting, yet I found them intellectualized, content-driven, left-brain only, and again, increasingly driven by the "rubrics" that try to reduce the learning to a number, which turns into a grade. I saw little emphasis on personal growth, deep self-reflection, and more on pouring "evidence-based" content into waiting containers (the learners), who are asked to reiterate the content, in third person writing , "scientific" style. "Please use references, because we most certainly don't want to hear or know what students think. They don't know enough to have anything worth hearing anyway." Of course that is not true ONLY of distance learning, but of many or most graduate programs I have seen.
Southwestern classes often begin with a meditation, or a reflection, or in a more ceremonial fashion, honoring the special nature of the learning space and the experience this class is about to offer. Coming together in the same space, in the same energy field, with a conscious intention to be present in the moment during a co-created, active engagement of the course material, makes for an intense and creative learning experience that does not make much room for disconnection, or over-intellectualizing the phenomenon being studied.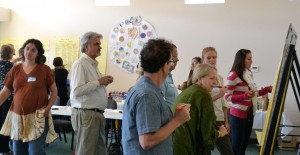 You just can't create that online. And unless a school's values call for it, they WON'T create it in face-to-face residencies. Most don't. At Southwestern you may get a lecturette or a power point from time to time, but you may also get animated discussions, a medicine walk, you will participate in a Tribe in our Psychology of Consciousness series, you will work hands on with Counseling and Art Therapy techniques. Your final class may involve a drumming circle, a meditation, a potluck with ceremonies, a Peruvian despacho ceremony, or you may co-design your own meaningful closing experience with your instructor and classmates to honor and mark the experience of the course.
Computers are truly great things. We use them all the time for traditional processing of information gathered in experiential learning environments. They are enormously useful tools for documenting creative engagements with course materials. Our school is on Facebook, You Tube, Twitter. I use Google Analytics a lot.
We take no issue with technology, we love it. When human beings meet in a shared space or energy field in the moment, with mind, body and spirit and full interpersonal neurobiology fully engaged; when they open their hearts and consciousness and curiosity to sometimes challenging, even dis-orienting possibilities—WOW! Transformation happens. Sometimes our preferred paradigms, beliefs, get challenged, our cultural trances are shattered and a whole new world of possibilities becomes available. And if we feel grounded in, and trustful of our higher selves, our core selves, we can become curious about differences, not threatened by them, because we know who we are and are not fearful of becoming less or having our ego or personhood threatened.
As a therapist, you really want to be standing in your own truth, your own inner knowing, and then the way you choose to "Be" as a therapist rings with authenticity and grounded-ness. You grow confident in your own truth and rather than becoming fearful or suspicious of differences, you become interested 
Perhaps technology will change in a way that makes us feel we can offer what we offer from a distance. That is altogether possible, given the pace and fury of technological change these days. But for now, you have to come to Santa Fe, New Mexico, one of the most beautiful cities in the country, and be part of this incredible living and learning community, if you are going to earn a Master's Degree in Counseling or Art Therapy from Southwestern College.
That's actually a pretty magical option…
Jim Nolan, Ph.D.
Jim Nolan, President of Southwestern College, Santa Fe, has taught approximately 250 online classes in Psychology,  for Capella, Walden, Argosy, South University, Yorkville University, and Northcentral University in Prescott Valley, Arizona…
About the Moderator