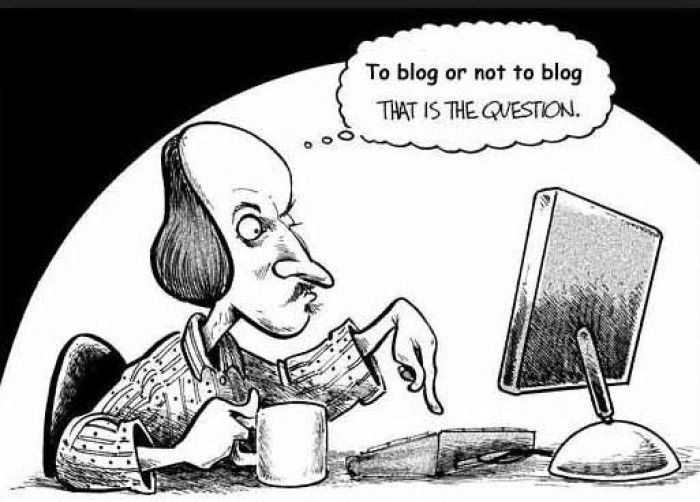 What's the Big Deal about Blogging for the SWC Web Site?
FIRST, WHAT'S IN IT FOR YOU?!?!?
Exposure to a large number of people in our social media network. If you have a practice, or a book, or a service, or whatever, and want NEW readers to know who you are, this would be a good way to get more widely read. Also, any .edu site is an Authority Site, and gets you higher Google juice, so that you come up higher when people go looking for whatever it is you offer.
An opportunity to express yourself creatively, get your thoughts out there in the world, maybe become a "Thought Leader" in your specialty area. I have found that even in groups that have thousands of subscribers, there are VERY few that actually write—most people are waiting for something to respond TO, but do not GENERATE or INITIATE a conversation. A willingness to write can put you in a position to be the conversation starter. THAT is a good thing for your practice.
Let me share some numbers with you, and some anecdotal data.
Over the past 365 days (one year), more people have read a blog post about being a Myers-Briggs INFP (25,462) than read about our Art Therapy/Counseling program (13,774) and our Counseling program (4,857) combined (18,631.)
More people read "The Difference between Counseling and Counseling Psychology" (5.034) than visited our Counseling program page (4,857.)
More people read "11 Things You Have to Know about Becoming a Therapist" (1,595) than our page "About Southwestern College/New Earth Institute" (1,552.)
There are eleven (11) unique blog posts that have more views than the Southwestern College "Cost of Attendance" page.
Thirteen blog posts were viewed more than Debbie Schroder's bio page. Oh, and by the way, Debbie is, as always, THE most highly viewed faculty or staff member at Southwestern College.
354 people viewed my own bio page, while 357 read my post on "Is Art Therapist a Real Job?", and 496 read "Santa Fe, Austin, Boulder, Portland, Asheville: The Invisible Ties."
People like narratives. "Start with a Story", a marketing best-seller states boldly in its title. Dru has been telling me for years that many, many prospects are attracted here, and influenced to come here because of a blog, or a story, some narrative, a human interest piece, something that made this place more interesting than some other passionless, personality-less web sites of other schools. This is not news to us.
REASSURANCES!
People do not understand that blogs are not meant to be great literature—they are more like a letter, or a long text, or a brief phone conversation. No need to agonize over it like it has to be Ulysses. It doesn't. It is casual. It is coffee house talk.
"I don't know what to write about." Anything that goes on in the field, at the school, in the classroom, in Santa Fe, or a billion other things. 115 people read "The Psychology of Coffee", by Sylvan Schneider. 726 read "Should I Get a Ph.D. in Psychology: 19 Ways of Looking at a Doctorate." 110 read "What It Means to Become a Man at Southwestern College", by Kevin Clark. Lots of stuff is interesting, if written with a little passion for the subject.
"I hate to write."
"I don't have the time."
On and on.
Anyway, think about it. Ask Dru and Emilah what brings people here, how do they first notice us, what got them interested and excited in Southwestern College. Sometimes it's just the little pieces of humanity shared in a blog post on Facebook, or pinned on Pinterest.
You might read a few Southwestern blog posts yourself. You might be surprised. And your voice is very, very interesting, and no one else can share your experience for you. So this is an invitation…
Thanks for thinking about it. Writing on behalf of the College amounts to a contribution every bit as valuable as a cash donation. Probably even more so, as the reach is greater, and bringing in one student is a contribution worth more than any of us can afford to write a check for—no doubt about that. AND–it is a great benefit to you–can't bet that Win-Win situation…
Thanks for your open mind and heart and pen…
(They still use those, right?)
Warmly,
About the Moderator