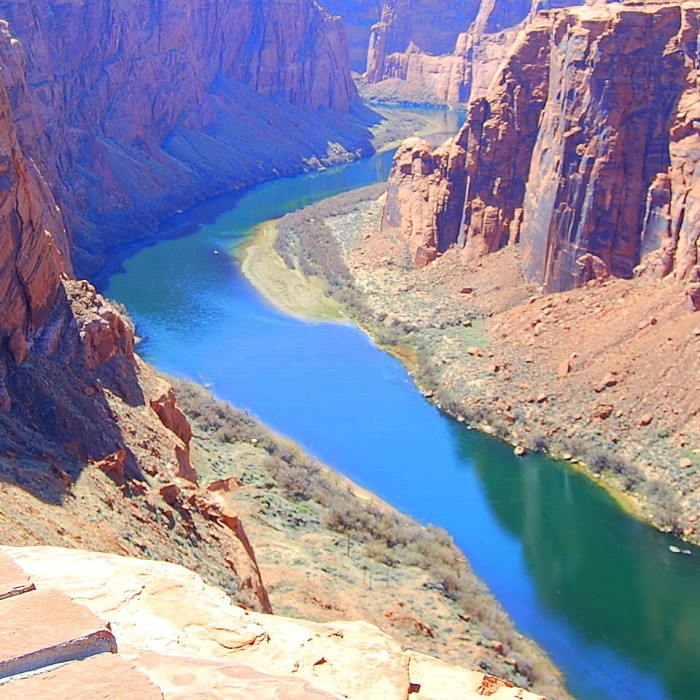 Southwestern College Student's Reflections on the Therapeutic Moment….
Grief like a river: Accessing the healing power of metaphor
She walked slowly, so as not to trip over the exposed pine root at her feet. Beside her a fallen Ponderosa tells the tale of years of weather and wisdom along this creek side in Southern Colorado. Her arms are full of freshly excavated rocks, ranging in size and weight. Some still littered with the earthen silt that distinguishes years of underground dwelling, within the shadows and sunless macabre afternoons, among slow squirming worms and grub-like creatures. With her small frame and determined face, I think she is the image of descriptors like 'strong,' 'willful,' and 'inspired.' 'Where did it come from,' I wonder, as from my chosen place along the pebbled shore I witness this young woman drop one dirt covered rock after another into the free-flowing stream, swelling around her exposed ankles, above wool sock and hiking boot, on this cloud-filled afternoon after a brief rainstorm. I recall feeling reverent and moved, compelled by her eloquent wisdom to stay, and hold the silence, briefly interrupted by soft watery gulps as the river diligently swallowed her sorrow without question or hesitation. Each exposed rock telling the tale of an ambient life, glowing with sadness, loss, deep seeded fears of abandonment, sewn together in the tapestry of her earliest years—experiences of adoption, custody wars, and the sudden death of her adopted father. As she stood in the intermittent rain, creek center, methodically and dutifully releasing those symbolic stones to be cleansed by the cool stream as the water splashed her ankles and cradled her toes, I couldn't shake the image that she, like the unburied stones, had grown comfortable with the crumbling dirt plastered exterior of layer upon earthen layer that now seemed to cover any authentic rendering of light and weathered form. With each rock came the release of a multitude of mechanisms which had been enlisted as an arsenal of protection against pain: 'manipulation,' 'blame,' 'lying,' 'withdrawal'—resonant words seeming to echo in her equally resonant voice long after each stone found motionless residence at creek bottom, cleansed and spotless, exposing their ancient form, glistening beneath the shallow surface. Her loaded arms becoming lighter with each release, less burdened by a weight that I was assured upon first glance would lead her to the very surrender, frustration, and perceived weakness that I had witnessed many times before—where upon she would be lost to the trance and it seemed no compassionate hand could touch her. Now I stood back and watched as she reached with a knowing familiarity for the strength within. Standing stoic and upright, connecting with the heart of the stream, arms free and cast beside her like wings, throwing back her head with a deep exhale, and smiling at the grey sky. Then after a moment bending forward to embrace the rolling river and rinse away the residue of brown earth that colored her arms, palms, stomach, and cheeks, watching it all fade away, at least briefly, in that one moment, in the form of muddy water downstream.
(Kelly is, of course, a poet by first nature…)
About the Moderator