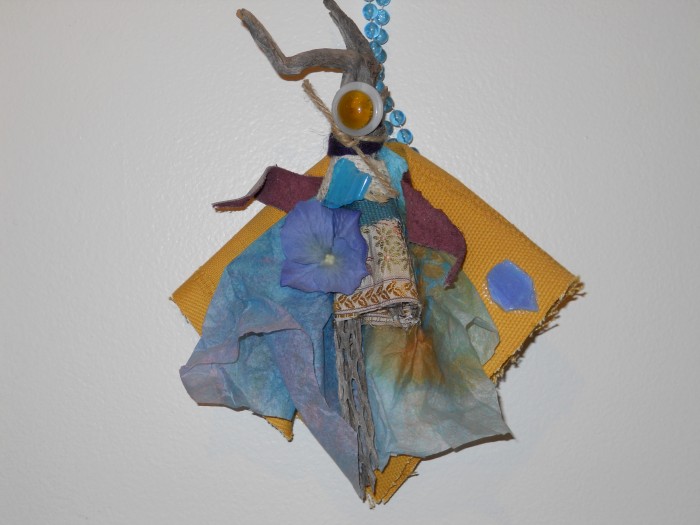 by Dru Phoenix
I was a volunteer helper at the Transformational and Healing Conference
awhile back. My job was to help an instructor set up art supplies and greet
attendees and hand out evaluations, etc. I chose to volunteer in a workshop
that I was particularly interested in because there would be art making.
The workshop began and was going quite well when we were asked to spend time
making art.  I could not do it. Furthermore, I went into resistance and
really felt myself digging in. I did NOT want to make art. I am unsure where
this came from, but after a half hour of stalling and grumbling to myself we
were told we had 15 minutes left and so I threw something together as I
continued to struggle. Then the workshop leader said there were only a few
minutes left to finish our creation.  I guess this was my kick start to
create and complete something satisfactory.  As we showed others our
creations a few people commented that it looked like I had made an angel.
How odd, I thought, I was a bit of a devil during most of this process. Upon
reflection,  I had to acknowledge that the resistance, as uncomfortable as
it was, seemed to be a real part of the process for me that day and for
whatever reason helped me to come to a good place to create a piece I
enjoyed as well as others.
About the Moderator