Winter Community Lecture #2:
Beyond Coupledom: The Dynamics of Polyamorous and Open Relationships
Mim Chapman, Ph.D.
In this interactive presentation, we will investigate some of the diverse relationship options that are becoming more common in our culture, from intentional singlehood to open relationships, swinging, and various styles of polyamory, with a focus on ways to meet the needs of clients who are in alternative relationships, or thinking of creating unique family formats.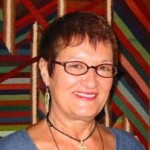 Mim Chapman, Ph.D., is the author of What Does Polyamory Look Like? She has an extensive background in educational leadership and counseling. She currently works as a relationship coach and lectures around the country on topics as diverse at aging and sexuality, polyamory, gender stereotypes and sex education.
To guarantee a seat, please RSVP to peghelmholz@swc.edu