$970/20 CECs or 2 quarter units      (Note: Once registered, there is no refund of tuition with fewer than 4 weeks notice.)
Wilderness Fast in Death Valley, CA
Facilitator: Carol Parker, Ph.D., LPCC
Dates: March 19–27, 2014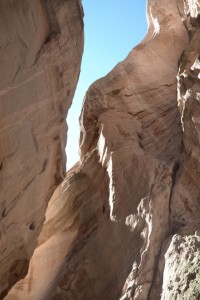 The ceremony of Wilderness Fast has long been practiced in indigenous cultures to assist with major life transitions. The wild and beautiful landscape of Death Valley is a particularly powerful place for this intense ceremony of transformation and healing. Participants will spend four days alone on the land without food and with a minimum of material comforts, guided by experienced facilitators.
Preparation includes teachings about the Medicine Wheel as a map for healing, as well as safety, logistics and intention-setting. Participants can expect to return home with new gifts to share with their communities and a strong, reliable connection with Mother Earth as a source of strength.
(60 contact hours toward the T-Eco Certificate.)
Carol Parker, Ph.D., LPCC, is the Director of the Transformational Eco-Psychology Certificate Program and Chair of the Counseling Program at SWC. She has trained as a wilderness guide with the School of Lost Borders and has led groups to sacred sites in the southwest US, Peru, Hawaii and the Yukon.
For colorful photos click here.