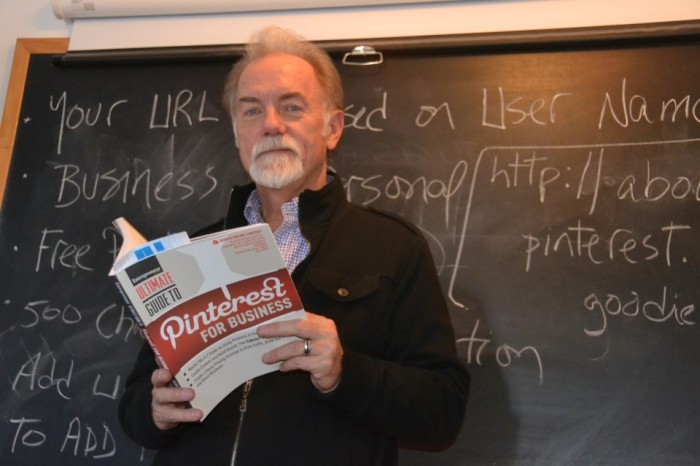 Closing the Loop on the Pinterest Workshop: How We Are Using Today to Market Southwestern College
Just to do a little role modeling for the Conscious Entrepreneurship Initiative of Southwestern College…
Today we offered a workshop on Pinterest, with about 15 people in attendance. We talked about what it is, how important it is, how to use it for personal branding or to brand your practice or business and so on.
In terms of the over-arching branding, marketing, social media work we do, let me share how we viewed that experience.
As you no doubt noticed, I took a lot of photos during the workshop. We staged some too, afterwards, to make sure we got photos with the books, blackboard, and newsprint board.
DURING the workshop, I Instagram-ed a picture of Ande teaching, and sent it to Facebook, so that people on Facebook knew while it was happening, that it was happening. Within an hour after the workshop, people who attended commented on the Instagram photo. Within 2 hours of the workshop, a number of photos were put on the SWC website, under the Conscious Entrepreneurship Initiative page and others, and within three hours I had put a small gallery of photos from the workshop on Facebook.
The intention was to both market and brand Southwestern College as "the kind of place that not only knows about social media, about marketing, and about the business side of being in the mental health professions, but cares enough about its students to actually show up and teach them this kind of stuff"  (as well as the Nuts and Bolts of Starting a Private Practice, the Ethics of Social Media, and so on.)
As CEO of the school, and Marketing Guy, I want all prospective students to know that in addition to the consciousness-centered curriculum, and the fantastic, transformational experiences we offer here, we will help you learn how to get jobs, create jobs, start a practice, market it, and create a compelling web presence with which to build your practice, brand, or business. I do not know of any other Counseling and Art Therapy school that is doing this, and as Marketing and Recruiting Guy, I want the whole world to know that. We saw a great opportunity (as we did last week at the Nuts and Bolts workshop) to offer great content, get good enough photos, plaster them all over creation, let people know that this is the kind of thing we teach by demonstrating it ourselves.
And now (you notice) I am blogging about it. I will add one of the photos, post the blog to the SWC blog page (an authority site, by the way), and then splash all over social media the link to this blog. I will Tweet it, Google Plus it, Pin It, Facebook Like it, Stumbleupon it, and Linked In it. It will go all over creation.
You attended the workshop. I have seen a lot of people do exactly the same thing I am doing above, but from the point of view of being attendees. The message is "I am the kind of guy/woman/student/therapist who goes out of my way to get additional professional training in my field and in related fields. I am a collaborator, I am curious, I am still learning, I value new learning, and by the way, here is a nice photo of me with the presenters."
Roshe Joan Halifax, a local spiritual leader at Upaya Center, recently did exactly the same thing, posting photos of herself with Ram Dass at some retreat or other, with comments and stories that clearly indicate "I am the kind of teacher who is well enough known and respected that I get to go swimming with Ram Dass and hang out with him, and here are the photos on Facebook to prove it." Impressive.
You get the point.
When you do something like this, you get mileage out of it in announcing it widely ahead of time, so that even people who cannot come or who are not quite interested enough to come, still know that you are offering it, then you get the benefits of actually doing it (assuming you do it well.) Then you keep it alive, as described above and as demonstrated in this blog you are reading, by rippling the event out to others who might become more interested in this school because we do stuff like this.
Finally, I will probably create a Pinterest Board either for this workshop, or for the entire Conscious Entrepreneurship Initiative, so as to make the event live on, in even further redundancy, so that the possibility that prospective students and faculty learn about it will be optimized to the greatest extent possible.
I get that this is reflecting upon the reflection of a reflection, but I wanted to make my process transparent so you can see how we took today's event and used it for all it was worth in creating a sense of value at Southwestern College. And as therapists or students, you too could blog about it, post photos, share your experience on your own web site, and on Facebook, and let the world know "I am the kind of person who really takes my learning and continuing education seriously" and so on.
You get it. Thanks for reading, thanks for coming today…
Next workshop will be on "Blogging".
Jim, Ande & Laura
About the Moderator