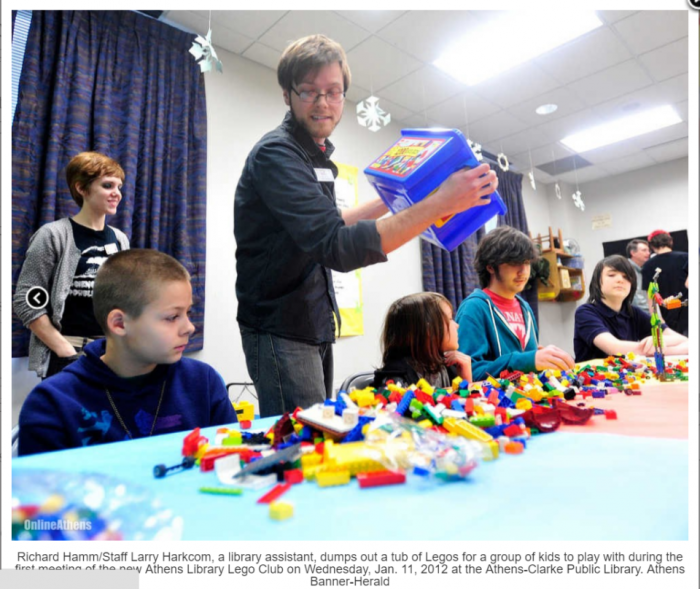 Larry Harkcom – Library Assistant at Quimby Memorial Library at Southwestern College
I grew up in rural Pennsylvania, in a place called Pond Bank.  To present, I don't really know what Pond Bank was/is; a community? A hamlet? Shire?  It's only description online comes from the site hometownlocator.com, which unhelpfully refers to it as a "populated place."  I would describe it as trailer parks and churches, corn and alfalfa fields, resting on the edge of the PA wilderness.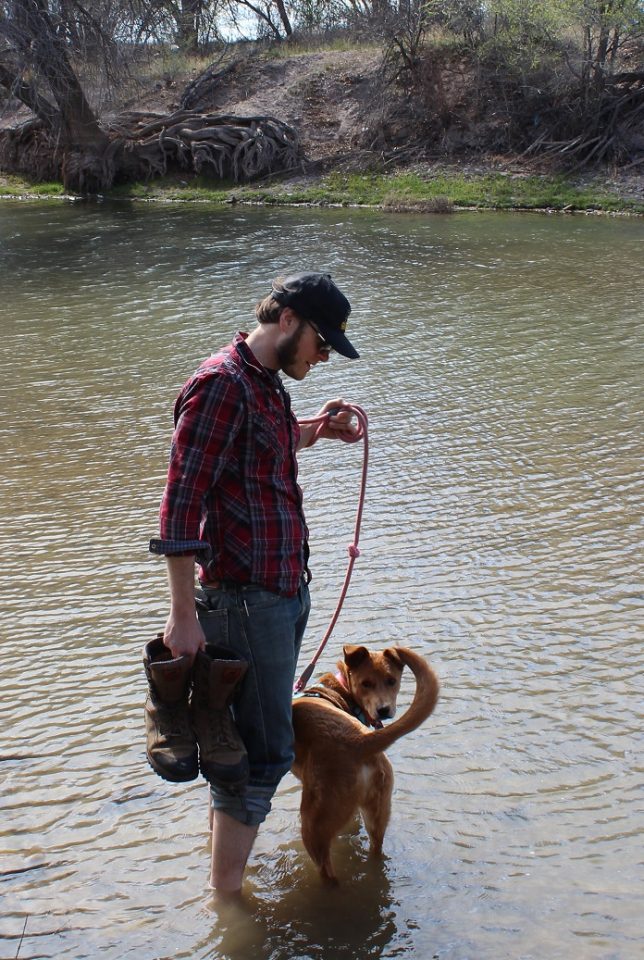 From a young age I fell in love with the process of making stuff.  Starting with drawings and stories, into toys, songs, movies…  Throughout my childhood, my father and I were big into making Halloween costumes, the weirder and more unwieldy the better.  Our creations earned us first place in the costume contest at the local mall six years in a row.  I often flash back to being inside those costumes.  They were dark and spacious and heavy; smelled like cardboard and spray paint.  I'll always remember taking the costume off each year in the mall parking lot and standing there for a moment, all sweaty and triumphant in the cold autumn air.
As a teenager I fell deep into music.  I first picked up the harmonica and then the guitar and then the piano.  I played constantly.  Still do.  These days the only label I'll own up to is musician.  I'm first and foremost a musician, just because it's only when playing music that I'm not doubting myself, agonizing over what's to come, what's to be done about this and that.  Music is where I (temporarily) make sense of things.
College was a drag, but I managed to graduate in 2007 with a Bachelor's in English.  Then I hit the road; Philadelphia to Oregon to Delaware to Georgia, and then in 2013 to Santa Fe.  I did many jobs along the way, from landscaping to freelance writing to healthcare to teaching.  In Georgia I scored my first library job in the young adult department of a public library.  There I developed programs for local teens, including the Lego Club, which landed me in the city paper (yeah, a lot of slow news days in Georgia). click here for link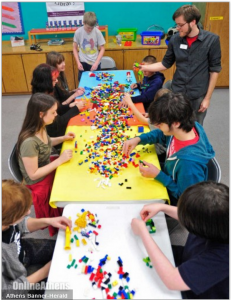 Shortly after scoring the library assistant job at Quimby, my partner Sarah and I journeyed back to Pennsylvania to get officially hitched in front of our friends and family, and among the orchards, hills, and cornfields that we used to explore together as teenagers.  It was a great time and a source of "food and life for future years," to steal a line from my favorite poet William Wordsworth.
This August will mark three years since Sarah and I joined the SWC community.  Currently I'm working toward a Master's degree in Library Science and recording a second album with my holiday-themed rock band The Yule Lads.  When we're not on campus, you might find Sarah and me taking long walks with our dog Ruby or yelling at the bad guys at pro wrestling shows in Albuquerque.
About the Moderator