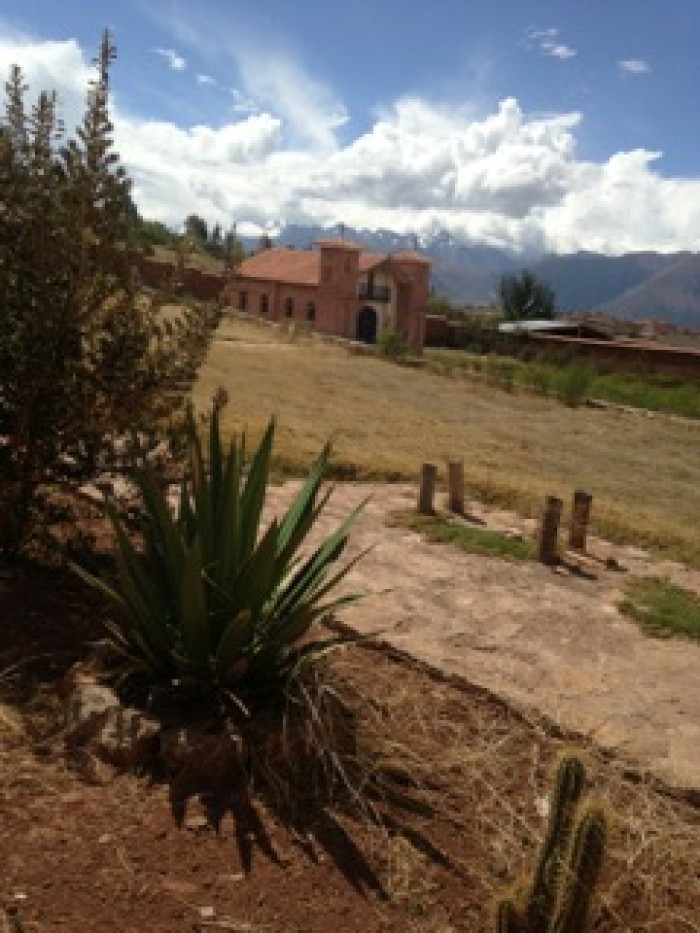 So.  I made it to an internet cafe and how lovely to have an email from you!  You would be so very proud at the way in which I have adopted to a country so completely at capacity in the "it's not going to work as you would have it category"…..No electiricity for an entire day.
No shower for four days…..no internet at my casa.   Water is intermittent.   But something in the very core of me has shifted in a way I can´t entirely comprehend but suffice it to say, I am developing very quickly an ability to enjoy that which I do have, be grateful for when it returns and have a rather laissez fair attitude toward the future and what it may or may not provide.
I have a large bedroom and living room and bathroom with a washing machine and shower which does and doesnt work.  The good news is that Juan Tito Condori is an adorable ´fixit man with whom he lives with his delightful wife and small daughter all of whom have become my friends. When the water doesn´t work, when the hot water heater dies, when the electricity is off I just smile and talk to Juan in just my very broken Spanish. There was also a nation wide strike in Peru yesterday which suspended everything.  No buses no cars……so I don´t start teaching kids in the after school program until next week.  I am fully armed with construction paper, tons of finger puppets commemorating animals of the region and beyond.  I have also taken to bathing and grooming and training the three dogs which inhabit the compound namely Pancho (villa)  Oso, and the totally cute Oscar who is the standard all white terrier type.   They have all learned (in english) sit, stay, come, and have been introduced to
leashes and such.  I am going to utilize them in my after school program.
I am the large oddity here what with long legs, light colored hair, and my outfit does not in any way conform to the outfits of women my age here.
I took a bus for 2.5 solas to Urabama from where I type at an internet cafe (with older women all of whom sported large cardboard (white) stovepipe hats with large black bands, woolen skirts leggings, button down sweaters, and two elongated braids, that connect well below their
individual sacrams.   At each turn down the spiraling path of the road that connects Maras with Urabamba I noted the women making the sign of the cross.
The town of Maras itself is of a long gone era.  Supplies are minimal.  If you want inca cola or eggs or perhaps 8 or so other items you are in luck.
But don´t look for paper towels or napkins in town.  That is the jurisdiction of Urabamba.  And so I recognize the unbelivable expectations
we north Americans hold.  We consume water, paper, petrol and other people´s energy like a most fuel inefficient vehicle the world has ever noted!  And of course we stand on the backs of these people who routinely walk miles a day with heavy bags of rice, millet, quinoa, or what have you without the benefit of a car or even a donkey at times. Speaking of which, the roads of maras are zoos, or barnyards.   The untethered donkeys, bulls, goats, and occasional horses wander the streets with their owners in some amazing and to date misunderstood bond of transit.  They know their ways.  On route to the central plaza which commemorates St John of Assisi (the patron saint of this pastoral setting) a door may open from which four donkeys may exit and wait expectantly for the remaining three and their owner to walk down the unpaved, cement roads…..
I have adjusted to the altitude brilliantly.  I walked the 18 kilometers round trip to the Inkan wonder of Moray ( a type of agricultural laboratory that looks much like an ancient greek theatre….you can google it to have a look).   What brilliant photos.  I have studied Spanish and taught my
little neighbor friend about dogs and colors and countless other things oh and blowing bubbles……
The local school doesn´t have a plan to include me, I was informed this morning, and so I will be teaching after school three days a week in a converted old church on the premisis.   Just opposite the church is a hedgerow that is in the form of a labyrinth, oddly this is what I had hoped
to construct with kids prior to my arrival….and so the synchronicity continues.
I made it to Pisac to deliver supplies from a friend in Toas, quickly made it back to Uramabamba and Maras all on public transport.   The sheer
volume of people can be overwhelming to the average westerner, but the key here is letting go of American entitlement, a word my dear friend Tash has bookmarked for me and which I now appreciate more than ever. In total, I am happy, appreciative, and grateful to be here in this unstripped place, where the brilliant snow covered mountains greet me each day.  The sun in brilliant (hence the hats for the locals and the
sunscreen for me).  I feel as if I have traveled to the small mountain town that was the residence of my forebears in Greece.   The same spartan living.  The same white washed buildings.  The same serious minded but kind people. And then, this morning as I walked to join the van to head to Urabamba to email you all, I spotted a small boy, maybe four or five alone on the main street.   In his hand he had a top, which from his gaze spoke pure magic to him.   I saw in him my grandfather Gikas, who due to a stern father and a pastoral-survival type existence toys were banned.  He learned to fashion tops from mere walnut shells.   Tears did erupt from my eyes in the recognition of the eccho…
And so I leave you all to review the weeks worth of emails.  I apologize for all the typos but as I am unfamiliar with this Peruvian keyboard and
time is money on this rented computer I leave you with the imperfection.
Love to you all.
About the Moderator