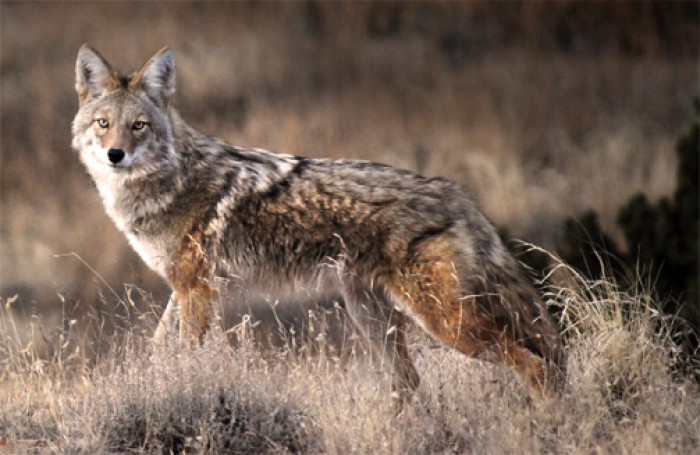 I encountered the wild this dawn.
Greybrown doggod
Coy-YO-te,
twanged a new mexican accent
as alarms pealed through my system.
I stopped. And my leashed goddog
stopped, oblivious to CoYOte
who stood still, watching us.
Should I ignore this? Should I run?
Who was more of an anachronism
on these paved streets, me
or CoYOte, both of us
poised for movement
along the suburban tarmac,
now coated with burnt leaves,
softened by last nights rain?
Street lights blinked
and went to sleep
as the variegated pinks and
reds crept over the Sangres.
These Blood of Christ mountains
mirrored my muttering –
JESUS! I said when CoYOte turned
and walked calmly towards us.
JESUS! I cried silently, though I just
chanted to my Hebrew God moments
earlier, and JESUS! I was in disbelief
as the hairs on the back of my neck
stood at attention,
wasn't the wild supposed to turn and
run away from me
in all my domesticated padding?
Did fear cause my hackles to rise or
was it my wild way of greeting
a fellow traveler,
awakening senses dormant
under my comforters, in a heated home,
ensconced in downy winter jacket warmth?
The back of my skull tightened.
My mothering instinct followed
my body's lead, and I yelled
in my most fierce tone –
GIT! GIT!
Dark and deep, though my heart
cried out in pain, arms reaching
for my wild doggod, PLEASE DON'T GO!
I DON'T MEAN IT!
And my leashed soul was still.
She sat at the end of her trappings
waiting to be let loose
on the familiar paved trail
along the arroyo that only last year
was an unruly
wild feral stomp.
And CoYOte turned away,
and stopped, again.
Turned to look at us a fourth time.
Did this doggod sense
a kindred spirit in us or merely
its next meal of border collie tartar?
A last time, yellowbrown eyes
meet mine, and my longing stroked
doggod's fur and I ached
to let go of the leash
and howl at the waning moon.
About the Moderator