Reflections on Light Figures
Home

›

Reflections on Light Figures
Share this:
Student: Linnea Knoespel / Light Figure: Martin Luther King, Jr.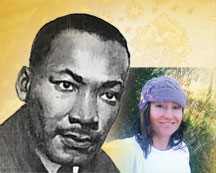 I had the wonderful opportunity to work with Dr. Martin Luther King, Jr. as my light figure. I was drawn to his leadership in the South as a black man. I was drawn back to my upbringing in the South and the tensions that still are present between the blacks and whites. Studying with Dr. King and the Southern Freedom Movement felt like a good way to not only learn from this light figure, but also to deeply re-engage with the history of the place in which I was raised. I was drawn to Dr. King and his ability to effect positive change with positive means. I saw in him a very strong man, with a deep belief in the God-given right of equality, who embraced leadership based on the ideals of love. I was in awe of his faith and trust that he was indeed standing with God and of the courage and strength in voicing that truth in the face of such strong opposition.
By studying with Dr. King, I see how my consciousness has expanded and that I have been able to respond to situations in new ways that are more aligned with the higher good for everyone involved. I am able to see on an intellectual level how consciousness pervades everything. By becoming aware of what is happening in the present moment, both internally and externally, I am able to base decisions not as a reaction to something else, but as an unfolding of my personal truth and in line with my higher self. I am aware that when we have a strong reaction towards someone, regardless of its positive or negative quality, we are responding to something within ourselves. In being drawn to work with our light figures this quarter, we were drawn to certain light aspects they hold that are also within ourselves. In working with Dr. King, I more fully acknowledge the power and light that resides within myself.
Student: Hailee Strassner / Light Figure: Hildegard of Bingen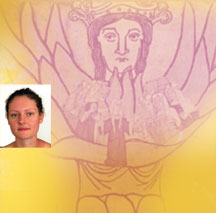 In the study of consciousness, the light figure acts as a mirror in a similar manner to the mandala. Through attraction, we seek out the qualities we wish to possess, at first believing they do not belong to us. Through the active relationship with light, we are shown that we contain the same qualities as the entity we admire. This can lead to the courage it takes to be a visionary, healer, and catalyst for change. Hildegard's presence is inspiring in its gentleness, power, and creativity. At this time, she reminds me to trust my path, share my visions, but most of all, be as true to myself in every moment as I can possibly be. Sharing my gifts, like even a small butterfly would, will change the course of time.
Student: Patricia Spurio / Light Figure: Jesus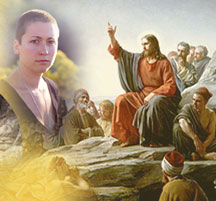 The truth is that my experience of Jesus has felt somewhat diminished when I have engaged with writings about the life he led on this earth. In The Jesus I Never Knew, Philip Yancy talks about how the life of Jesus was so important that it literally split history into two parts – before and after Christ (p.16). So much has been projected onto Jesus through writings and interpretations; everyone seems to have a different idea of who and what his message was. This is compounded by the fact that the Bible has been written and altered by human beings with agendas. To discern what is accurate on an intellectual level is not possible for me. I have been faced with the reality that Jesus was a human being who experienced the full range of experiences and emotions that come with being embodied, and I realize now that this does not diminish any aspect of who he was or is, nor does it take away my personal experience of him or my Self. Today I see Jesus as a spiritual warrior, in and out of his body. He has been a powerful example of the life I want to live and that I believe is my birthright. I give thanks to him for being my teacher, and for helping me through this project. For it is so, that every time I call, he is already here.
Student: Suzanne Otter / Light Figure: Rachel Carson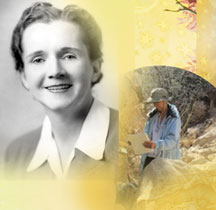 Rachel Carson's gift to the world came to fruition through her love of writing, her deep connection to nature, plus her advanced training in science. Her writing career culminated with Silent Spring, which was finally published in 1962. It took four years to research and document the dangers of pesticides, the criminal acts of poisoning committed by corporations and the federal government's negligence in protecting the rights of citizens to live in a environment free of poison. Carson demanded the government do something about its negligence on environmental issues and testified in front of two Senate hearings. Her testimony was instrumental in the process of enacting the first environmental protection laws. A lightning rod is a light figure: someone with a larger vision who can stand in their truth in the face of massive trance, tumult and assault. Light figures will play a role in the evolution of human consciousness from the current pervasive trance of a dominator society to a culture of cooperation that honors life-giving forces. A light figure is a way-shower who is acting from a place of love and who has the power to reach many people in order to effect change. This kind of leadership is threatening to the formidable keepers of the trance. As I witnessed in our light figure presentations, an encounter of unlikely giants will occur. Light figures are awake to a conscious way of being in the world and they will be attacked and sacrificed by the people of the trance.
Student: Emilie Ferran / Light Figure: Chris McCandless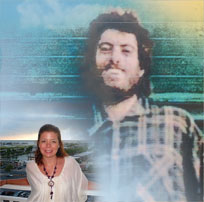 My experience in meeting Alex (Supertramp…aka Chris McCandless) was touching, and he is someone that I have carried with me since I learned of his story. Working with him over the past eight weeks has allowed for a softening of my heart and mind. He died a happy man and I think that in working with him I experienced a great amount of light and joy. He walked the earth as an attempt to find his spirit, "the climactic battle to kill the false being within and victoriously conclude the spiritual pilgrimage." I believe that his energy has helped me to stay focused on this same part of my journey. We are being taught to do the very same thing in this consciousness class, and it was important that I worked with a light figure that found his spirit on his own terms. Working with a light figure seems to allow for an individual to take on characteristics of the person they are emanating. It is as though we are drinking in the idea of this spirit and noticing how their energy might be working through and within us. It seems like a placebo for helping a person manifest change and space in the deepest parts of their being.
Student: Karen Wennberg / Light Figure: Carl Sagan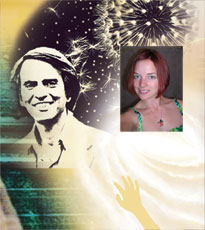 Paradigms of reality create the underlying structure for human life and society. Without them, people would have difficulty in ordering the world. They are assumed to be the only way and truth, though they are not so. Paradigms are the implicitly agreed-upon rules within social, spiritual, cultural, political and economic institutions. Throughout human history, there have been certain individuals who were able to break out of these paradigms of reality in order to make change they deemed necessary for advancing the quality of human life. Carl Sagan embodied many elements of a light figure for me: he spoke his truth, he spoke out for the unity of humanity across all differences, and disbelieved in power games. For me, presenting as Carl Sagan led me to find a deep well of courage inside myself. I found an ability to effectively convey my true passions to a group through verbal communication. This means has never been comfortable or natural to me and so I had always had fear around it. I found that uncovering admirable characteristics of my light figure also surprisingly uncovered these traits in myself. When I engage in creative endeavors and receive inspiration from a mysterious source, I tap into that realm of the infinite of which I am only a part. I am capable of filtering the infinite into unique, special little things in this physical world, through this body. This perspective on my own consciousness makes me feel more connected to others in a universal way, because creativity is inherent in all of humanity if we just allow ourselves access to express the beauty and power of this capacity.
Alumna: Laura Lansrud-Lopez
Light Figure: Santa Teresa de Avila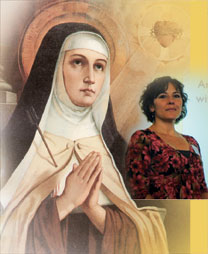 I knew very little about Santa Teresa de Avila when I chose her to be my light figure in 2005. I say I chose her, but in fact I did not. She chose me. . . or rather, my deceased grandfather, Carlos López, brought us together through a series of coincidences and vivid dreams that culminated in my discovering one of her poems, handwritten by my grandfather, inside the front cover of a book of poetry he'd written — the last book he gave me before dying. I didn't know why my light figure should be a Catholic mystic, but I believed she held some important lesson for me. And she did. She taught about holding compete and absolute trust in my inner experience. A lesson I desperately needed at the time. And my relationship with her brought my grandfather back to life in my heart, something I also needed. The 10-weeks I walked with St. Teresa during Consciousness II were filled with awe, surrender, and trust. The end of the quarter was bittersweet, then on to the next cluster of courses and new experiences. I now have two small children, a private practice, and several other endeavors, initiatives, and projects in the works. I continually struggle for balance between being a mother and being a professional and the struggle leaves very little time for walking the corridors of my inner world. Recently I was reminded of Santa Teresa and re-read one of her books. Her lesson about trusting my inner world was valuable and I appreciated the reminder. What surprised me, however, was the stunning insight that she has always held another lesson for me, but one which I was not ready for and didn't think I needed. This second lesson has to do with her mystical experiences and union with God, and I feel my journey with her has resumed.
Alumna: Laurie Grant Da Silveira/ Light Figure: Neva Dell Hunter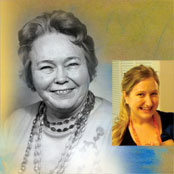 The Light Figure project was one of the more memorable experiences at Southwestern College. The curriculum taught in Consciousness II inspired confidence to understand my own intuition and guidance to receiving and interacting with energies no longer in physical form. My Light Figure is Neva Dell Hunter. She helped to spearhead Southwestern College in collecting and protecting the Quimby Metaphysical Library, channeling Dr. Ralph Gordon (who stated that in a past life he was Dr. Phineas Quimby), and conducting aura balancings and karmic readings. After being introduced to her in the Consciousness II class, I have used her presence and support numerous times since; especially during second year when we first started to work with clients, during the pregnancy with my daughter, and now as I am traveling through the journey of motherhood. She is one of the first guides that I call in times when support is needed. My life has been forever changed.
Alumna: Rosie Wick / Light Figure: Nicholas Roerich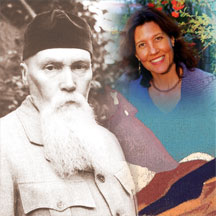 The light figure I portrayed while taking Katherine Ninos' class at SWC in 2004 was Nicholas Roerich, born in Russia in 1874, d. in 1947. He has continued to have influence in my life, albeit somewhat unconsciously. He represented a synthesis of mysticism, creativity and service to humanity on an international scale, receiving multiple nominations for the Nobel Peace Prize and praise by literary and artistic figures of his time, including Leo Tolstoy. What attracted me most were his beautiful paintings of figures – some historical/spiritual/mythical – on transcendental paths through stunning mountains and valleys in the Himalayas. I was transfixed by his work and felt recognition at a deep level. I also responded to who he was as a person in his quest for peace, preservation of sacred and archaeologically significant sites during times of war, and meditation practice. His work encouraged me to honor creative impulses and break free from timidity and a fear of exposure that formerly haunted me. As a therapist, his influence has been felt as an example of having conviction to stand in one's truth for the greater good.
Alumna: Karen Kral / Light Figure: Paramahansa Yogananda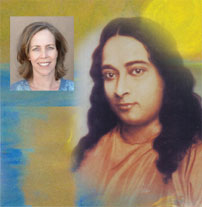 My light figure was Paramahansa Yogananda, the East Indian Sage who came to the US in the early 1920s
to share the teachings of Kriya yoga and who transmitted to his students a deep reverence for and connection with the spirit of the Divine Mother. Yogananda's most popular book was Autobiography of a Yogi. When I did my light figure project back in 2003, I remember feeling Yogananda's presence in my body. During the final presentation I was filled with his joyful energy and had a sense of his physical weight and power in my own body. As I was walking around the room chanting songs like, "Door of my heart, open wide I keep for Thee" and "God alone, God alone, God alone's all we ever need", a friend noticed that I actually "looked" like Yogananda, that I had his posture and mannerisms. This was strange to hear, given that I do not resemble Yogananda in any way.
To this day, Yogananda is in my heart. When I do my morning spiritual practice and call in my guidance, Yogananda is always one of the first names I invoke to help me through my day. Through my connection to Yogananda I feel my own joyful essence, the part of me that is at once playful and creative and at the same time bold in the world and unafraid of taking risks. I open to the cosmic energy of Divine Love and know that as I walk this earthly road, many who have come before me are guiding me home. www.corequestpotential.com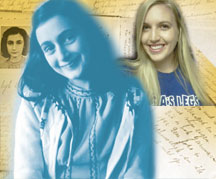 Student: Karlene Waters / Light Figure: Anne Frank
I AM I am the beaten path leading to awareness.
I am the weak shrubs which line the way.
I am the steady feet that carry my body.
I am the shaky voice inside my head.
I am the open heart that echoes inside of my chest.
I am my most inspired student.
I am my wisest teacher. I am the wind that guides me home.
I am the home that brings me comfort. I am awake while I sleep.
I am dreaming while I wake. I am my inner critic.
I am my biggest fan.
I am my most precious gift.
I am willing to share with you. I am a beautiful secret.
I am done hiding from myself.
I am the sun that warms the earth.
I am the moon that keeps watch at night.
I am one.
I am you. I am the wind that guides me home.
I am the home that brings me comfort. I am in perpetual wonder.
I am in gratitude of my imperfections.
I am aware, they make me perfect. I am the fruit that nourishes me.
I am the soil that grows the fruit.
I am an innate healer.
I am in need of healing from you.
I am everything I could ever need.
I am everything I am trying to heal. I am the wind that guides me home.
I am the home that brings me comfort.