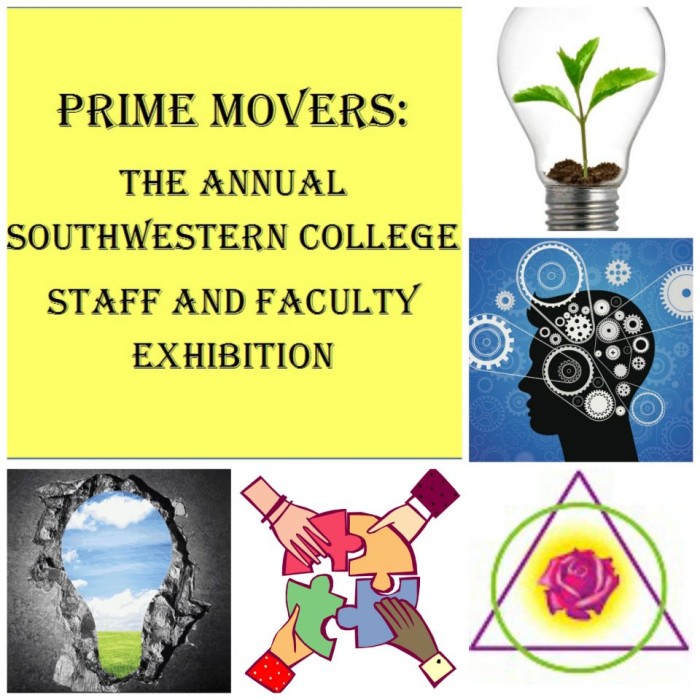 Wild Heart Gallery
On Thursday, January 12th, the Wild Heart Gallery had its first opening night gala of 2017: Prime Movers: The Annual Southwestern College Staff and Faculty Exhibition. A "prime mover" can be considered many things, in many fields – mechanics, biology, philosophy, etc. – but aptly describes Southwestern College faculty and staff when defined as "someone who has a major influence on the starting or development of something; a person or thing that initiates or gives power and cohesion to something, as an idea, endeavor, or organization."
During the evening, Heather Leigh read some of Ann Filemyr's poems from her collaborative book project entitled, Growing Paradise. Heather also spoke about her own sculptural work in the exhibition.
New to SWC, Jill Griffin elucidated on her textile work She's Here.
Deb Schroder gave light to Jim Nolan's photos on canvas. Katherine Paras arrived later and talked about her Blue Painting, made of oil-based and pure powdered pigments.
The exhibition will be up until the first week of February. Pop over to the Wild Heart Gallery to check out the amazing variety of work from Southwestern College staff and faculty.
About the Moderator