Laura L. Lansrud-López, M.S., M.A., LPCC, LPAT, ATR-BC
Home

›

Laura L. Lansrud-López, M.S., M.A., LPCC, LPAT, ATR-BC
Share this: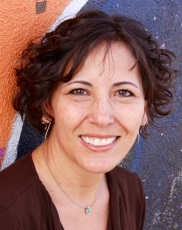 Laura L. Lansrud-López, M.S., M.A., LPCC, LPAT, ATR-BC,NCC is the Chair of the Counseling Program and Clinical Director of Tierra Nueva Counseling Center.
B.A. Liberal Arts, St. John's College; M.S. Forensic Sciences, The George Washington University; M.A. Art Therapy/Counseling, Southwestern College.
Laura has extensive professional and volunteer experience working with adults and children impacted by grief, loss, and trauma. She has worked in outpatient, home-based, and private practice settings providing individual and family art therapy, counseling, and crisis assessment and intervention. She has specialized training in Dialectical Behavior Therapy (DBT), Sandplay therapy, and Children's Mental Health. Laura was an adjunct faculty from 2010 to 2015, and has served on both the Board of Advisors and Board of Trustees for Southwestern College. She also served as Secretary for the New Mexico Art Therapy Association (NMATA) from 2010-2012, and served as President of NMATA in 2013. Laura is currently working toward her Ph.D. in Transformative Studies from the California Institute of Integral Studies. Her doctoral research explores transformative learning and the transformative potential of trauma.
Laura has a passion for integrating traditional and empirically supported cognitive-behavioral approaches with transpersonal, creative, and expressive modalities. An advocate for gracefully holding paradox, she enthusiastically embraces the unique and complex challenges facing counselors today in an informed, consciousness-centered, and holistic manner and helped to launch the Conscious Entrepreneurship initiative at Southwestern College.