Accreditation
Share this:

Southwestern College is accredited through the Higher Learning Commission (HLC) to offer four Master of Arts degrees (Counseling; Art Therapy/Counseling; Art Therapy for Clinical Professionals; Consciousness in Action) and our Phd in Visionary Practice and Regenerative Leadership. HLC is our regional accreditor, and our accreditation through them allows our students to access Department of Education Financial Aid student loans through the FAFSA process.
We were awarded our ten-year reaccreditation in 2021 and will be pursuing our next re-accreditation in 2030-31.
Additionally, we were approved by the American Art Therapy Association (AATA) in 2013 for the longest time period they allow, which is seven years. We are currently seeking formal accreditation for our two Art Therapy graduate degrees through AATA's new accreditation process.  AATA is transitioning to an accreditation process under the Commission on Accreditation of Allied Health Education Programs (CAAHEP). This process is managed by the Accreditation Council for Art Therapy Education (ACATE). Our Art Therapy faculty attend the annual AATA conference and Southwestern College anticipates meeting all of the national standards set forth by ACATE.
Southwestern College is authorized as a regionally accredited institution of higher education with the New Mexico Higher Education Department (NMHED) and participates in annual data submission, review and authorization by the state through the Private Post-Secondary Schools program of NMHED.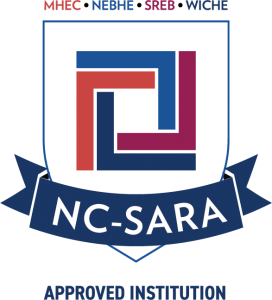 Southwestern College has been approved to participate in the National Council for State Authorization Reciprocity Agreements. National Council for State Authorization Reciprocity Agreements. NC-SARA is a voluntary, regional approach to state oversight of post-secondary distance education. This allows us to offer our distance education courses to students living anywhere in the country.
Finally, we are approved by the New Mexico Counseling and Therapy Practice Board to offer Continuing Education for licensed professionals. We offer this through The New Earth Institute in a variety of formats, including our ongoing public lectures series, annual Transformation & Healing Conference and our seven Certificates: Addictions, Abuse & Recovery; Applied Interpersonal Neurobiology; Children's Mental Health; Ecotherapy; Human Sexuality; and Trauma, Grief and Renewal.