A Message from the President's Office
Home

›

A Message from the President's Office
Share this:
Letter from President Ann Filemyr to Prospective Students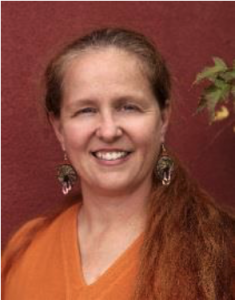 Southwestern College is a unique learning environment dedicated to preparing graduate students for meaningful lives of engagement and commitment. We offer four Master of Arts degrees. These include: Counseling, Art Therapy/Counseling, Art Therapy for Clinical Professionals and Consciousness in Action. In addition, we offer a PhD in Visionary Practice and Regenerative Leadership. Our programs are available via distance / online learning as well as "on the ground" here in Santa Fe. The PhD program is designed to be a distance program with three residencies.
Our mission is to "Transform Consciousness Through Education." What does this mean to us? In the words of Executive Vice President Katherine Ninos, Southwestern College is a "light action." It is our goal to bring mindful awareness to our thoughts, feelings, actions, beliefs and behaviors so that we may bring greater compassion, clarity, truth and purpose into our own lives and the lives of others.
The choices we make do have an impact on this world. Our educational model embraces this understanding. Our classes include transformational processes in order to help us become more aware of the impact our choices have on ourselves and others. Through deepening self-awareness, we become better prepared to truly be of service.
If this sounds like the kind of graduate school you are seeking, please contact our Admissions Office. We are looking for students who desire to make a difference, who seek self-knowledge and are committed to their own growth as well as the positive growth of others. Our graduates serve as consultants and coaches, counselors and art therapists, educators as well as  leaders. They seek to make a difference in a variety of related fields. What brings our community together is the belief that through conscious action we can help restore well-being to individuals, families, communities and ecosystems.
In addition, we offer professional certificates in Addictions, Abuse and Recovery, Applied Interpersonal Neurobiology, Children's Mental Health, Ecotherapy, Human Sexuality, and Trauma, Grief & Renewal. Anyone may enroll in our Certificate programs. They serve our graduate students, clinical professionals, educators and community members.
In addition, Southwestern College operates Tierra Nueva Counseling Center, which serves the public with counseling and art therapy services. Our on the ground students begin their professional practice by seeing clients at Tierra Nueva. This is a unique opportunity to develop skills under the guidance and supervision of our exceptional faculty.
Santa Fe, NM is the oldest capital city in the U.S. It is a center for the visual arts, for creative thinkers and innovators. We have a large Spanish-speaking population and many immigrants in the neighborhood surrounding the campus.
Southwestern College is an exciting place, and we invite you to join us.