Frequently Asked Questions
Home

›

Frequently Asked Questions
Share this:
Is Southwestern College accredited? Is it online as well as on the ground?
Yes, Southwestern College is accredited by the Higher Learning Commission of the North Central Association of Colleges and Schools. The art therapy / counseling program at SWC is accredited by CAAHEP.
Our degree programs are available online/distance or on the ground here in Santa Fe, New Mexico. In addition, a student who starts their program online may be able to switch to on the ground during their program. 
Where is Southwestern College located?
Southwestern College is located in beautiful Santa Fe, New Mexico. The artsy campus includes a library, classrooms, administrative offices, a student lounge, a spiritual practice room, an art studio and art therapy complex, an outdoor labyrinth, walking paths, and a community garden. 
SWC's street address is: 3960 San Felipe Road, Santa Fe, NM 87507. Tierra Nueva Counseling Center is located next door. Directions and map
To get to Santa Fe you can fly into the regional Santa Fe airport or into the Albuquerque airport and drive one hour north on I-25. Exit at 599 North. Stay on 599 and go to the second light, Airport Road., and turn right (heading east). Go to the third light, San Felipe Road. and turn left. You will see our school immediately on the left side, behind an adobe wall. The main lobby is located through the turquoise doors.
Can I get licensed as a Counselor with a M.A. Counseling degree from SWC?
Yes! Graduates of Southwestern College may practice under appropriate supervision as a Provisionally Licensed Mental Health Counselor (LMHC) in New Mexico. After 3,000 hours of client contact (this includes pre-graduation practicum and internship hours) and successful completion of the National Counselor Exam and the National Clinical Mental Health Counselors Examination, graduates are eligible for the Licensed Professional Clinical Counselor (LPCC) designation in New Mexico. Art Therapy/Counseling graduates are eligible to pursue national certification as an art therapist and the Licensed Professsional Art Therapist (LPAT) designation in New Mexico. They are also eligible for the LPCC designation in New Mexico.
All courses required in the core curriculum for all levels of licensure in New Mexico are offered in both the Counseling and Art Therapy/Counseling Programs. Requirements for licensure in New Mexico are subject to change and the College administration maintains a close relationship with the Counseling and Therapy Practice Board in order to remain current. For further information contact the New Mexico Counseling and Therapy Practice Board at 505-476-7100 or www.rld.state.nm.us. The majority of our students come from out of state and many leave New Mexico to practice in other states.
Mental health licensure designations and procedures vary from state to state. If you plan to practice outside of New Mexico, you should contact the appropriate state board for their requirements. We have links to state licensing information on our website, in our offices and in our library.
Do you require the GRE or other tests for admission into Southwestern College?
No. Southwestern College doesn't require any entrance exams. Instead, the admissions process emphasizes the personal statement, admissions interview and professional and academic letters of reference.
My undergraduate degree is unrelated to psychology or counseling. Will my application be considered for the MA in Counseling or the MA in Art Therapy/Counseling program?
Yes. We will accept your Bachelor's degree (A.B., B.A., B.S., B.F.A., etc.) in any field from an accredited institution.
How many students are enrolled at Southwestern College?
We are a small school by design with a current enrollment of approximately 200 students. Classes range in size from 8-21 students. The average class size is about 14.
What is your student – faculty ratio?
We have an excellent student – faculty ratio of one faculty member for every four students. There are an average of 36 part-time and full-time faculty members serving the students. Over 90% of our faculty are current clinical practitioners.
May I visit the college to meet with the Director of Enrollment Services and receive a tour?
Yes, absolutely! Please call toll-free 1-877-471-5756, ext. 6815, or e-mail us to schedule a thirty-minute informational visit. 
What are the prerequisite courses required for enrollment in the M.A. in Counseling and the M.A. in Art Therapy/Counseling?
All of our M.A. programs require Abnormal Psychology, Developmental Psychology, and one psychology elective of the applicant's choice.
The Art Therapy/Counseling Program also requires at least 18 credit hours of undergraduate studio coursework including painting, 3-dimensional art (i.e. ceramics, jewelry making, sculpture, etc.) and four studio electives of the applicant's choice.
If I haven't completed all the prerequisites, may I still apply and be accepted?
Absolutely. As part of the application process, the Director of Enrollment Services will review your transcripts and advise you on how and when to complete prerequisite courses. Our preference is that you complete the requirements prior to entry. However, this can be reviewed on a case by case basis. 
What are the application deadlines?
Southwestern College does rolling admissions on a space-available basis which means applications are reviewed at any time; However, to allow enough time for processing financial aid we recommend applying early. Feel free to contact Admissions at 505-467-6815 with questions about the timing of your application.
What is a quarter? What is a quarter unit?
A quarter is ten weeks in length. We have four quarters: fall, winter, spring and summer.
A quarter unit represents 10 hours of classroom time. A typical 3-quarter unit class meets for 30 hours during a 10-week quarter. Our M.A. in Counseling program is 95 quarter units, the M.A. in Art Therapy/Counseling program is 96 quarter units. The M.A. in Art Therapy for Clinical Professionals program is 59 quarter units, and the M.A. in Consciousness in Action program is 45 quarter units. The Ph.D. in Visionary Practice and Regenerative Leadership program is 75 quarter units full-time or 78 quarter units part-time.
How can I finance my education at Southwestern College?
Financial aid is available to full- and part-time degree program students. Scholarships and graduate assistantships are also available. Download the SWC Financial Aid Guidebook for more information. Please contact the financial aid office if you have further questions.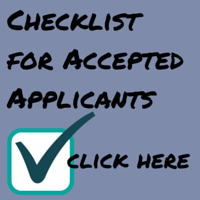 Here is a checklist for accepted applicants seeking financial aid opportunities.
What is the cost of attending Southwestern College? 
Student tuition for the 2022-2023 academic year is $620 per quarter unit. The general fee covers, but is not limited to, such expenses such as library, IT and graduation fee and general administrative costs.Tuition is subject to change and you can inquire further about this with admissions. Full tuition must be paid before the first day of each quarter unless the student has set up a payment schedule with the business office.
Who comprises your student body?
Our students come from all walks of life, and many are pursuing second and third careers. About 75% of our student body come from states other than New Mexico. There is a great variance of age within our student body.
Does Southwestern College offer Ph.D. or undergraduate studies?
Southwestern College does not offer undergraduate studies. We do have Master's Degrees in Counseling and Art Therapy/Counseling, Consciousness in Action, and six different specialty certificate programs and continuing education courses. In addition, we offer a M.A. in Art Therapy for Clinical Professionals (those who already have an M.A. in Social Work, Counseling or Psychology who want credentials in the Art Therapy field). We do have a Ph.D. in Visionary Practice and Regenerative Leadership and accept applications for this program for entry every fall quarter.
May I sit in on classes to get a feel for what happens?
Due to the experiential nature of our classes and in order to preserve the confidentiality of student participation, we do not allow visitors to sit in on classes. We can put you in touch with current students and faculty who can describe, in greater detail, the learning experience.
Where do M.A. Counseling and Art Therapy/Counseling SWC students do their clinical training?
Students begin seeing individual clients during their first quarter of Practicum at the Tierra Nueva Counseling Center. During the second quarter of Practicum, students work with couples and groups, either at Tierra Nueva Counseling Center or in the community with a local agency. Internship spans two quarters, and, again, may be done in part at Tierra Nueva Counseling Center, but most do all or part in the community, or even out of state.  Our distance students complete their practicum and internship in their own community and are provided guidelines on how to locate a viable site for these clinical experiences.