Free Community Lectures
Home

›

Free Community Lectures
Share this:
Our Community Lectures are offered FREE and OPEN TO THE PUBLIC, or $20 for 2 CECs approved for counselors, art therapists and social workers.
Lectures will be listed in the quarterly class schedules and posted on this site.
COMMUNITY LECTURE, TUESDAY, January 18, 6-8pm via Zoom
Free and Open to the Public, or $20 for 2 CECs
Healing With Ecotherapy: Ethical Considerations in Helping Clients
Reconnect to the Body and Nature to Resolve Trauma
Psychologist and mindfulness teacher, Rochelle Calvert, PhD, will explore teachings from her recent book Healing with Nature: Mindfulness and Somatic Practices to Heal from Trauma, which reminds us that one of the greatest sources of healing from trauma can be found all around us in nature. Dr. Calvert will discuss ethical considerations in helping clients relate to and connect with nature through the practice of mindfulness to calm and relax the nervous system, tune in to the somatic wisdom of the body, face lingering trauma and rewire it, and work with painful experiences to transform them in ways that heal the individual and contribute to healing the wider world. In this way, Dr. Calvert reveals the importance of ethical Ecotherapy practice as a path not just to recovery, but to lifelong healing and resilience.
You can self-register here: https://newearth.regfox.com/community-lecture or RSVP to lecture@swc.edu to receive the link.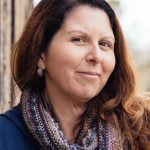 Rochelle Calvert, PhD, CMT, SEP, offers mindfulness, nature-based therapy and somatic experiencing through New Mindful Life, which she founded. She has studied mindfulness for the past 18 years and has taught classes, courses, workshops, and retreats Her training and expertise offers support to individuals struggling with life transitions, depression, anxiety, PTSD, pain conditions, eating disorders, as well as families of developmentally delayed children/adults. www.newmindfullife.com
PAST COMMUNITY LECTURES
–Navigating the Realms of Family Violence presented by Andrea Verswijver, M.A., M.S., LPCC 
—Revisiting Leadership as an International Student presented by Magdalena Karlick, M.A., LPCC, ATR-BC
–Astrology for Re-dreaming Ourselves: Love Affairs with Intrapsychic Diversity presented by Jason Holley, M.A., LPCC
–The Complexity of Domestic Violence presented by Andrea Verswijver, M.A., M.A., LMHC
–More Than a Cursory Glance: Particularizing Pornography and Finding Meaning presented by Ginna Clark, PsyD., ATR-BC, LPCC
–Serving American Indian Communities presented by Janet L. Smith, M.S., ATR-Ret.
–Wisdom Rising: Journey into the Mandala of the Empowered Feminine with Lama Tsultrim Allione
–Wilderness Therapy Panel presented by Dr. Ann Filemyr and Dr. Scott Thomas
—Suicide Awareness and Prevention Presented by Erin Doenwald, LMSW and Susan Hayre, LMHC
—Integrating Brain, Body and Heart Intelligence: The Neurobiological Foundations of Therapeutic Practice presented by Tim Burns, M.A.
–Energy Healing: The Latest Scientific Research and the Role of Water in the Process presented by Melinda Connor, Ph.D.
–A Psychobiological Approach to Couples Therapy: The Basics of Working with Difficult Couples
presented by Lon Rankin, M.A., LPCC
–Authority vs. Power: Creative Leadership from the Inside Out presented by Heather Leigh, M.A., ATR-BC, LCPC
–Objects of Desire and Desiring Subjects: On Sexuality in Psychotherapy presented by Ginna Clark, M.A., ATR-BC, LPCC
–Understanding and Working with Borderline Personality Disorder by Laura Lansrud-Lopez, M.A., ATR-BC, LPAT, LPCC
–Adolescent Substance and Process Abuse by Juan Blea, M.A., LADAC
–Organic Sexuality: From Shame into Mystery by Jason Holley, M.A., LPCC
–Adult ADD/HD: A Problem Unrecognized by Doug Puryear, M.D.
–Dr. Edith Wallace: Her Life, Work and Legacy presented by Karen Stefano, M.A., LPC
–Clinical Intuition, Vito Hemphill, DOC
–The Turning of the Ages: Our Time and Place in Cosmic Cycles of Evolution, Jason Holley, M.A., LPCC
–The Right Time and Place to Heal Trauma, Lee Cartwright, M.A.
–Mindfulness-Based Auricular Acupuncture (MBAA), Dana Moore
–Eyes Made of Soul, Robert Waterman, Ed.D., Lecture and Book Signing
–The "F-Word" Project, Maureen Burdock
–Under a Remarkable Sky:The Birthchart of Southwestern College, Jason Holley, M.A., LMHC:
–Intersubjectivity and the Practice of Therapy, Bill Smythe
–The Biological Drama of Trauma, Lee Cartwright, M.A.
–Cultivating Bridges: Attunement, Interpersonal Neurobiology & Group Process, Kate Cook, M.A., LPCC, TEP
–Vision as a Metaphor for Consciousness, Sam Berne, MD
–Envisioning a New, Healthy Sexuality, Jason Holley, M.A. and Kate Latimer, M.A.
–Transformation Through the Quantum Field, Robert Waterman, Ed.D.