Free Community Lectures
Home

›

Free Community Lectures
Share this:
Our Community Lectures are offered FREE and OPEN TO THE PUBLIC, or $20 for 2 CECs approved for counselors, art therapists and social workers.
Lectures will be listed in the quarterly class schedules and posted on this site.
Summer 2023 Community Lecture
Tuesday, June 27th, 6pm-8pm
Free and Open to the Public or $20 for 2 CECs
Ethical Considerations Regarding Psychedelic-Assisted Therapy
This lecture will explore ethical considerations that mental health professionals should be aware of regarding the emerging field of psychedelic assisted therapy. Participants will receive support with fielding questions from clients and learn how to participate in collaborative care with adjunct providers in service to clients who are considering or engaging in this form of therapy. Stages and qualities that make psychedelics a third-wave pharmacological intervention, including information about treatment frameworks, scientific research, ethical and cultural considerations, accessibility, the state of legality here in NM will be discussed.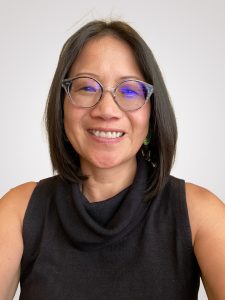 Amy Wong Hope is a licensed clinical social worker and director for the psychedelic studies certificate program at the New Earth Institute at Southwestern College in Santa Fe, New Mexico. She is the coauthor of Small Doses of Awareness: A Microdosing Companion, which Chronicle Press will publish in spring 2024. She has a private psychotherapy practice focusing on evidence-based practices that support resolving the effects of trauma on neurobiology and attachment styles and restoring resiliency in her clients' lives. She completed her postgraduate fellowship at the Trauma Center at JRI in Boston, and she is an Albert Schweitzer Fellow for Life. She has advanced training in EMDR, Sensorimotor Psychotherapy, Brainspotting, Internal Family Systems, and mindfulness. Amy is an MDMA-Assisted Therapy therapist trained through the Multidisciplinary Association for Psychedelic Studies (MAPS) at California Institute for Integral Studies (CIIS) and she holds a Diversity, Culture and Social Justice in Psychedelics certification from Chacruna Institute. Amy has an MSW from Simmons College.

Register at https://newearth.regfox.com/community-lecture to receive Zoom link and pay for CECs, or RSVP to lecture@swc.edu .
PAST COMMUNITY LECTURES
Ethical Considerations for Counseling Suicidal Children: Screening, Assessment, and Safety Planning
Presented by Katie Brammer, PhD, LPCC

Sustaining Ethical Practice: The Ultimate in Self-Aware Self-Care in the Helping Professions presented by Randy Crutcher, EdD

Writing with the Client in Mind: Ethics of Clinical Documentation presented by Denise Moore, MA, LPCC, CCTP
Power and Place: Ethical and Cultural Considerations in Addiction Presented by Aimée Dale-Lucius, MA, LMHC
Healing With Ecotherapy: Ethical Considerations in Helping Clients Reconnect to the Body and Nature to Resolve Trauma presented by Rochelle Calvert, PhD, CMT, SEP
Navigating the Realms of Family Violence presented by Andrea Verswijver, M.A., M.S., LPCC
Revisiting Leadership as an International Student presented by Magdalena Karlick, M.A., LPCC, ATR-BC
Astrology for Re-dreaming Ourselves: Love Affairs with Intrapsychic Diversity presented by Jason Holley, M.A., LPCC
The Complexity of Domestic Violence presented by Andrea Verswijver, M.A., M.A., LMHC
More Than a Cursory Glance: Particularizing Pornography and Finding Meaning presented by Ginna Clark, PsyD., ATR-BC, LPCC
Serving American Indian Communities presented by Janet L. Smith, M.S., ATR-Ret.
Wisdom Rising: Journey into the Mandala of the Empowered Feminine with Lama Tsultrim Allione
Wilderness Therapy Panel presented by Dr. Ann Filemyr and Dr. Scott Thomas
Suicide Awareness and Prevention Presented by Erin Doenwald, LMSW and Susan Hayre, LMHC
Integrating Brain, Body and Heart Intelligence: The Neurobiological Foundations of Therapeutic Practice presented by Tim Burns, M.A.
Energy Healing: The Latest Scientific Research and the Role of Water in the Process presented by Melinda Connor, Ph.D.
A Psychobiological Approach to Couples Therapy: The Basics of Working with Difficult Couples presented by Lon Rankin, M.A., LPCC
Authority vs. Power: Creative Leadership from the Inside Out presented by Heather Leigh, M.A., ATR-BC, LCPC
Objects of Desire and Desiring Subjects: On Sexuality in Psychotherapy presented by Ginna Clark, M.A., ATR-BC, LPCC
Understanding and Working with Borderline Personality Disorder by Laura Lansrud-Lopez, M.A., ATR-BC, LPAT, LPCC
Adolescent Substance and Process Abuse by Juan Blea, M.A., LADAC
Organic Sexuality: From Shame into Mystery by Jason Holley, M.A., LPCC
Adult ADD/HD: A Problem Unrecognized by Doug Puryear, M.D.
Dr. Edith Wallace: Her Life, Work and Legacy presented by Karen Stefano, M.A., LPC
Clinical Intuition, Vito Hemphill, DOC
The Turning of the Ages: Our Time and Place in Cosmic Cycles of Evolution, Jason Holley, M.A., LPCC
The Right Time and Place to Heal Trauma, Lee Cartwright, M.A.
Mindfulness-Based Auricular Acupuncture (MBAA), Dana Moore
Eyes Made of Soul, Robert Waterman, Ed.D., Lecture and Book Signing
The "F-Word" Project, Maureen Burdock
Under a Remarkable Sky:The Birthchart of Southwestern College, Jason Holley, M.A., LMHC:
Intersubjectivity and the Practice of Therapy, Bill Smythe
The Biological Drama of Trauma, Lee Cartwright, M.A.
Cultivating Bridges: Attunement, Interpersonal Neurobiology & Group Process, Kate Cook, M.A., LPCC, TEP
Vision as a Metaphor for Consciousness, Sam Berne, MD
Envisioning a New, Healthy Sexuality, Jason Holley, M.A. and Kate Latimer, M.A.
Transformation Through the Quantum Field, Robert Waterman, Ed.D.