Free Community Lectures
Home

›

Free Community Lectures
Share this:
Our Community Lectures are offered FREE and OPEN TO THE PUBLIC, or $20 for 2 CECs approved for counselors, art therapists and social workers. Lectures are listed in the quarterly class schedules and posted on this site.
To guarantee a seat for any lecture, please RSVP to lecture@swc.edu
COMMUNITY LECTURE
Astrology for Redreaming Ourselves: Love Affairs with Intrapsychic Diversity
Jason Holley, M.A., LPCC
Free and Open to the Public or $20 for 2 CECs
Wednesday, January 30, 2019, 6-8:30pm
    One of the most exciting powers of astrology in psychotherapy is its insistence on our psychic multiplicity, its acknowledgment that within each of us teems a multitude of powers, planets, and stars all carrying different agendas, gifts, memories, desires. While the Daytime consciousness that the modern world has embraced allows us to see merely one star, the Sun, astrology also bridges us to Night, a consciousness teeming with planets, stars, asteroids, nebulae – the possibility of re-membering a much vaster psychic inheritance.
    In this talk we will explore one of astrology's richest contributions: its seemingly endless mythological inspirations and pictographic vocabularies that help us to complexly imagine the inner worlds and relational lives of ourselves and our clients, as well as the dynamic stories enacted during the therapeutic encounter.
    Our guides for this exploration will be Mercury and Venus, both mobile and seductive deities usually exiled from the consultation room in favor of the 'secure attachment'-friendly Moon and the 'emotional regulation'-loving Saturn. We will explore what it means to bring a Venusian and a Mercurial perspective into psychotherapy and the possibilities these have for work that is loosening, multidimensional, and frankly beautiful.
Note: you do not need an advanced astrological vocabulary to make use of this talk.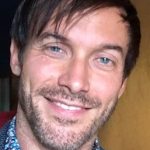 Jason Holley, M.A., LPCC, is an astrologer and psychotherapist based in Santa Fe, New Mexico. His orientation is relational and archetypal. He has practiced astrology for just under 30 years and has taught nationally on psychotherapy, astrology, and myth. He currently teaches and mentors therapists integrating astrological insight into psychotherapy, and teaches ongoing experiential astrology classes in Santa Fe using methods such as psychodrama, astrodrama, and image-making. Jason is also a consultant and educator in the psychotherapy community nationally in the areas of character structure, trauma, addictions, dissociative disorders, and LGBTQ+ issues. www.jasonholley.net
Space is Limited. Please RSVP to lecture@swc.edu to guarantee a seat.
PAST COMMUNITY LECTURES
–The Complexity of Domestic Violence presented by Andrea Verswijver, M.A., M.A., LMHC
–More Than a Cursory Glance: Particularizing Pornography and Finding Meaning presented by Ginna Clark, PsyD., ATR-BC, LPCC
–Serving American Indian Communities presented by Janet L. Smith, M.S., ATR-Ret.
–Wisdom Rising: Journey into the Mandala of the Empowered Feminine with Lama Tsultrim Allione
–Wilderness Therapy Panel presented by Dr. Ann Filemyr and Dr. Scott Thomas
—Suicide Awareness and Prevention Presented by Erin Doenwald, LMSW and Susan Hayre, LMHC
—Integrating Brain, Body and Heart Intelligence: The Neurobiological Foundations of Therapeutic Practice presented by Tim Burns, M.A.
–Energy Healing: The Latest Scientific Research and the Role of Water in the Process presented by Melinda Connor, Ph.D.
–A Psychobiological Approach to Couples Therapy: The Basics of Working with Difficult Couples
presented by Lon Rankin, M.A., LPCC
–Authority vs. Power: Creative Leadership from the Inside Out presented by Heather Leigh, M.A., ATR-BC, LCPC
–Objects of Desire and Desiring Subjects: On Sexuality in Psychotherapy presented by Ginna Clark, M.A., ATR-BC, LPCC
–Understanding and Working with Borderline Personality Disorder by Laura Lansrud-Lopez, M.A., ATR-BC, LPAT, LPCC
–Adolescent Substance and Process Abuse by Juan Blea, M.A., LADAC
–Organic Sexuality: From Shame into Mystery by Jason Holley, M.A., LPCC
–Adult ADD/HD: A Problem Unrecognized by Doug Puryear, M.D.
–Dr. Edith Wallace: Her Life, Work and Legacy presented by Karen Stefano, M.A., LPC
–Clinical Intuition, Vito Hemphill, DOC
–The Turning of the Ages: Our Time and Place in Cosmic Cycles of Evolution, Jason Holley, M.A., LPCC
–The Right Time and Place to Heal Trauma, Lee Cartwright, M.A.
–Mindfulness-Based Auricular Acupuncture (MBAA), Dana Moore
–Eyes Made of Soul, Robert Waterman, Ed.D., Lecture and Book Signing
–The "F-Word" Project, Maureen Burdock
–Under a Remarkable Sky:The Birthchart of Southwestern College, Jason Holley, M.A., LMHC:
–Intersubjectivity and the Practice of Therapy, Bill Smythe
–The Biological Drama of Trauma, Lee Cartwright, M.A.
–Cultivating Bridges: Attunement, Interpersonal Neurobiology & Group Process, Kate Cook, M.A., LPCC, TEP
–Vision as a Metaphor for Consciousness, Sam Berne, MD
–Envisioning a New, Healthy Sexuality, Jason Holley, M.A. and Kate Latimer, M.A.
–Transformation Through the Quantum Field, Robert Waterman, Ed.D.