Consciousness at SWC
Home

›

Consciousness at SWC
Share this:
Why Does Southwestern College Focus on "Consciousness"?
When we talk about "Consciousness," we are pointing in the direction of heightened awareness, intentional living, mindfulness, and a holistic approach to the helping professions. When we are more fully conscious we are also honoring the resources that lie outside the realms of mainstream western scientific inquiry. Here we include spirit and spirituality, energy, intuition, vibration, and what physicist David Bohm called the "implicate order" of things. Interestingly, the perennial or ancient wisdom traditions, both east and west, have always recognized the centrality of these domains to human wholeness.
The Southwestern College focus on consciousness invites us to remember the unity and inter-connectedness of all life, and the multiplicity of dimensions and relationships that connect us to all that is, whether we choose to be aware of it or not.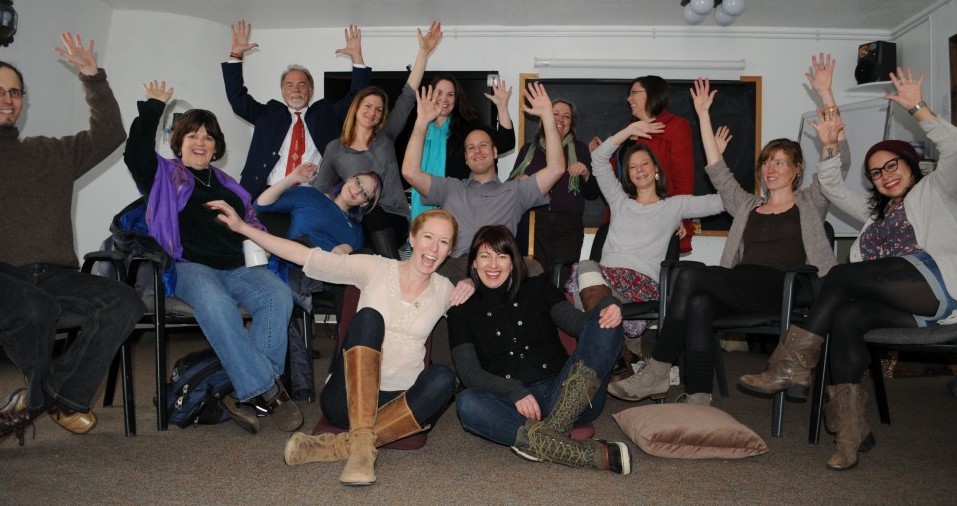 How Does This Relate to Counseling?
In the helping professions, we encounter people who feel disconnected from resources, both inner and outer, seen and unseen. Their sense of self suffers, and their efficacy and empowerment are diminished. That's why they come to therapy.
Southwestern College students go through a rigorous program which challenges them to explore their belief systems, and to deeply re-examine their way of organizing and understanding reality. The journey leads them to more intentionally construct a new, more aligned understanding of themselves and their lives. They learn to discover, identify, and access the rich resources that are available to them for living a more fulfilling life.
Coming from this transformed place of heightened awareness and empowerment, SWC graduates are better equipped to create space for clients to experience their own transformation or awakening, with fuller access to a greater array of resources for creating the life they want for themselves. This is deep work.
In the absence of intentionality and consciousness, we have seen much of mainstream psychology become mechanistic, disconnected, obsessed with "evidence" and measuring. Therapists can become narrowly focused symptom managers, organizing their own view of clients and therapy to match the demands of drug companies and the insurance industry.
In the Consciousness classes, students are asked to be inspired by some historical agent of change—somebody who, often against the grain of their culture and time, found the inspiration and strength to live authentically, aligned with their higher calling, and create change in the world.
The student studies that person, referred to as a "Light Figure," in an effort to discover and receive the resources and inner strength that allowed the Light Figure to live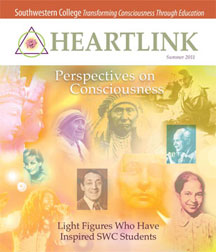 as they did. Students even study present-day news in an effort to imagine how Gandhi, or Jesus, or Teresa de Avila, or Rosa Parks, or Bob Marley, or Eleanor Roosevelt might have been inspired to respond, had they been alive at this time to do so.
The process is extraordinarily powerful, and at the graduation podium, many students refer to their Light Figures, and how they were impacted as a person and therapist by that experience. The strength gained, and the depth of understanding the student develops by having embodied that change agent, becomes integral to their work as a transformational therapist, working with complex clinical presentations.
(Heartlink Newsletter: Light Figures Who Have Inspired SWC Students  PDF)
In this YouTube video, Vice President Katherine Ninos, who created the Consciousness curriculum as we know it (over 30 years), gives her own understanding of the Light Figure process, one of the signature experiences of Southwestern College.
In other videos, advanced graduate students share their experience of an historical agent of change. By this point in their curriculum, they have reflected deeply on their own life experiences, and worked to transform limiting beliefs or previously unchallenged or unconscious assumptions. This allows them to facilitate such a process in others.
Drawing on the inspiration of a notable role model for change, each student shares with the class what they experience to be the essence of that particular Light Figure. The collective experience of the class is truly amazing, as they come to understand how people as different as, say, Jim Morrison, Mother Teresa, Martin Luther King, Jr., Madame Blavatsky, Black Eagle, or Johnny Cash were able, in their own unique ways, to leave a legacy that changed their world.