Accreditation
Share this:
Dear Friends of Southwestern College,

Southwestern College is accredited by the Higher Learning Commission (HLC) and approved by the American Art Therapy Association (AATA). This is a great honor and an affirmation of our College and its history. The longest period of accreditation awarded by HLC is ten years, and the longest by AATA is seven years. In 2011 and 2013, respectively, both of those accrediting organizations gave SWC the longest terms possible. 
The Higher Learning Commission accreditation team visited our campus in November of 2010 for an intensive, three-day review of all aspects of the College, from academics to finances, to strategic planning and facilities. Part of the process is a self-study that you can review. When all was said and done, they recommended a ten-year extension of our accreditation. This is a great honor for the College and the faculty, staff, and leadership that makes Southwestern the special institution it is.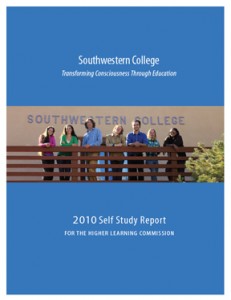 Thanks to community members, supervisors of our students, alumni, local mental health agencies and to members of the Board of Trustees for their participation in the process.
We are very pleased to have gone through this process in a transparent and open fashion, sharing our authentic identity and mission with the world. It is also a tribute to the Higher Learning Commission that they are open-minded toward alternative approaches to higher education.
In 2017, Southwestern College was approved by New Mexico to participate in the National Council for State Authorization Reciprocity Agreements. NC-SARA is a voluntary, regional approach to state oversight of post-secondary distance education.
We firmly believe that people are looking for a school that offers an alternative, holistic approach to mental health careers, and the fact that the Higher Learning Commission and AATA accredit and approve us is a great reason for prospective students to look more deeply into how a Master's Degree from Southwestern College could change their lives.
Warmly,
Jim Nolan President