Ecotherapy Certificate
Home

›

Ecotherapy Certificate
Share this:

Ecotherapy Certificate
96-HOUR CERTIFICATE, Completed with 6 courses
Southwestern College students may take these courses at the Continuing Education (CE) price unless they are using the course to meet graduate program degree requirements.
Students and community members pursuing a certificate through the New Earth Institute must complete all classes required for the Certificate within six (6) years of taking the first class. Although some of the certificate classes for this program are offered via distance there are a number of classes that are only offered in person.
Program Description
The ancient and enduring relationships between people and place, self and cosmos, remains vital to our sense of belonging. Human beings are one expression of life in an abiding interdependence with the other-than-human world. Yet the stresses of contemporary life emphasize our separation, our differences, and our distance to nature, resulting in anxiety, depression, isolation and loss.
In this program, students will be exposed to the scientific evidence proving that time outdoors in nature, especially in green spaces with trees and beside water, can result in multiple health benefits. Researchers have found that being in nature can lower blood pressure, alleviate depression and reduce anxiety. Addictive behaviors, symptoms of Attention Deficit Disorder (ADD) and Attention Deficit Hyperactivity Disorder (ADHD), and the symptoms of trauma and PTSD have also been reduced. Additionally, such strategies as earthing, forest bathing, eco-art therapy, wilderness therapy and outdoor adventure methods have proven to increase cognition, improve hopefulness, increase altruistic feelings, acts of generosity, increase a sense of safety and belonging, and boost the immune system. For a more in-depth conversation on the effects of nature on the self, please listen to this conversation with Dr. Ann Filemyr and alumni.
Interview with Rochelle Calvert, Director of the Ecotherapy Certificate Program
Completion of the Ecotherapy Certificate involves taking any six Ecotherapy courses which can be selected from the quarterly schedules. A total of 96 continuing education credit hours are required to complete this certificate, or a combination of quarter units and CE's. Courses include offerings from a variety of earth-based healing techniques and methods. Some examples include: 
Wilderness Fast
Mindfulness of the Body, Heart and Mind with Nature
Somatic Healing with Nature: Transforming Trauma and Living into Aliveness
Our Ecological Crisis: Healing the Trauma of the Earth
Elemental Healing with Nature
Walking with the Ancestors
Exploring Kinship Relations Using Ecotherapy and Art Therapy
Other courses may be listed in quarterly schedules.
Click here to see Upcoming Classes for this Certificate.
Click here to see the 2023 Schedule of NEI Certificate classes.
Click here to visit the Frequently Asked Questions page.
Program Learning Outcomes:
KNOWLEDGE
Students will demonstrate familiarity with the health and wellness benefits of Ecotherapy, including the enhancement of spiritual, physical, emotional and mental health.
SKILLS
Students will demonstrate increasing skill at participating in and leading transformational nature-based experiences and to reflect upon that experience meaningfully.
ATTITUDES AND BEHAVIOR
Students will demonstrate an openness to engage with various cultural concepts, worldviews and practices regarding the connection between human and other-than-human beings.
Skills you will be introduced to:
A framework for Earth-based healing that addresses the stresses of contemporary life, including depression, addiction, grief, and anxiety.
How to plan and implement earth-based ceremony and ritual, including rites of passage, in support of personal growth and collective renewal in modern psychotherapeutic and wilderness settings.
 A variety of integrative techniques for personal and collective transformation, including story medicine, ancestor work, the medicine wheel, vision quest, dream work, and expressive arts.
How to embody greater awareness of our vital interconnection with all that lives and move from duality to unity and from dominance to partnership for both personal and social transformation.
How to integrate Earth-based shamanistic approaches into clinical work in the therapeutic professions and healing arts.
Where you might use these skills:
Mental and Behavioral Healthcare Agencies
Hospitals, schools, nursing homes, treatment centers
Private practice
Outdoor adventure programs and wilderness therapy programs
Read the latest Ecotherapy blogs.
Ann Filemyr – Planting the Seeds of Consciousness Interview
Program Director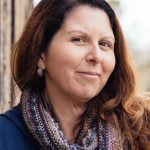 Rochelle Calvert, PhD, CMT, SEP
Rochelle is the Director of the Ecotherapy Certificate Program. She offers mindfulness, nature-based therapy and somatic experiencing as a psychologist with New Mindful Life, which she founded. Her therapeutic approach includes teaching people individual mindfulness meditations- both indoors and outdoors- specific to their unique concerns to support healing. She also integrates somatic experiencing healing (body based healing through nervous system reorganization) with the mindfulness and nature based meditation practices. Rochelle has therapeutic specialty areas of training to support integration of these services to individuals struggling with life transitions, depression, anxiety, PTSD, pain conditions, eating disorders, as well as families of developmentally delayed children/adult. www.newmindfullife.com