Jobs
Opportunities 
Southwestern College (SWC) is a small, consciousness-centered graduate school located in Santa Fe, New Mexico with an enrollment of approximately 200 students. We offer Master's degree programs in Counseling,  Art Therapy/Counseling, Art Therapy for Clinical Professionals, Consciousness in Action, and a Ph.D. program in Visionary Practice and Regenerative Leadership. 
Current job opportunities are listed here. The details link for each position provides specific application instructions. Check back often.
STAFF
Financial Aid Advisor (30-35 hours per week; +5 hours in Business Office)
Southwestern College welcomes applications from candidates seeking to work in a highly dynamic team-based environment in a full-time position that provides direct support to the Director of Financial Aid. The successful candidate will have a bachelor's degree or four years of experience working in higher education, preferably within financial aid; OR any satisfactory combination of experience and training which demonstrates the knowledge, skills, and abilities to perform the duties required. Also requires strong interpersonal skills and a student service orientation to advise prospective and current students on all aid programs offered to support recruitment and retention goals. Southwestern College is looking for a collaborative team-member who shares our vision (transforming consciousness through education), mission and core values. Note: Provide administrative assistance to the Business Office (5 hours/week).
Eligible for full time benefits. Reports to the Director of Financial Aid (30-35 hours) and Accountant (5 hours).
Please send a resume, cover letter, and a list of three references to Financial Aid Director Lara Barela at LaraBarela@swc.edu
For a full job description and to learn more about Southwestern College, click here.
Position open until filled.
Operations and Business Manager for Tierra Nueva Counseling Center
The Operations and Business Manager is responsible for overseeing day-to-day operations, including facility, fiscal, and office management; orienting and training students, faculty, and licensed therapists in the Counseling Center policies and procedures; providing operational support to students, faculty, and staff at the Counseling Center; marketing, outreach and networking activities.
Complete Job Description is available here.
Please apply through link on Indeed or send resume and cover letter to Michelle Lynn at michellelynn@swc.edu.
Professional Licensed Therapist (part-time)
The Tierra Nueva Counseling Center of Southwestern College (SWC) seeks a part-time independently licensed therapist to join our team. The Licensed Professional Therapist (LPCC) will work with a diverse caseload with the support of a clinical team. Come work in a growing practiced that is rooted in Southwestern College's philosophy of holistic care. Grow as a clinician with onsite training, professional development, and supervision that supports you and your therapeutic vision. Tierra Nueva provides individual, group, and family services designed to meet the specific needs of clients and utilizes a holistic framework which includes approaches that address the social, emotional, mental, cultural, and spiritual aspects of each client. Session rooms are designed for art therapy, play therapy, sand tray and allow for flexibility in clinical approach.
Complete Job Description is available here.
Interested applicants should submit a cover letter, resume, and a list of three professional references to Denise Moore. Position open until filled.
FACULTY
Southwestern College is fully accredited by the Higher Learning Commission.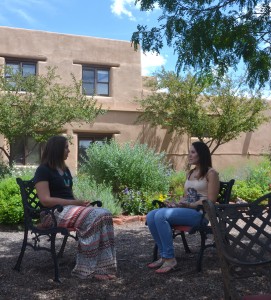 We offer a holistic, integrative approach to mental health, emphasizing experiential learning and the personal growth and consciousness of the student/therapist.
Faculty (full-time) Art Therapy/Counseling Program
Southwestern College welcomes applications for this full-time faculty position in the Art Therapy/Counseling program. The incumbent of this position will support the Art Therapy/Counseling Program Chair in the development, implementation, and ongoing assessment of the curriculum for the Art Therapy/Counseling Programs at Southwestern college. Other responsibilities include teaching at least three courses per quarter (9 units minimum), serving as a course leader for assigned courses, mentoring adjunct faculty, advising students, and participating in program assessment and CAAHEP accreditation activities.
Reports to the Art Therapy/Counseling Program Chair. Position is open until filled.  For a full Job description click here.
Interested candidates, please send a CV, cover letter, and teaching and art therapy philosophy to the Dr. Jennifer Albright at jenniferalbright@swc.edu.
Adjunct Faculty for M.A. in Art Therapy/Counseling Program
Southwestern College's M.A. in Art Therapy/Counseling is approved by the

American Art Therapy Association. It includes a lot of art-making, an experiential and holistic focus, and an emphasis on the personal growth and consciousness of the student/therapist. Our program allows graduates to sit for licensing in both Art Therapy and Counseling (this is unlike most Art Therapy programs.)
Please note that some Art Therapy/Counseling courses require instructors to have an ATR-BC, as required by AATA.
To view our courses, click here.
Adjunct Faculty for MA in Counseling Program
Southwestern College readily accepts letters of interest, curriculum vitae and teaching philosophy statements from licensed mental health professionals interested in teaching in our Higher Learning Commission accredited Counseling Program.  We prefer our faculty to have at least three years of post-graduate clinical experience in order to bring a hands-on perspective to our students. Our faculty operate from a transformational model of teaching based on experiential methods of instruction that emphasize personal growth, reflective practice, and conscious awareness of biases and belief systems that affect interpersonal relationships. We ask our faculty to serve as models for authenticity, congruence, and active participants in the learning process. 
For an overview of courses, click here.
For more information, or to communicate your interest, please email jobs@swc.edu. Feel free to include your resume and any specific interests you might have in courses.
Southwestern College makes continuous and systematic efforts to recruit, employ, and retain a diverse faculty to create and support an inclusive learning community.