Visionary Practice and Regenerative Leadership PhD Program Requirements
Home

›

Visionary Practice and Regenerative Leadership PhD Program Requirements
Share this:
Visioning and vision-based action are two interrelating, reciprocal expressions of regenerative leadership.   Jaffa Frank, Ph.D.
PROGRAM REQUIREMENTS: OVERVIEW
The Ph.D. in Visionary Practice and Regenerative Leadership requires completion of 75 quarter units. Students may complete all requirements within three years in 11 ten-week quarters. Students may also opt for part-time enrollment and complete within five years (which is 78 quarter units). The program is designed as a cohort model in which all students take a common core of courses before they begin to focus on their individual or partnered doctoral projects and dissertation proposals. See part time learning map and full time learning map.
RESIDENCIES
There are three required residencies which bring students and faculty together to strengthen relationships, build the learning community and advance together through the program.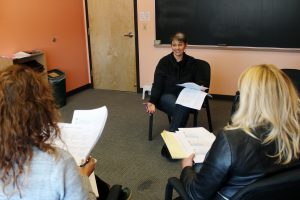 The initial residency, Seeking, brings students together in the fall of the first year for six days and includes a bioregional, land-based experience in rural New Mexico. This residency launches students into fall coursework, introduces them to the core faculty, and orients them to the program, campus resources, and each other.
The second residency, Gathering and Grounding, brings students together in the fall of the second year for four days. Gathering and Grounding represents the shift between the common core courses taught by faculty and the students' focus on completing their doctoral projects and dissertations with the support of the Doctoral Committee members led by the Committee Chair.
The third residency, Crossing the Threshold, brings students together for four days in the beginning of the Spring quarter of their last year. This final residency is a celebration of achievement and learning as students near completion of their dissertations. Students will share their work and engage feedback from peers and faculty.
Residencies will be held on the Southwestern College campus or other locations in and around Santa Fe, New Mexico.
COMMON CORE COURSEWORK
In the first year or part one of the program, all students will take a common core of courses designed to ground the theoretical, conceptual and experiential elements of this unique degree program. The first-year curriculum will introduce students to visionary theories and practices, regenerative theories and practices, and a wide range of research methodologies, including decolonial approaches drawn from indigenous scholars' critique of the construction of Western knowledge systems.
DISTANCE EDUCATION METHODS
Online courses will have both synchronous and asynchronous elements. Students will work independently and will participate in online discussions as well as zoom class sessions throughout the quarter. Visual, textual and related media will be uploaded as assignments throughout the quarter. Faculty will provide regular feedback and engagement. Each online course will extend over a ten-week quarter.
DOCTORAL VISIONARY REGENERATIVE PROJECT
The Doctoral Visionary Regenerative Project is an action research project involving both doing and being, action and reflection. It is completed over two consecutive quarters (six months) and represents 12 quarter units or 360 hours. It provides an opportunity for the doctoral student to embody and express their unique vision through direct engagement followed by meaning-making through structured reflection. It serves as the fieldwork requirement in our doctoral program.
The project shall clearly link to the dissertation. The dissertation proposal includes a clear description of the project for committee approval. Students articulate their own visionary and regenerative aspirations and determine the focus, topic, title, direction, outcomes, and relevant community participants for their doctoral projects.
The project can take many different forms, but each form requires the student to develop project management skills, such as the ability to organize toward a goal, create realistic timelines and budgets, etc. Project management often requires concise research to become familiar with the context within which the student seeks to make a contribution.
If you would like more details on the Doctoral Visionary Regenerative Project and the Learning Outcomes for this doctoral program, contact us at admissions@swc.edu for this information. This PhD program has been approved by the Higher Learning Commission.