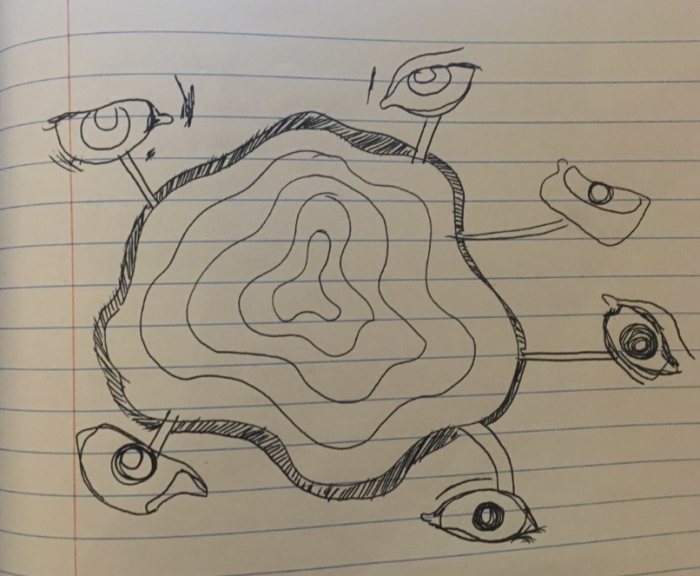 One of the required courses in our Art Therapy for Clinical Professionals Masters program is a 1-credit Arts-Based Research course. Students are asked to choose a symbol to engage with over the course of the quarter through arts-based inquiry and symbolic research. Part of the course asks students to identify their social location and multiple perspectives through an autoethnographic approach, to understand what symbols they are attracted to and how these symbols show up in their lives. 
Course Description: During this course students will participate in an arts–based research project. This project will require data collection, analysis, and representation of findings. Students will respond to and explore a chosen symbol. The symbol may be one

they have a previous relationship with through imagery, dreams, synchronicity, travels, art making, or a symbol with which the student would like to develop a relationship. With an ethnographic frame and using a phenomenological approach, students will experiment with a range of art forms, such as visual art, narrative, poetry, music, and movement to play with, represent, explore, observe, and learn from their multi–dimensional relationship with this chosen symbol. Students will present their culminating work to the Southwestern College community and reflect on its application to the practice of Art Therapy.
This past summer (2021), Kacey Kim was the first student to participate in and finish this course. Facilitated by Laura Lansrud-López, M.A., LPCC, LPAT, ATR-BC, NCC, ATCS, ACS, Kacey explored "themes of internalization as it related to my culture, emerging identity, and everyday self-expression." 
Please enjoy Kacey's Presentation: 
These are Kacey's words: 
My name is Kacey Kim. I currently live in Santa Fe, New Mexico with my long-term partner, Christian, and our dog, Mahina. I am a daughter, a sister, a friend, a social worker and an artist.
I graduated from the University of San Diego with a BA in psychology in 2014, received a Master's in Social Work (MSW) from the University of Nevada, Las Vegas in 2020, and currently expect to graduate with my Master of Art Therapy for Clinical Professionals from Southwestern College in 2022. My hope is to become independently licensed as a social worker and eventually move back to Hawai'i to bring a community-based art therapy practice back home.
My great-grandparents, from both my mom and dad's side, immigrated to Hawai'i in the 1800's. They came from Japan, Korea, and Portugal to build a better life, by largely working in the plantation fields. I was born in 1992 in Hawai'i, where I was raised in a small rural town called Kona. I am the youngest of three children, and my immediate and extended family all live in Hawai'i.
I moved away from Hawai'i when I was 17 and have spent the past eleven years in the U.S. mainland in various states. During my time as an undergraduate I experienced several years of severe anxiety and panic disorder. This time deeply impacted my relationship to myself and influenced my desire to work in professions that aim to create healing.
In addition, I am heavily shaped by the cultural influences of Asian-American values, Hawai'i/local culture, and years of living in the mainland. In recent years, I've recognized how I often feel a sense of not quite belonging to the people/cultures/places that I experience.
As part of my program at Southwestern College, I engaged in an Arts-Based Research (ABR) course, in which I was asked to engage in a 10-week creative process. This process asked me to choose a symbol, explore it creatively each week, and track how the symbol evolved over time. This self-reflective process allowed me to explore themes of internalization as it related to my culture, emerging identity, and everyday self-expression.  I finished the course by creating a video and PowerPoint presentation to showcase my art process and the overall findings I took away from this process.
About the Moderator