A Bibliography on Ethical Practices in Social Research
Home

›

A Bibliography on Ethical Practices in Social Research
Share this:
These texts offer insight into the philosophies and methods behind ethical decision making in research design and execution. All books are accessible online and freely available to SWC students. To access just click the citation and enter the library's EBSCOhost login credentials, which can be obtained via the Library Group in Populi or by contacting us.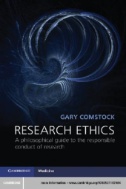 Comstock, G. (2012). Part C: Respect strangers' rights. In Comstock, G. Research ethics: A philosophical guide to the responsible conduct of research. Cambridge University Press.
Education in the responsible conduct of research typically takes the form of online instructions about rules, regulations, and policies. Research Ethics takes a novel approach and emphasizes the art of philosophical decision-making. Part C of this volume introduces moral rights as the basis of informed consent, the use of humans in research, mentoring, intellectual property and conflicts of interests. This book brings a fresh perspective to research ethics and will engage the moral imaginations of graduate students in all disciplines.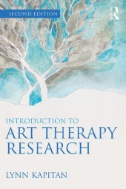 Kapitan, L. (2017). Before you begin: The research proposal and other ethical safeguards. In Kapitan, L. Introduction to art therapy research. Routledge.
Since the initial publication of Introduction to Art Therapy Research, interest in this field has grown dramatically along with public policy demands for an up-to-date, culturally relevant evidence base on which to practice. This revised and expanded edition pays particular attention to the field's unique and compelling questions, most current literature, and emerging trends in research… Part III offers up-to-date ethical guidelines and valuable tools for understanding and evaluating research reports, as well as practical guidance for publication in scholarly journals based on the author's long experience as the editor of the field's leading scholarly publication. Also included are added coverage on cross-cultural research as well as high quality examples from published, peer-reviewed art therapy research studies that illustrate material throughout the text.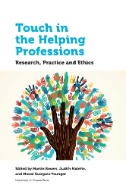 Rovers, M., Malette, J., & Guirguis-Younger, M. (2017). Touch in the helping professions : Research, practice and ethics. University of Ottawa Press.
Touch may well be one of the least understood or talked about subjects in the helping professions. A discussion on the importance and ethics of positive, caring, and appropriate touch in professions such as teaching, nursing and counselling is long overdue. Touch in the Helping Professions delivers just that, weaving together scholarly evidence, research and clinical practice from a wide range of perspectives encompassing philosophy, theology, psychology, and anthropology to challenge assumptions about the role of touch in the helping professions. The contributors to the volume focus not only on the overarching roles of gender, age, culture and life experience, but go beyond to encompass canine-assisted therapy, touch deprivation, sacred objects, as well as key ethical considerations. The prevailing lack of dialogue, due to fear of contravening ethical boundaries, has stood in the way of an open and responsible discussion on the use of touch in therapy. Touch in the Helping Professions is a welcome and much needed contribution to the field—a window onto a fundamental need.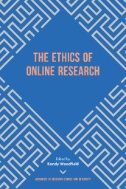 Woodfield, K. (2018). The ethics of online research. Emerald Publishing Limited.
This volume focuses on the ethics of internet and social networking research exploring the challenges faced by researchers making use of social media and big data in their research. The internet, the world wide web and social media – indeed all forms of online communications – are attractive fields of research across a range of disciplines. They offer opportunities for methodological initiatives and innovations in research and easily accessed, massive amounts of primary and secondary data sources. This collection examines the new challenges posed by data generated online, explores how researchers are addressing those ethical challenges, and provides rich case studies of ethical decision making in the digital age.