Kate Cook, M.A., LPCC, TEP
Share this: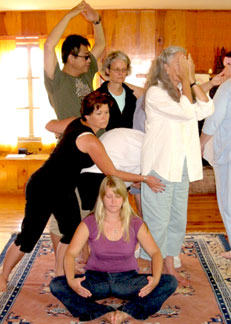 Kate is a licensed professional clinical counselor and nationally board-certified trainer and practitioner of psychodrama, sociometry and group psychotherapy. She joined the faculty of Southwestern College in 1990. Since 1994, Kate has been providing training in Action Methods both locally and nationally. For many years, she also developed and directed experiential groups for juvenile and adult offenders in the Santa Fe County Detention Centers. Kate maintains a private practice and is a consultant and educator.
Approach to Teaching
My orientation and practice on all levels is about the primacy and power of relationship. The curiosity and passion I bring to my work and teaching is based on creatively exploring and cultivating mindfulness through both the constructive and destructive forces of the individual, the collective psyche and the interpersonal field. Among my current gurus are my grandson, my students, my clients and the pioneers in the field of interpersonal neurobiology who are developing an incredible new matrix for understanding the importance of relationship, and the awesome possibilities for exploring them.
My teaching is 'academically grounded' in this revolutionary matrix which integrates spirituality, depth psychology, biology, social engagement and virtually all the 'fields' into a conceptually cohesive whole. This new matrix offers a multitude of doorways for those of us who are rooted in body-based expressive methods of healing like psychodrama.
As a teacher/trainer, I am devoted to assisting my students in directly experiencing and cultivating coherent approaches to interpersonal and group dynamics, which capitalize on the potential for attunement, the repair of physiology, as well as the emotions and psyche.
Two of my favorite guiding thoughts are, in the words of psychodrama founder, J.L.Moreno (circa 1928), "by the group we were wounded, by the group we shall be healed". And, to paraphrase renowned psychologist Daniel Goleman and Vietnamese priest Thich Nhat Haan, "the shortest distance between two brains and hearts is laughter…".