Jaffa Frank, Ph.D., LMHC
Home

›

Jaffa Frank, Ph.D., LMHC
Share this:
Jaffa is an alumna of Southwestern's Counseling program with an emphasis in Grief, Loss, and Trauma therapy and additional training in Sandplay. She attained her Ph.D. from Pacifica Graduate Institute in Mythological Studies and Depth Psychology. Therapeutically, she has worked as a hospice bereavement counselor and with children struggling with trauma and attachment disorders.
As an archetypal mythologist, teacher, writer, and therapist, Jaffa's focus is on seeing through the concrete manifest to the archetypally significant or Soulful underlying all of creation. She cultivates a psycho-mythic, embodied, relational understanding of transformation, loss, trauma, and disease that engages the creative imagination and the storehouse of collective wisdom found in myth to mediate meaning-making and build resilience out of suffering. She finds that by turning toward wound, symptom, or other content from the unconscious psyche with an attitude of mindful acceptance, loving curiosity, and creativity, one opens to mystery and deep wisdom, facilitating reconciliation, healing, and integration of one's whole identity.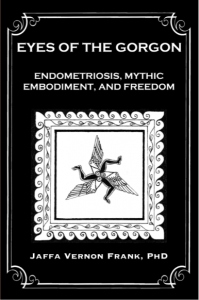 Jaffa has further training and expertise in dreamwork, Jungian Active Imagination, mindfulness, thanatology, shamanic journeying, ceremonial and wilderness-based healing, art practice for joy and healing, attachment, somatics, and interpersonal neurobiology. She has a special interest in healing collaborations between humans, nature, and creativity and the power of archetypally integrative narratives to transform psychical and physical well-being and cultivate a soulful, love-centered life. In addition to teaching in Southwestern's Consciousness Series, Jaffa writes and presents at conferences. Her most recent publication, Eyes of the Gorgon: Endometriosis, Mythic Embodiment, and Freedom, is available at the SWC Bookstore  and on Amazon.
For more information on her work go to https://jaffavfrankphd.weebly.com/