Mindy Cardenas, M.A., LPC, ATR-BC
Home

›

Mindy Cardenas, M.A., LPC, ATR-BC
Share this:
Mindy recently moved back to New Mexico after 10 years in Madison, WI where she practiced art therapy, provided trainings, and taught art classes at her business, Bending Tree Studios. She has been in private practice, providing art therapy services, for 17 years. Mindy earned her undergraduate degree in Fine Arts from Northeastern State University in Tahlequah, Oklahoma, and her Master's Degree in Art Psychotherapy from Vermont College in Montpelier, VT. Since graduation, she has trained in trauma, art therapy and focusing techniques, grief processes, and other creative modalities such as play therapy.
Mindy believes in the power of creativity and art-making for health and well-being. She provided workshops and has spoken at many venues about art for growth, healing, strengthening relationships, and understanding. She truly believes that art is life.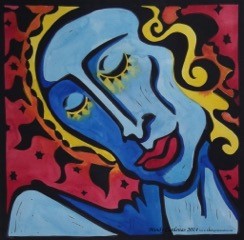 Mindy's not so secret passion is the environment, which translates in her artwork as up-cycling and altered art. She has been creating multi-media pieces out of reclaimed canvas, found objects, and things that would have otherwise been thrown away. She is passionate about making altered art and journals, and developing community based projects that seek to empower all who participate, while reclaiming and reusing materials.