Shaun McNiff, Ph.D.
Home

›

Shaun McNiff, Ph.D.
Share this:
ART AS A FORCE OF NATURE: CREATIVITY, IMAGINATION AND HEALING
Shaun McNiff, Ph.D., ATR
Saturday, August 25, 9am – 5:30pm
The Center for Spiritual Living, 505 Camino de los Marquez, Santa Fe
$135 for 7 CECs
Go to www.tandh.org to register
Art heals through the circulation of creative energy and the transformation of difficulties into affirmations of life. These processes are often inaccessible to linear thought and communication and yet we persist in trying to present and justify the work we do according to a paradigm that marginalizes these forces. Can we let artistic evidence speak for itself rather than keep it in a shadow realm?  Can we trust and perfect creative processes in a new tradition of practice in sync with the wisdom of nature?
Artistic expression in all media will be approached as a force of nature that is innate to each person and capable of being released and perfected in a supportive studio environment. We will explore how to relax controls and tendencies to judge and over-think, turn resistance into fuel for creation, initiate expression more from the body than from mental expectations, open to the unexpected, and experience quality as personally unique, natural, and authentic expression.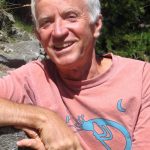 Shaun McNiff, Ph.D., ATR, founded the first graduate program to integrate all of the arts in therapy into a discipline now called Expressive Arts Therapy. Dr. McNiff discovered in his work with others how each art form contains all of the others and how the creative process flourishes when this eco-system of expression is affirmed. His orientation to depth psychology affirms the integral nature of all things. The reality of natural and authentic expression occurs when all the senses work together in an interdependent way, like everything else in nature. McNiff's books and essays have been widely influential and translated into many languages—his Imagination in Action: Secrets for Unleashing Creative Expression (Shambhala, 2015) closely aligns with this workshop. His books Art-based Research and Art as Medicine are used extensively in the teaching of art therapy. He leads art studios, lectures, and teaches throughout the world. www.shaunmcniff.com