Phineas Parkhurst Quimby 1802 – 1866
Home

›

Phineas Parkhurst Quimby 1802 – 1866
Share this:

Father of New Thought
Phineas Parkhurst Quimby is widely recognized as the "Father of New Thought", since the essence of the movement is rooted in the interpretation of his teachings and healing practices.
Earlier in life, Quimby developed tuberculosis but experienced no benefits from the medical treatment of his time. He became disillusioned with medicine, but when he experienced a significant improvement from non-medical means, he began a lifelong study of the true nature of health, disease and healing.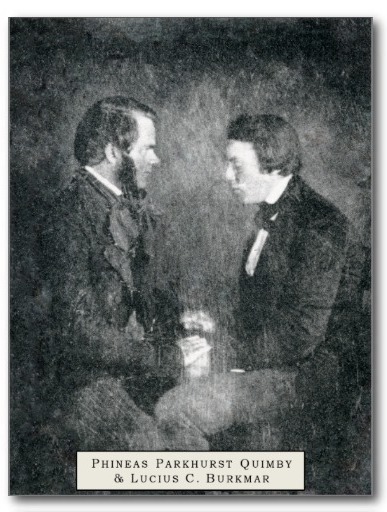 His studies led to the development of "mind healing", and his teachings and healings became legendary in his native New England. Among the students and patients who joined his studies and helped him to commit his teachings to writing were Warren Felt Evans, Annetta Seabury Dresser and Julius Dresser, the founders of New Thought as a named movement, and Mary Baker Eddy, who, years after experiencing a profound healing from Quimby, set off in a related but dogmatic direction and founded the Christian Science movement. Other luminaries who come from this lineage stream were Emma Curtis Hopkins, whose students included Ernest Holmes and the Fillmores, founders of the Church of Religious Science (now the Center for Spiritual Living) and Unity Church, respectively.
New Thought is alive and well today in the works of Jean Houston, Barbara Marx Hubbard, Wayne Dyer, Deepak Chopra, Eckhart Tolle, Andrew Harvey, Louise Hay, Abraham-Hicks, Caroline Myss and many other popular leaders in the world of spirituality and healing.
---
More information on the life and teachings
of Phineas Quimby are available at the