Alumni Updates – 1998 Graduates
Home

›

Alumni Updates – 1998 Graduates
Stuart Cline has an 18-month-old baby boy with his wife Julie. He is working with the Native American population at the Pueblo of Sandia as the Substance Abuse Counselor and just received his temporary LPCC licensure adding to his LPAT, LADAC as well as ATR-BC licenses. Stuart has also applied for a position on the National Committee for the American Art Therapy Credentials Board.
Henry Mandel lives on the Hawaiian island of Kauai. After graduation he worked for 6 yrs at the state hospital in Las Vegas, NM. Henry moved to Hawaii in 2004. He is now an EMDRIA "Approved Consultant" doing therapy with the patients, clients and residents. He invites communication: henrymandel@msn.com (808) 245-3604.
The Santa Fe Community Foundation at the 18th Annual Pinon Awards ceremony honored Betsy Millard '98 and Hands On Community Art with the Geronima Cruz Montoya Award for Arts and Humanities at the Lensic Theater on September 30, 2004.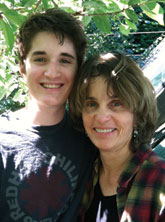 Gretchen Wachs, LMHC, Having worked as a visual artist for most of my life puts me in a unique position as a creative psychotherapist, as I am no stranger to the deep psychological work that goes hand in hand with true creative investigation. This works in reverse as well, and I truly find the practice of psychotherapy every bit as creative as painting. We are all works in progress.
Although I graduated in 1998, at the time I elected to return to my studio, continuing to paint and sculpt and raise my son.
Several years ago I became licensed as an LMHC, and have gone on to do post graduate studies in family therapy, studying systems as well as narrative therapy, as I believe it is necessary to consider our lineage as we do the work of psychotherapy. I have also trained as a life coach. I see clients in my studio near Tesuque where I offer a wide array of art experiences as well as straight on therapy. I also share an office in town. I have worked with individuals, couples and families.
My son, Ryan (who was born while I was studying at SWC) goes off to college in the fall and I see 2012 as a year of big changes and tremendous opportunities for growth, as we embrace our creativity and vision, and move beyond limiting beliefs and patterns. My website is gretchenwachs.com and coming soon, therapywithart.com.