Alumni Updates – 2006 Graduates
Home

›

Alumni Updates – 2006 Graduates
Share this:
Julie Knose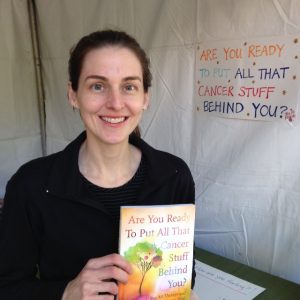 Hey all! I'm finally doing an alumni update, ten years later! I loved my time at Southwestern College in the Art Therapy program. Two months after graduation, I moved home to Ohio because my dad was diagnosed with stage IV lung cancer. He died four months later in April of 2007. I worked at an insurance company (the magic of Santa Fe became a distant memory) for a year and a half. In June of 2009, I was diagnosed with stage II breast cancer after finding a marble-sized lump on my right breast. I went through surgery, chemotherapy, and radiation. While I was bedridden for six months leaking spinal fluid (a complication from the radiation,) I grabbed my markers and sketchbook remembering the art therapy directives I learned at Southwestern. I made a series of flower mandalas which helped me to process my emotions and release the pain. In the midst of my powerlessness, art making became a very empowering experience. I finally understood what my teachers were talking about!
After I regained my physical strength through exercise, I was hit with the emotional fallout developing severe anxiety and depression. I pushed everyone away, ashamed at how poorly I was doing. There's a lot of pressure on survivors, spoken and unspoken, to recovery quickly and get back to normal. I felt like a failure because I couldn't find the old me. It was around this time that I met my spirit guide, Sunny. I spent the next three years writing a book about my healing journey, and I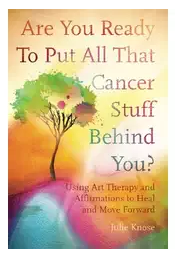 got myself back into therapy to deal with my lingering issues. I hired an editing team and self-published in April of 2016. The book is called: ARE YOU READY TO PUT ALL THAT CANCER STUFF BEHIND YOU? Using Art Therapy and Affirmations to Heal and Move Forward. The book is part memoir, recovery guide, and spiritual adventure. It's available for purchase on Amazon. In June of 2016, I was an exhibitor at the Bay Area Book Festival in Berkeley, California, that's where the picture is from. Currently, I reside in Mason, Ohio, where I am busy working on several creative projects: a collection of short stories and an affirmation card deck. I also plan to teach an art therapy workshop for cancer survivors and attend a few more book fairs because they are a lot of fun! Take care and be well, Julie   
Email: julieknose@gmail.com  Website click here  Twitter: @julieangelmagic
Julie's book on Amazon click here
Betty Bernard is living in the Albuquerque area and is working for PB & J Family Services as a Family Intervention Specialist 3. She works with male and female inmates and their families, co-facilitating parent education and family reunification groups, as well as providing home-based services and counseling for the families.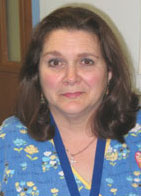 Lori A. Brown, M.A., ATR-BC, LPC, has worked for the St. Francis Medical Center in Monroe, LA for five and a half years. Lori is the counselor at their school-based health center in the Carroll Jr. High with the Carroll High School next to it. She has recently been accepted into the Doctorate of Art Therapy Program at Mount Mary College in Milwaukee, WI., and will be specializing in trauma. She received the "Franciscan Award" from the St. Francis Medical Center in April 2011. She has volunteered at The Ouachita Parish Correctional Center, doing art therapy with children displaced by Katrina and at the Louisiana Methodist Children's Home in Ruston, LA. Lori has four children and 3 grandsons. She has received her ATR-BC and a LPC license in Louisiana. She was the vice president for the Northeast Louisiana Suicide Prevention Coalition in Monroe, LA.
Sandi Bodge has been working as a FT therapist at Taos Colfax Community Services since April '06.  She began as an enthusiastic paid intern~ and have been an enthusiastic FT therapist since September '06! Sandi works with about 50 clients ages 17-70.
Mary Carafelli recently facilitated an Artist's Way Course.
Angela Cieszynski is working at Middlesex Hospital as a Crisis Clinician and recently ran the full Hartford marathon.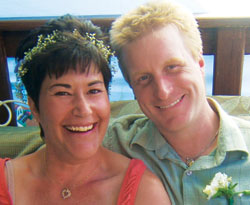 Shay Davis (aka Rothstein), "Wow, what a journey I have been on since graduating in '06!  I fell very ill after starting my career.  I was working for about 8 months at our local community mental health establishment serving the most severe clientele and teaching at Colorado Mountain College.  I created Rocky Mountain Holistic Health and rented an office.  I thought I was living my dream but realized too late that I had really over-done it for several years.  It then took several years to recover.  In my journey to health, I found the most amazing people and after they helped me back to health, they offered me a job.
I began working out of their office (Jan and Jaclyn are experts in Neurofeedback) in Nov. '09, the same day Obama was inaugurated.  It was a refreshing re-start for sure.  I was having trouble with my first client they referred to me and then it dawned on me, do Neuro Emotional Technique on her!  This is a technique I learned before grad school and it has been a gold mine of health for my clients and me.
I offer more of a non-traditional approach and utilize much of what I learned at Southwestern.  The techniques I use, mostly NET and EFT, work on a physiological as well as emotional level, then, we do the cognitive work.  I have been very successful at treating many physical, mental and emotional ailments holistically. I work with a network of providers who do everything from naturopathic medicine and energy medicine to massage and chiropractic work.
On a personal level, I was married in September '10 to Seth Davis who practices the Rolf Method of Structural Integration.  We make a great team personally and professionally.   We bought a home in Glenwood Springs, Colorado 4 years ago and I am ecstatically happy. Miracles never cease to happen to me and I am currently working on a book about them irreverently called Shit I Can't Explain.
My intentions for the future are to continue to provide the best possible care for myself and my clients (on a worldwide scale as my techniques work over any distance) and to write and be prosperous.
Paula Elizabeth and Ross Putnam have opened their counseling practice Spirit's Haven at 2074 Galisteo Street, Suite B4 in Santa Fe. Their expertise is working with life transitions, all forms of grief and loss, trauma, and relationship concerns. They also offer conflict mediation and conflict resolution workshops.
Carrie (May) Ezell President of the Tennessee Art Therapy Association, is thrilled to report that, in late October, TATA had its first ever 'Connections Through Art Therapy' conference, at Chattanooga State. Carrie May and Vice President Megan Castronova welcomed 30 participants from various fields. A keynote presentation, two hands-on workshops and a panel discussion were offered. The conference was such a success that TATA committed to making it an annual event.
Josh Farmer was working as a therapist in Norman, Oklahoma at a residential treatment facility for adolescent males, as well as doing contract work with a school district providing individual therapy.  He  has now gone into private practice. He and Heartsong Turnbull have a new baby boy who is about to turn one year and our daughter is now 5 years old.
Barbara Gravinese has been awarded a Fulbright Fellowship to begin studies for a master's degree in Folklore in Newfoundland, Canada leading to a doctoral degree.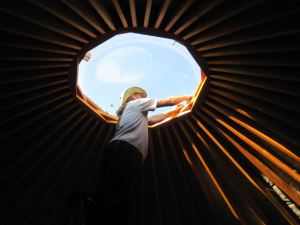 Paul Grim My wife Fern, foster daughter Kari, doggie Otto, and I are homesteading on our land in Lyle, WA where we have a 10,000 square foot vegetable "patch", solar power, and wood cooker. We are currently crammed into a tiny yurt, but we are building a new home during our spare time evenings and weekends
homesweetyurt.wordpress.com. 
Fern is running the local farmers market and the annual Homesteaders Fair. 
I have a healthy private practice in a nearby small town where I specialize in addiction treatment, and couples counseling and fail to avoid dual relationships. I can attribute much of my confidence to do this work from my transformational experience at Southwestern College. Thank you Alan, Helaine, Katherine, and Larry!
Website: www.whitesalmoncounseling.com
email: paulxgrim@gmail.com
Alicia Hoffman is the Director of Social Services at Resurrection Nursing and Rehabilitation Center in Park Ridge, IL. She continues to paint and to market greeting cards of her images.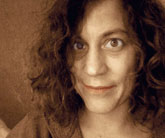 Linda Iannacone has been working as part of creative social projects that focus on individual and collective change. Since 2008 she has volunteered with Camphill Village in Copake, NY, founded on the work of Rudolf Steiner; facilitated a mural project with Iraqi and American teenagers, and worked with Iraqi and American teens to create a book of poems and prints entitled Truth, Peace and Beauty. This fall Linda started an art therapy position with the Trenton Psychiatric Hospital in New Jersey and will establish a program to link hospital clients to community groups for collaborative public arts projects. Linda shared her gratitude for having grown so much and for the seed of SWC having found such great potential in her work. Being part of the SWC family and her work since graduation are both great sources of pride.
Andrea Kaplan got a job 5 days after she graduated as an art therapist for an in-patient behavioral health center in the Chicago area working with children and adolescents.
Paulette Kaskinen has moved back to Albuquerque. She has started as a therapist in the sub-acute inpatient unit of Desert Hills after a several-month stint as sole therapist at the Guidance Center of Lea County in Lovington, NM.
Kim Perrier completed her internship at the Santa Fe Rape Crisis and Trauma Treatment Center and accepted a position there as a full-time therapist. The Center recently transitioned from working exclusively with individuals and families who experienced sexual violence to serving the community by addressing all forms of trauma using a cognitive behavioral approach. Perrier is working with a wide variety of clients and feels honored and blessed to be able to support the Santa Fe community.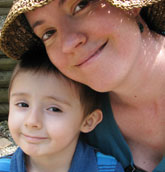 Misty Peterson and her family still reside in beautiful Asheville, NC. Misty has been working primarily as a therapist for the CooperRiis Community Program, counseling adults in recovery. She is branching out to work in the public schools, supporting elementary age children and their families. Misty is excited to ignite her passion for this modality and to be working with kids again. Her 3 yr. old son, Rio, remains her most enlightening teacher in life. Misty's husband, Scott, is pursuing his teacher certification in theater education.
Chrissy Schmitt is currently working part-time for United Way Children's Project as a home visitor in their First Born program. First Born serves families in Santa Fe County having their first child. In addition to working at First Born, she counsels private clients in a small art therapy practice in Santa Fe. She is also the Art Director for Creativity for Peace, a summer program for Israeli and Palestinian adolescent girls. Creativity for Peace uses compassionate dialogue and art as a means of peace-making for Middle Eastern girls living in conflict. On a personal note, Chrissy joyfully became a mother last year. Her daughter Sadie is 13 months old!
Silvia Stenitzer is participating in The National Certification Program for Psychodrama & Action Method. In her private practice, Interactive Body therapy, Silvia has been addressing the body-mind-soul connection for 18 years. She has been teaching Pilates for the past 10 years, and since 2004, she has her own Pilates Studio.
Heartsong Turnbull is currently a director of a therapeutic foster care program in Oklahoma City. She and Joshua Farmer have a new baby boy who is about to turn one year and our daughter is now 5 years old.
Counseling Graduating Class 2006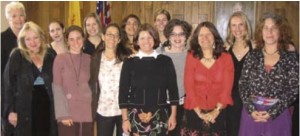 Art Therapy Graduating Class 2006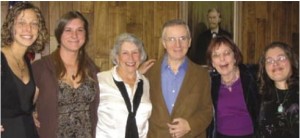 Grief and Loss Counseling Graduating Class 2006.
Images from Heartlink, Winter 2007.