Ann Filemyr, Ph.D.
Home

›

Ann Filemyr, Ph.D.
Share this: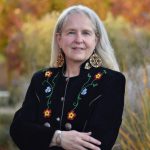 Ann Filemyr, Ph.D., serves as President of Southwestern College, Director of the Ecotherapy Certificate of the New Earth Institute and founding Director of the PhD in Visionary Practice and Regenerative Leadership. As a poet, teacher and educational activist interested in the ways formal institutions of higher education can reveal and reverse the trauma caused by educational systems based on power and privilege, she explores these questions: How can the promotion of creativity and imaginal thinking be combined with critical analysis to address the violence inherent in our socio-economic systems and promote personal and social transformation? How can we heal the rupture with the Earth's living systems and live again as part of Creation?
Dr. Filemyr is an educator, published poet, teacher and mentor. Her own educational journey includs a Bachelor of Philosophy in the Creative & Performing Arts, A Master of Arts in Creative Writing/Poetry and a Doctor of Philosophy in Environmental Communications. Her educational path connects her passion for creative expression with a concern for healing ourselves and the Earth. She understands that we must be willing to change ourselves in order to change the world. Dr. Filemyr served as the Academic Dean at the Institute of American Indian Arts in Santa Fe and as Professor of Cultural & Interdisciplinary Studies, then Vice President at Antioch College in Yellow Springs, Ohio.
Dr. Filemyr was trained as a ceremonial leader and traditional healer by the late Keewaydinoquay Peschel and served as her graduate teaching and research assistant at the University of Wisconsin-Milwaukee and as her personal apprentice for twenty years. Kee was a culture carrier, storyteller and herbal medicine woman in the Midewiwin tradition of the northern Great Lakes. Dr. Filemyr continues to live and teach from this lineage.
Prior academic appointments include: Vice President of Academic Affairs & Dean at Southwestern College, Academic Dean of the Institute of American Indian Arts, Dean of Faculty and Professor of Cultural & Interdisciplinary Studies at Antioch College, Ohio.