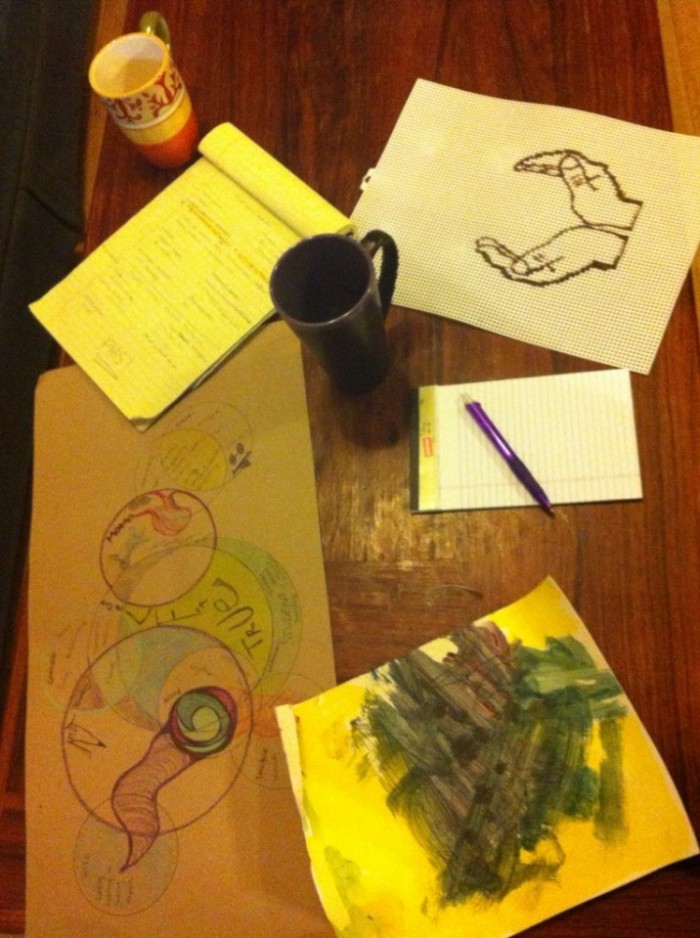 A few months ago I wrote about the importance of words. Today I'm having trouble finding the right ones to describe my experience in supervision this quarter. Not wanting to add to the old myth that art therapists don't talk, I'll try to summon some words to express what I'm very aware of today.
If I was a filmmaker (and we could set aside confidentiality!) I would show you these scenes: the first scene has a big table with client artwork, files, coffee, a few lunches and six people, including me. Passionate discussion is taking place about the art that's present. I probably wouldn't film the diagnosis and treatment planning discussions because although important, they don't always hold the zing that the talk about the therapeutic relationships and the tender drawing done by a tiny client of his sweet dog, contain.
I'd have the camera catch the depths of compassion in my students' eyes as they talk about their clients. Then I'd want the camera to zoom in close, to catch the complicated, sometimes simple, often colorful, sometimes painful artwork created by the children, teens, men and women who come to the counseling center.
If this film had sound you might be surprised at the bursts of laughter. Not directed at the client and usually laughing WITH the student therapist as we talk about the work. Because we're human beings, after all. One of the many things that these new therapists are learning is the depth of human misery that therapists are witness to in client words and client art. And so when small moments of joy or mirth pop up, we do jump on them, celebrating in a way, the resiliency of the student therapists who are learning to carry it all. So much to carry. Some days we cry in supervision.
What I hope for is that while my students learn that they can show up as open, caring, vulnerable human beings, they're also learning to paint, sculpt, run, dance, and in general, take care of themselves as they do this work. Sometimes I didn't and I know the personal cost of incorporating my clients' nightmares into my own at 3:00 a.m.
I think the final image of this film would feature the smiling faces that I saw today. Beautifully sensitive, smiling the "I think I can do this" smile. Not smug, not over-confident, just happy to know that after the first quarter of client work, the doing of art therapy is good.
And the supervision of it is a sweet gift, says my smile.
About the Moderator