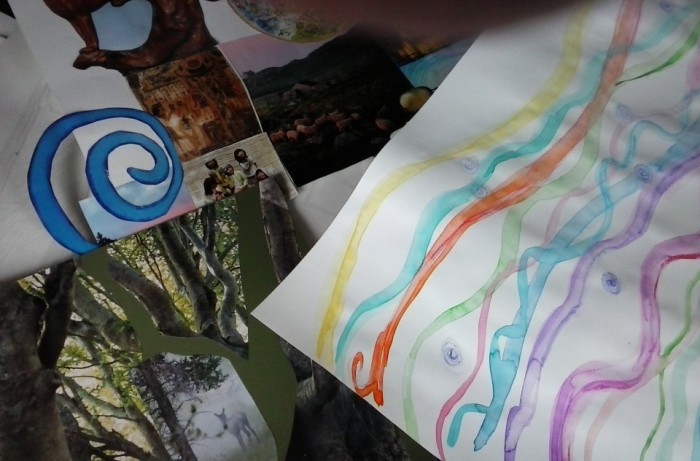 by Deb Schroder
If car designers only knew what art therapists truly need (not that we're a big enough group to be listened to by the auto industry). We turn our mediocre, ordinary car trunks into Mobile Metaphor Containment Units – we drive around with art pieces stashed in the only container that exists in the in-between zone. We have substantial art statements loaded with visual meaning, freshly summoned from the unconscious, that for whatever reason, can't stay wherever they've been created, and are too raw, intense or untamed to be allowed in our homes.
This became clear to me during an exit interview with one of our almost-grads. She mentioned how she drives all over with this really significant image tucked away in her trunk. Immediately I remembered a clay piece that I created in the "year of the divorce". Painful to sit with, it certainly couldn't be allowed in my home. And so it traveled with me, commuting all over Milwaukee and Waukesha counties. Groceries bumped up against it, art supplies for in-home work perched on top it, and slowly the unfired clay began to crumble, tiny piece by tiny crumb.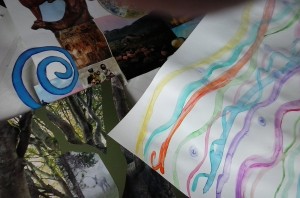 The beauty of that was oddly appealing and comforting to me. I hadn't intentionally hurt this art/messenger. I just allowed nature to take its course, much like I'd had to do with the emotional wrenching away from my marriage. Finally, as the piece disintegrated, its power over me lessened and I could throw the remains away.
Once when I bought a car I needed to make snap decisions about the artwork in my old car's trunk. The salesperson wordlessly handed me a huge black garbage bag and I had to choose, in that moment what stayed with me and what was tossed. A nearly impossible task for a Libra, I tried to pluck out the art that still spoke to me and throw out the rest.
A friend once suggested using the garage or basement for art storage (that doesn't work in my Santa Fe residence, there's just a carport). I do have a small storage space within my patio. But that would mean sorting through all the boxes of broken things that I save, that I think I'll make art with someday.
About the Moderator