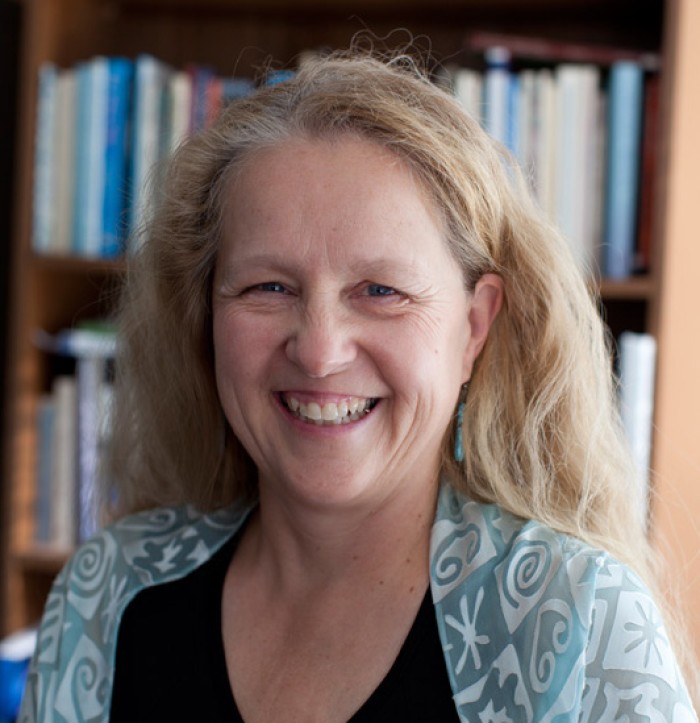 By Awbrey Michelle Willett
Ann Filmyer, Ph. D is an educator, poet, teacher, and mentor.  A traditional healer she trained with the late Keewaydinoquay Paschal in the Midewiwin tradition of the northern Great Lakes and is an Ojibwe herbal medicine woman.  Dr. Filemyr has a rich history as a teacher and was Professor of Cultural & Interdisciplinary Studies, then Dean of Faculty and Vice President at Antioch College in Yellow Springs, Ohio, where she lived and worked from 1990-2005.  Then she became the Academic Dean at the Institute of American Indian Arts in Santa Fe for nine years prior to joining Southwestern College, where she is currently serving as the President.  Ann has advised me in choosing well suited instructors and following my heart (introducing me to the 7th direction of "here" on the medicine wheel).  I have spent time in her writing group and beside her in ceremony.  Ann's notion of self-care would better be described as spiritual-care, though, like all the other interviewees, Ann really integrated all three aspects of wellness into her way of being.   Turning my opening question, what is self-care into something more she stated, "we all must ask ourselves what's my way of drawing sustenance?" 
Even if you are resilient and love your work, the effects of care can bring you to pivotal points where you must "know your limits." Ann told the story of, The Four Hills, a description of human development from her Ojibwe tradition.  She described that there are four hills that some of us get the privilege to climb, as a baby we crawl, as a child we walk and stumble thorough adolescence, as an adult we are upright and carry the weight of our own children and elders with us, as an elder we take our final climb, a whole life lived within us, we make our final decent. Where we are in the life cycle can greatly impact our experience of self-care. Who you are and where you stand on your hill may determine a lot about your cumulative toll, a term Lipsky uses to describe the cumulative nature of trauma.  If you are a mom and partner caregiving at home, as well as in the office, a woman of color, or a gay man, supporting clients, and caring for aging parents you may experience a greater toll than someone at a different phase of their lives and career, with a different cultural and gender reality.
Ann tends to her spiritual-care practice in a rhythmic way, saying, "it is repetition that helps us locate."  By locate I believe Ann meant find her authentic self and move through the world from this connected place.  Ann does not have a daily practice of "resourcing" which Laura van Dernoot Lipsky, suggests, but rather listens to herself deeply and aligns her internal compass accordingly when it is needed.  She told me "when we are spacious and connected but not attached, to outcomes, we are free." I imagine that in our spiritual-care practice we must also be free from the tyranny of our own self-care to do list- otherwise we are cultivating the chains of spiritual ego.  To resource Ann writes, collects stories, connects with nature, finds beauty, and participates in ceremony- when called to and cyclically.  Ann mentioned that she likes to use ceremony and ritual to locate because as embodied beings we must find ways to bring spirit into form.  Ann has learned to listen to her inner guidance and commit to change, "one must follow through with an act and commit, otherwise someone can't trust themselves and that's part of self-love."  This is heeding the call.
References
Lipsky, L. v. (2009). Trauma stewardship: An everyday guide to caring for self while caring for others. San Francisco: Berrett-Koehler Publishers.
About the Moderator