Jaffa Frank, PhD, LMHC, PhD Program Faculty
Home

›

Jaffa Frank, PhD, LMHC, PhD Program Faculty
Share this:
Dr. Frank attained her PhD from Pacifica Graduate Institute, Santa Barbara, CA, in Interdisciplinary Mythological Studies and Depth Psychology in 2017. She holds an MA in Counseling with an emphasis in Grief, Loss, and Trauma Therapy from Southwestern College in Santa Fe, NM. Her BA is in Business Administration with a concentration in Marketing from the University of New Mexico. Jaffa has further training and expertise in dreamwork, Jungian active imagination, Sandplay, mindfulness, thanatology, shamanic journeying, wilderness-based healing, art practice, attachment, somatics, and interpersonal neurobiology.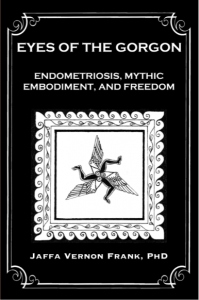 Jaffa's published work includes Eyes of the Gorgon: Endometriosis, Mythic Embodiment, and Freedom, Mandorla Books, 2019, which explores embodied mythopoesis as a psychologically healing response to living with endometriosis, a chronic disease afflicting one in ten women. Her presentations include: "Objective Relatedness, Radical Empath, and Letting Go: An exploration of mother grief through the myth of Ereshkigal/Innana" (2016 conference of the Association for the Study of Women and Mythology in Boston, MA); "Loving Medusa, Redeeming Athene: A mythopoesis of female blood, embodiment, and sovereignty" (January 2020 Joseph Campbell Foundation Round Table of OPUS at Pacifica Graduate Institute, Santa Barbara, CA); and "A Woman's Body & the Healing Power of Mythological Archetypes" (November 2019 Women Seeking Wholeness Podcast, Episode 048). Her art is published in Between, Pacifica Graduate Institute's student literary journal.
Jaffa currently serves as adjunct faculty at Southwestern College, where she teaches several courses in the Counseling program. She is a a founding faculty member and curriculum developer for the PhD in Visionary Practice and Regenerative Leadership with an emphasis on the exploration of visionary practices as tools for self-knowledge, self-expression, and portals to service.
As a licensed mental health counselor, Jaffa has worked as a Bereavement Counselor at Vista Care Hospice in Albuquerque, NM and at the Attachment Healing Center, also in Albuquerque, where she provided counseling to children and families struggling with attachment disorders and related trauma, and developed and facilitated therapeutic art processes for children. As an archetypal mythologist, she cultivates a psycho-mythic, embodied, relational understanding of experience and transformation that engages the creative imagination and the storehouse of collective wisdom found in myth to mediate meaning-making and build resilience out of suffering.