Written By Sylvan Schneider
Santa Fe has over 300 restaurants to choose from, and chances are whatever your tummy craves, or whatever diet you are on while studying and living here, Santa Fe has something special for you to eat! I can't go over every restaurant or type of food offered in town, but I can give you the list of places I've found so far.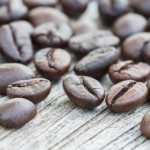 I think Iconik Coffee, located on 1600 Lena Street, is by far the best coffee in Santa Fe. This place is fun, has homemade food, and they make every cup of coffee by hand. This is also a great place to do school work. If you like to buy coffee beans to make home brew coffee, this is the place for you!
There is actually a difference between Mexican, and New Mexican food; Mexican food generally has different seasonings, different dishes, and does not use green or red chile. Sure both types have tacos, burritos, and enchiladas, but New Mexican food 99% of the time uses flat soft tortillas smothered in green or red chile with your choice of cheese, meat, beans, and vegetables.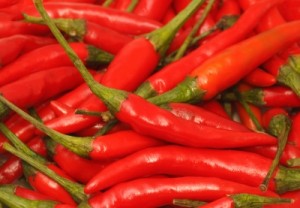 The chile sauce is made from New Mexican grown chile peppers. Green chile is more thick and meaty with chunks of fresh pepper and tends to be spicier; red chile is made from the same peppers, but is made after the peppers have ripened and turned a deep red color. The sauce is thinner, more smoky and savory tasting, but not as hot as green chile. Chile is simply a sauce made from New Mexican peppers and is not to be mistaken for chili. The official state question is "Red or green." This refers to which type of chile sauce you want on your food, if you can't decide and want both just say "Christmas".
What a mouthful right? With that being said, I'll tell you both my favorite Mexican and New Mexican places to eat.
Los Potrillos located at 1947 Cerrillos Rd. makes the best authentic Mexican food I've ever had. Yes, it's that good. This is a true locals spot, and does not look like much from the outside, but inside you will find one of the most extensive specialty and classic Mexican food menus out there. Lunch and dinner is moderately priced from around $12 to $22. 
For cheap, quick, and good true New Mexican food I have a few places that I enjoy and recommend.
Posa's El Merendero simply refereed to as "Posa's" located at 3538 Zafarano Drive, has one of the best breakfast burritos in the world in my opinion. This place is fast and inexpensive; you can get a meal for under $10 here.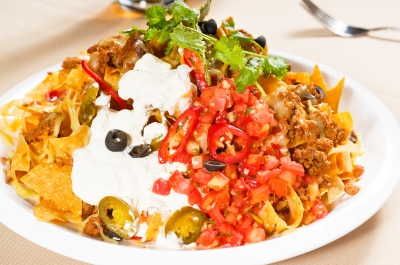 Next on my New Mexican list is Maria's New Mexican Kitchen located at 555 West Cordova Rd. Maria's is an experience. The restaurant is in an adobe building that's a bit like a labyrinth inside, and has a true old west feel. You can get traditional New Mexican food, scenery, and flavor here for sure. Plus the food is moderately priced with meals from around $12.00 to $20.00; this is also a great place for big groups, visiting families, and drinks. Both locals and tourists love this place for the ambiance.
Moving along on my New Mexican list is Cafe Castro located at 2811 Cerrillos Rd. This place is old school Santa Fe, filled with locals, and has great food for under $10.00. This is another place to get delicious, traditional New Mexican food with some true local flavor and an old west feel. The service is very friendly, fast, and the locals love it here.
Santa Fe's hottest (spicy hot!) New Mexican place would be Horseman's Haven located on 4354 Cerrillos Rd. This place is funky, like some diner out of the 1960's and full of old school Santa Fe locals. Many people swear by Horseman's Haven for two reasons: they have the hottest food in town and they, most likely, have the biggest portions in town at a very reasonable price- ranging from $8.00 to $13.00 for most meals. They have 3 levels of green chile: level one is pretty hot, but most people can handle it fine; level 2 jumps up to hot as hell, and even most seasoned spicy food lovers would say it's way too hot; level 3 is so hot that a worker at the restaurant told me only employees who bet each other money try to eat that stuff, so please stick to level 1!
The Pantry located at 1822 Cerrillos Rd. offers New Mexican food, American food, and breakfast. You can get an affordable meal here and locals swear by this place, it's generally pretty packed and busy. 
The last New Mexican place on my top list would be Tia Sophia's located at 210 W. San Francisco St. in the downtown plaza. Tia's has weird hours and closes at 3:00 pm, but has an amazing breakfast, and a breakfast burrito that is not to be missed! This is also a local and tourist favorite, mainly because their food is great. It's a tiny hole in the wall restaurant with moderately priced food ranging from $10.00 to $20.00.
There are a good amount of restaurants in Santa Fe offering vegetarian and vegan food and I'll give you the scoop on these wonderful places. 
Body of Santa Fe Cafe located at 333 West Cordova Rd. is amazing. This is a vegetarian, vegan, health-food-nut, raw foodie, and dessert lover's haven. Body cafe is also great for dates as it has the best desserts in town. Meals can add up here due to expensive specialty juices, interesting appetizers, and to die for desserts, but if you just want a meal without all the extras it is affordable here, with meals ranging from $12.00 to $25.00. Anyway, you have got to give this place a try; there are actually a few meat options here as well. This place is extremely yummy.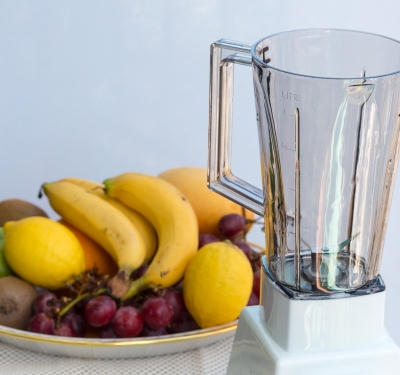 Last on my vegetarian and vegan list is ​Annapurna's World Vegetarian Cafe located at 1620 St. Michaels Dr. Annapurna's is a very laid back hang out spot that is great to plug in a lap top, read, and write at with all vegetarian food and the best Chai latte in town. This is a Southwestern student and staff favorite as well, almost every time I go there, I end up seeing Southwestern College people. Meals can be cheap if you get something small, but are generally moderately priced here. There is a good amount of Indian food offered here with some vegetarian and Indian twists on American classics.
I will also give a shout out to Thai Vegan, Verde Juice, and Love Yourself Café, all vegetarian places to check out!
How about American food, burgers, pizza, BBQ, etc? I got it covered!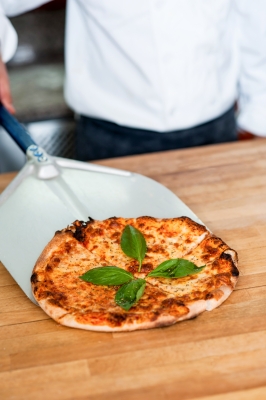 As for pizza, Santa Fe actually has a ton of pizza places, and I'll cover the best places I've found. 
Il Vicino located at 321 West San Francisco Street has small personal 10-inch Italian style pizzas for around $8.00 to $13.00; I go here every week to get my pizza fix because it's just that tasty. 
Pizza Centro is a New York style pizza, and is the only pizza in town that is somewhat close to true east coast style pizza. They have a few locations, and are moderately priced. If you like giant NY style slices with a thin crust this is your place.
For cheap, fast, deep-dish delivery pizza, I like Pizza 9, plus they have two different locations in Santa Fe that deliver. It's nothing special, but tastes good, is pretty affordable, and the only good pizza delivery I've found in Santa Fe. I recommend always getting their deep-dish pizza, it's what they do best and the thin crust is not so great, their calzones are pretty darn good as well. 
For BBQ, Cowgirl BBQ located at 319 South Guadalupe St. is a local and tourist favorite, and is one of the few late night places to eat in Santa Fe. This place is fun, loud, has live music, and is one of Santa Fe's nightlife spots. The food is good and moderately priced here and the desserts are pretty wonderful. They also have plenty of vegetarian options, and the best tres leches cake I've ever had! This is also another big Southwestern College student hang out with about 4 Southwestern students who work here.
Lastly I will do an odds and ends section on my Santa Fe foods list.
Best Pho noodle soup is Pho Kim located at 919 West Alameda Street.
Best Diner is Plaza Cafe south side, with awesome desserts and breakfast served all day located at 3466 Zafarano St. 
If you are looking for an organic Co-op grocery store that has many vegan and vegetarian options with local produce check out the La Montanita Co-op, but please note it's pretty expensive here. 
Best tea in Santa Fe is the Teahouse located at 821 Canyon Rd, with a pretty endless tea selection. This is also a great place to bring dogs, read, write, and bring a laptop to do work.
Best Italian pasta is Piccolino located at 2890 Agua Fria St.
Best Indian food is India House located at 2501 Cerrillos Rd.
Best Sushi at Izmi located at 105 E. Marcy St.
And if you have a vegan, raw, paleo, vegetarian, or Ayurvedic diet there are a good amount of places in Santa Fe for you.
Santa Fe also has many different grocery stores and a farmers market that is to die for. There is Smiths, Albertsons, Trader Joe's, Whole Foods, Natural Grocers, Sprouts, a wonderful Co-Op, and some specialty Mexican grocery stores.
---
Photo credit
coffee beans: Image courtesy of blackzheep at FreeDigitalPhotos.net
chili peppers: Image courtesy of Praisaeng at FreeDigitalPhotos.net 
Mexican Food: Image courtesy of KEKO64 at FreeDigitalPhotos.net
Smoothie: Image courtesy of Stuart Miles at FreeDigitalPhotos.net
Pizza: Image courtesy of stockimages at FreeDigitalPhotos.net
About the Moderator