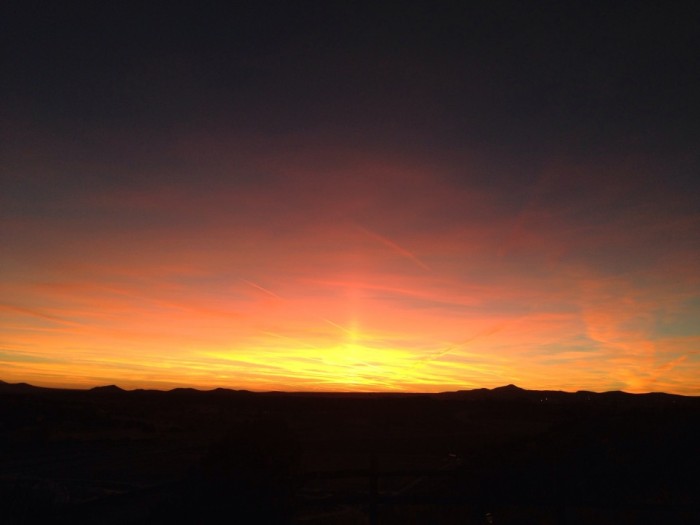 WOUNDED HEALER AS MAMA by Ivy Whisper
I was eight months pregnant with my first son when Gloria called me and said that she needed to talk to me about my friend Rose. She said that Rose had died the day before and that she'd been struggling with postpartum depression.
We had both left New Mexico in 2005; I left for a few years, she left forever. It had been a year since we had spoken on the phone, six months since we e-mailed. I had it in my head that Rose was happy. Her Facebook photos showed her smiling with her beautiful baby girl. She had everything to live for. And I thought something like that after her death. Why would she want to die? She had a beautiful baby girl.   Now I'm a mother and know that having kids sometimes compounds the problems we already have or makes them inescapable and more pressing. And then there are the hormones. And the sleeplessness of new baby land. I now know that around 20% of new moms and 10% of fathers experience a perinatal mood disorder. I've learned that suicide is the second leading cause of death in the postpartum period and that postpartum depression (PPD) is only diagnosed in about half the people that live through it. That means the other half don't get professional help and that most of that group experience an undefined and inexplicable misery alone.   I'll never know for sure that postpartum depression was the reason Rose killed herself. She had seen a therapist and had been diagnosed, but hadn't continued therapy. I found out later that she was having irrational and paranoid thoughts, that she was overwhelmed by having a child and that her friends were not supportive of her new role as mother. I wish I'd known. I wish I could go back and say this is the hard stuff. There is help. We can help you. We love you and what you are experiencing are the normal not-so-fun symptoms of postpartum depression. I wish she hadn't ended up on that stairwell banister hanging there like a coat on a hanger. Sweet Rose in the dark. I wish I could have gotten to her and lifted her up before she stopped breathing. Helped her to save the only life she could.   I had postpartum depression and anxiety with both my boys. And I love them like nobody's business. I breathe them in. I orbit them and dream them into men. But I had it bad. The hormones and responsibility flooded me. Both times I wanted to sleep for a long time. Not die but sleep dreamless and down deep in a quiet dark place alone and silent. I am a therapist. I have my training to thank for many things, but probably the most useful life tool being a therapist has given me is the ability to stop and ask for help. I even have a note taped to my bathroom mirror. "Ask for help." It says and it might as well say: "Often." So when I gave birth to my first boy and I wasn't eating or sleeping or leaving the house I asked for help. I saw a therapist who commended me on my self-reflection and on how far I advanced through the hero's journey of birth. She offered spiritual and lofty work when what I needed was basic survival therapy. I suffered through without a name for what I was experiencing. I asked my therapist if she thought I had PPD and she said "No you are still smiling. People who are depressed don't smile as much as you do." But I knew something WAS wrong. I mistook it for a necessary experience. My son had colic. He cried for at least four hours a day straight without stopping. I'd had major surgery, an unwanted cesarean birth and was not sleeping and wasn't healing because I was breastfeeding every hour or two…day and night. So that stuff is all tangibly hard. And I thought that as a mom you just suffer through that. That's what makes a good parent, I thought.   My educated guess would be that I had some depression with my first babe but that more of what was manifesting was postpartum depression's lesser-known but equally wrenching cousin postpartum anxiety. I checked the baby constantly to make sure he was breathing. I became very rigid about what others did. Do this, don't do that. I couldn't sleep even when I had the opportunity. I couldn't relate to friends and family. I never had thoughts of harming the baby, but I had visions of how vulnerable he was. What if a pillow fell on his face? I dropped him in the bath? I was on high alert and vigilant. All symptoms of postpartum anxiety. And after a few months it went away. I returned to normal. I began socializing. I was less fearful. I slept and I ate and I felt like my old self again.   PPD can be diagnosed anytime in that first postpartum year. That time period will probably be expanded. Perinatal mood disorders affect every race, culture, gender, income bracket, even adoptive parents have been diagnosed. Nobody knows what causes the problems to come, but we do have lists of predictors that make one more vulnerable. Rose had been unsure about the pregnancy and depressed during it. She had a bad relationship with the baby's father. She was poor, stressed, and had a prior diagnosis of bipolar disorder. She had little social support and she drank. All of these were things that we know as precursors to PPD. I on the other hand had none of them. My life read like a poster for a healthy happy pregnancy and postpartum life. It got me anyway. The only indicators I had were traumatic birth and difficulty breast feeding.   My second birth was so different. The Cesarean was not a surprise. I healed quickly. This baby slept. He only cried when he was hungry or tired or poopy. But I still felt bad so I knew I was experiencing PPD. It wasn't just that having a newborn is hard. It was more. Something internal was responding to the postpartum experience. I asked for help. My Dr. prescribed medication for sleep (Hydroxyzine.) She also made the comment that I didn't look depressed. She said my eyebrows weren't droopy. I think one of the risks of being a therapist seeking help is that we tend to present so well. We are self-reflective. We are good communicators. We can talk about feelings and we know the jargon. So I knew I needed to find someone and say I may not look it, but I'm a mess. I found a therapist who specializes in prenatal and postpartum mental health. Stephanie Luna at Luna and Wallin Counseling. She administered a postpartum depression and anxiety scale. Ten simple questions. I scored as depressed and anxious.   Despite being tired, overwhelmed, and under motivated (depression) I decided to commit to therapy and healing. I thought about Rose and I knew I had to get healthy. We made a plan. I wanted to wait on taking antidepressants. I said that if I wasn't feeling better in 3 weeks or if I got worse I would start them. I saw my therapist once a week. I joined a Facebook support group for PPD and PPA. I told my family what I was going through and asked for support. I got 30 minutes of exercise outside a day. I bought a light box which simulated natural sunlight. I was also given a prescription for Xanax. I took half a pill at night while listening to a meditation app on my phone. After three nights I didn't need the Xanax (it can be habit forming). I stayed with the app and added melatonin. After a couple weeks I was able to stop the melatonin and just use the app. I started sleeping. I started a gratitude practice. I began feeling better. At every session I would take the short survey and my scores got closer and closer to health until I was ready to end my therapy.   Estrogen levels drop from 100-1000 fold in the first days after childbirth. Sometimes symptoms don't appear for months. I can't go into all the permutations of perinatal mood disorders here but I can say that there is a spectrum. This spectrum makes it hard to diagnosis and easy to misunderstand. Fifty percent of parents experience "the baby blues" after birth. This feeling of sadness is not a mood disorder and is defined by its lack of severity and goes away within the first days to weeks. The spectrum includes postpartum anxiety, postpartum obsessive compulsive disorder, postpartum depression, and postpartum psychosis. Postpartum psychosis is extremely rare and is characterized by the kind of articles you read in the paper of "crazy" parents killing themselves and or their children.   If you think you or someone you know has postpartum psychosis, get professional help right away. And when you hear about a case of a parent killing themselves or their children take a moment to ask if postpartum psychosis could have been the reason. Talk about that possibility when these stories hit the news. The more we know about these illnesses the more we can prevent them from affecting those we love.   For some reason after a person has a young baby placed in their care they become susceptible to a group of symptoms. Is it an illness? Is it helpful to think of it as an illness? I don't know. I can't speak for others. For me it helped to normalize and compartmentalize so I could do the basic survival work. I had to do the basic survival work before I could do the spiritual work. With both my boys I kept the bedroom they slept in very dark as newborns. So dark you could barely see. You spend a lot of time getting babies to sleep as a mom. In the beginning they go to sleep every couple of hours, day and night, waking only to eat. During the hard times, that darkness spread for me. It wasn't confined to that literally dark room; it spread into the hall, the kitchen, out the door and across the neighborhood. Into my dreams. My relationships. Into the shower. I cried in the shower and when the shower was over and there were more tears I turned on the hairdryer to cover the sound of my crying.   What does this have to do with diagnosis? When I was able to sit with a counselor and name what was going on and know that people like me had seen the other side, a side that was their normal, my dark hallway had an end to it. It no longer seemed to stretch out forever. The light was on out there and it was within my reach. That way might not work for everyone. Psychotherapy is an inexact and very young science. It works for me both as a clinician and as a client when a caring relationship is encouraged. When it works we are like two travelers on an adventure looking for tools and new pathways to explore. It's not for everyone nor is it available to everyone.
I have had a lot of time without Rose now to think about how I might have helped her. What if I could've called her, seen her, held her? What would I have said or done? What if I had been her therapist? I will never know. I do know that I miss her. That she helped me save the only life I can. She taught me the first tenet of being a mom: Model Self Care. Happy Mama Happy Baby as they chant in PPD circles. I will never forget a decade ago laying on the top of her warm car roof as the sun went down in the New Mexican sky telling her that I loved her and that I would miss her if she ever went away.
Ivy Whisper graduated from SWC in 2008 and still has dreams that she is on campus there learning it up! She has worked in New Mexico as a bilingual therapist and now owns Fano Bread Company in Albuquerque. She is a #BlackLivesMatter activist and happy New Mexican Mama.
About the Moderator