Growing up in Switzerland, I developed a passion for  Circus Arts and Clowns. When I moved to NYC, I was introduced to the Big Apple Circus and became a board member for 11 years. I clowned around with the professional Clown Care Unit of the Big Apple Circus and  also met Patch Adams with whom I then went on three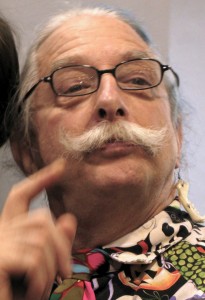 occasions to Russia clowning in Hospitals. This was profoundly inspiring and that is how I started my own group, the "Santa Fe Clown Care Groop". At first I clowned around in Nursing Homes, schools, and hospitals with students from the Santa Fe Preparatory School as part of their Community Outreach Program. And for the past 20 years I have gone once a week to the various nursing homes around town and worked with the population in the assisted living and rehab departments, mostly with some sort of dementia. This I do on a voluntary basis.
In 2006, I graduated from Southwestern College where I got my Masters in Art Therapy and my state license in Mental Health Counseling. I sing in the Santa Fe Symphony and started a Clown Chorus. We perform for the same population on a monthly basis.
So this is what I do! It is a truly wonderful "job," delightful in its magical essence of being a sweet, cheerful, gentle, kind creature, who visits the residents, sings, plays, does puppetry, talks, soothes, supports, and embraces humans' vulnerabilities as best applied to each individual case.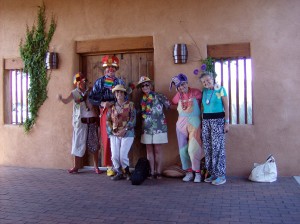 Bettina Milliken
at Sierra Vista in Santa Fe
If you are interested in volunteering and you are musically inclined please contact Bettina!
About the Moderator