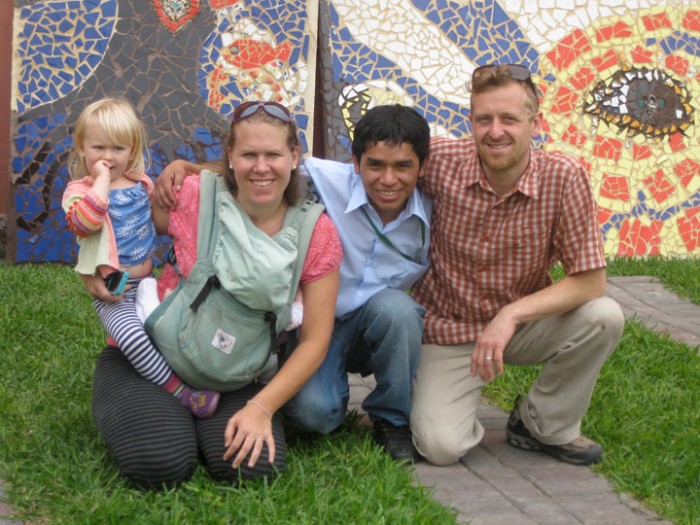 Sara (Jordan) Skowronski, LPC, ATR-BC, CAGS (certificate of advanced graduate studies in Expressive arts).
I graduated in 2004 from the Art Therapy Program. Since that time I have greatly appreciated the ability of "being present" that Southwestern instilled in me as a therapist and as a person in general. Presently, my family and I, which now consists of my husband Chad, an environmental educator, and our two daughters, Isabelle age 3, and Colette 10 months old, reside in Fort Collins, Colorado. We run an international organization called We Are Mosaics, that is dedicated to building creative communities through the making of mosaic murals. We just came back from Switzerland where I completed a certificate in advanced graduate studies (CAGS) in  Expressive Arts and where I am pursuing my Ph.D. at the European Graduate School. We were also recently in Peru, where I presented a workshop 'From Broken to Beautiful: Mosaics as an Expressive Arts Therapy,' at the International Expressive Arts Therapy Conference (IEATA) in Lima, Peru.
Currently, I work in a private practice setting, where I use art therapy to help children, adolescents, couples and families discover their hope and work toward their dreams. I feel the solid foundation that Southwestern nurtured within me and I rely on these skills daily.
My light figure experience taught me the gift of ceremony and reminds me to rejuvenate myself in my own "light" connections. As a full time therapist, my resource of being able to rejuvenate is invaluable. The picture is of me, Chad, Isabelle, Colette, and participant Carlos in Lima Peru, at the IEATA conference in front of the mosaic we co-created. 
About the Moderator