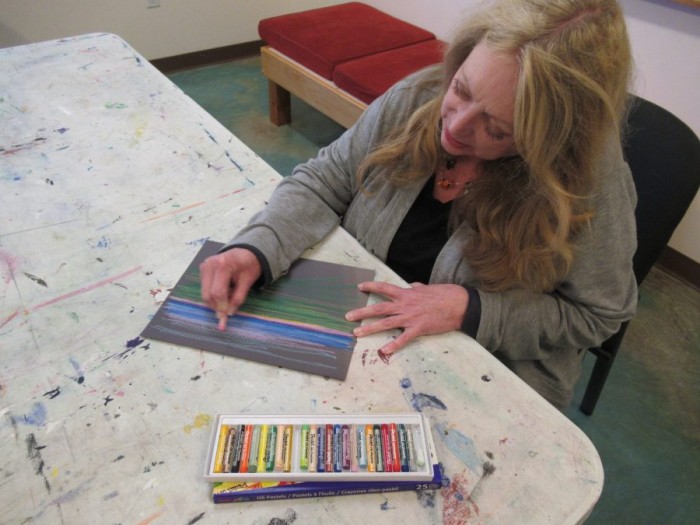 Debbie, you have been in the art therapy field for a significant time, can you tell us more about the trajectory of your career?
Hindsight is amazing, but looking back I believe that each art therapy position helped me secure the next position. Sometimes I would take a
leap of faith and try an organization or agency that had little or no experience with art therapy, but I so believe in art therapy that I would convince them to give it, and me, a try. Today art therapy is much more established, and yet I still encourage our graduates to treasure their innovative spirits and trust their instincts about opportunities to share art therapy in the world.
I literally went from working with the elderly, to children whose families had landed in Milwaukee from Mexico, to an urban private school to an in-patient psych unit for children. Then on to day treatment with adolescents to in-home therapy with families at risk. Also, I had a private practice during many of those years, and did multi-family group therapy at a residential treatment center when I moved to Santa Fe. All important professional experiences!
How do you feel the art therapy profession has grown over the last decade?
Art therapy has become so much more established as a profession. With what researchers are learning about neurobiology, I can only foresee continued, and dramatic growth. We now know what we believed but didn't have proof of – art therapy is the "best practice" treatment for many issues related to trauma in people of all ages.
How has the art process made a difference for you as a therapist?
I can hardly adequately describe the difference that art making has made for my clients. I deeply understand clients' hesitancy to make art if they haven't done that in a long time, but the results are amazing if we can help them tolerate their discomfort. The truth that has appeared through small tentative images and the process of making them is astonishing. The breakthroughs I've been able to witness during art therapy sessions leaves me in awe of the art process over and over again.
    4. Why should a person with a LCSW or LPC/LPCC pursue this training?
That's a great question! It's not unusual for non-art therapists to have a package of crayons in their desk. The difference is that the art therapy degree is the only way to prepare to provide thoughtful, sensitive and appropriate art in sessions with clients. It is a separate field and we learn subtle differences in imagery, cause and effects of art materials, how to talk about and sit with the image after it's created, and how to hold and contain the disturbing imagery that may show up. I've witnessed numerous aggressive and cathartic art processes over the years, and honestly, it was important to have the knowledge to know how to support my clients in those processes. Being supervised by an art therapist (even by distance) while a practicum or internship student is vital – because of the honesty and intensity of the art, art therapy often moves into deeper therapeutic places more quickly than talk therapy does.
Thank you for your insights Debbie!
About the Moderator