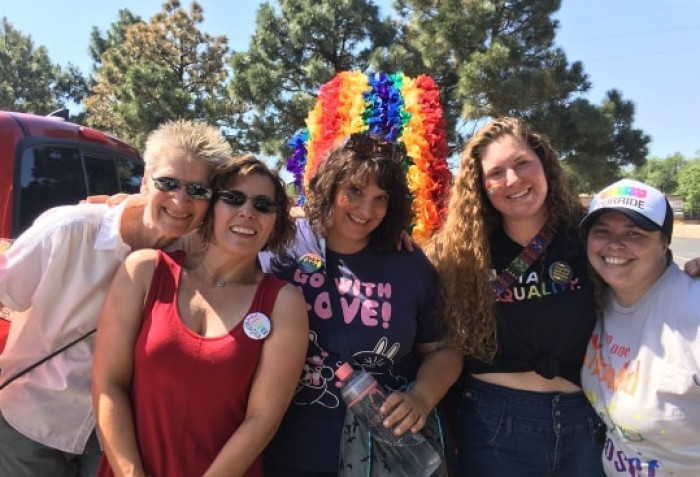 By Laura Lansrud-Lopez
This past Saturday on June 29th, fifty years after the historic riots at Stonewall Inn, a dedicated and enthusiastic group of students, friends, family, and staff of Southwestern College gathered with a meaningful intention: to announce to the Santa Fe community that Tierra Nueva Counseling Center is here, we care, and we provide a safe and inclusive place for all.
The Tierra Nueva float, decorated with a giant, handmade tissue paper rainbow, diversity flags, a bubble machine, and a thumpin' sound system, cruised down Old Santa Fe Trail and around the Plaza. Our parade volunteers held banners, danced, and handed out stress balls. It was fabulous!
The parade was just the beginning of the festivities. We also had a booth set up on the plaza which was a huge hit with the crowd! 
In addition to offering information about Tierra Nueva Counseling Center and Southwestern College, we also gave away pre-made buttons with the various colors of flags that represent subgroups of the LGBTQ+ community such as lesbians, transgender, pansexual, bisexual, etc., a button that said, "Straight, But Not Narrow," and a "Rainbow family" button which went quickly!
The most popular attraction at our booth were the blank circles and art supplies for everyone to make their own button which we assembled for them right at the booth. Many people made more than one button and we had a crowd of "artists" at the table until closing time at 4:30pm.
Next year we will rent a double booth so everyone can make a button, do some art, and get information that helps raise awareness about mental health and services at Tierra Nueva.
We hope to see you there!
About the Moderator