As part of our Wild Heart Gallery art show on "Anger and the Feminine Self" we are offering this somatic art directive to those interested in exploring their own anger further.
Supplies: Paper and Color Markers or Crayons or Paints or Magazines/Photos for Collage
                   Paper and pen for writing
Population: This can be done with anyone and modified even to support a group in their collective anger. The process described below is for an individual and can be used to explore the location and source of anger.
Process:
Create a quiet space for yourself where you will not be interrupted for one hour and you have room to spread out and make art.
Take time to get centered and check in with your body.
Once you feel like you have your full attention on your body and emotions, put forth the intention to close your eyes and locate "anger" in your body.
Find the places where anger is residing and choose one place to focus all of your attention.
Breathe into this "anger place."
Begin to create art while you are focusing on the anger in your body and take 20-30 minutes to create your imagery.
Once completed, sit with the imagery and write about your experience. Consider using a technique called "automatic writing"—write whatever flows through you without judgment, with the objective just to get the words down. You may be surprised what comes up for you.
Optional:
Create a dialogue between the image and yourself. Ask the image what it needs to tell you and write it down. Thank the image for the new information. Spend extra time with the image communication and see if the image shares more with you later in the day.
Take the image and lay it on the floor and begin to move your body in response to the imagery. It can be movement or dance and allow a dialogue to occur between your breath, body movement and the image.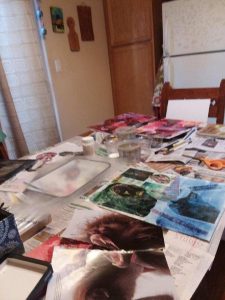 About the Moderator