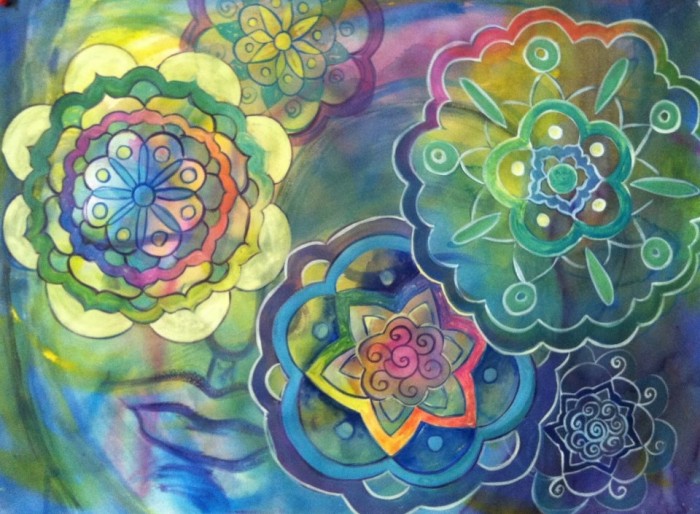 Featured Artwork: Mandala Buddha, acrylic on paper, 36″x24″, 2012, Tejal Murray
Over the last few blogs, I've been exploring Stephen Cope's The Great Work of Your Life in a general way with examples from my own life. Today, I'm going to dive more deeply into the teachings by profiling one of Southwestern College's graduates.
The main premise of Cope's book is to summarize the Four Pillars of the path of action (karma yoga) as expounded by Krishna in the Bhagavad Gita and help us apply it to our search for meaning and purpose. The Four Pillars are:
Look to (discern) your dharma.
Do it full out!
Let go of the fruits.
Turn it over to God.
The First Pillar, "Look to Your Dharma", is a small but mighty action. It asks us to explore what our individual dharma is in relation to our culture and a wider cultural dharma we might hold. When discerning dharma, Cope, through the story of Krishna and Arjuna in the Bhagavad Gita, suggests there are three key steps:
Trust in The Gift.
Think of the small as large.
Listen for the call of the times.
We're going to look through the lenses of the third step because this is the time for Art Therapy. It's trajectory as a profession has skyrocketed in the last 5 years. Not surprisingly, there is a surge of people who are recognizing that using art as a therapeutic process is their calling.
This intersection of The Gift and The Times is a key step in the process of discerning dharma. Malcom Gladwell explores this concept in Outliers: The Story of Success and Stephen Cope explores it in The Great Work of Your Life. It's the understanding that success – fulfilling your dharma – can only be achieved by being fully yourself AND putting yourself and The Gift in service of The Times.
Have you ever had an experience when your Gift(s) intersected with The Call of the Times?
Josephine Tejal Murray, LMHC, has.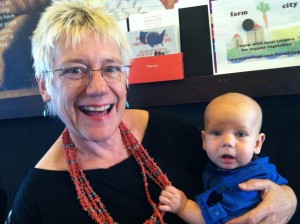 Having graduated with a BFA and MFA, Tejal spent the first part of her life as a working artist creating in acrylics, mixed media and sculpture. Also a spiritual seeker, she studied for decades with Indian gurus, yogis, and Bhuddhist meditation teachers. In her 40's, she founded a yoga studio in Baltimore and ran it for a decade.
Thinking her next step was to deepen her knowledge in Ayurveda, Tejal, moved to Albuquerque to study with Dr. Vasant Lad at the Ayurvedic Institute. Instead, she was drawn to, and fell in love with, Nonviolent Communication (NVC). She began teaching NVC in the Bernalillo County Detention Center (the jail) through Comienzos, eventually expanding to teaching yoga classes and facilitating expressive writing and art classes integrated with NVC. While personally satisfying, this work proved difficult in terms of earning a living wage and opening a career trajectory.
In her 57th year, it became clear to her that she needed to find a profession that would sustain her for the remainder of her life. One that evoked the "shining in her eyes" that Stephen Cope speaks about.
Simultaneously, the field of Art Therapy was rising to the forefront of therapeutic interventions.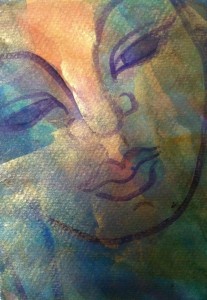 "Art therapy gives each individual the opportunity
to express a unique experience, life history, and cultural narrative. In this way, art therapy can act as an
integrative mental health approach,
addressing the body as a whole.
[Art Therapists] are not just addressing mental health issues,
but the whole interconnected system
that makes up a human being."  –  Cathy Malchiodi, PhD*
Featured Artwork: Radiant Buddha, acrylic on paper 3″x5″, 2012, Tejal Murray
Reading about Art Therapy rekindled the shining in Tejal's eyes. The field of Art Therapy integrated her passion for art with her lifelong commitment to cultivating personal and spiritual growth in herself and others. A few years earlier, and she wouldn't have seen it – it simply had not gained enough momentum to be seen. But in her 57th year, there it was, right in front of her.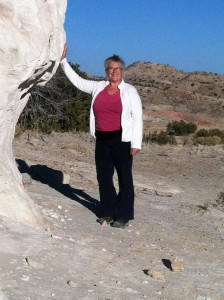 She explored schools and found Southwestern College was just an hour north of Albuquerque, in Santa Fe, NM. At 58, she enrolled in the program, completing her coursework and internship while simultaneously working 30 hours a week at the jail and commuting to Santa Fe. This was not an easy time for Tejal, but she never doubted this was her path. Two and a half years later it all paid off. Upon graduation she was hired by the agency where she did her internship.
Two years later, she had logged the 2,000 hours required for her independent license (LPCC). More importantly, her eyes continue to shine. She's fulfilling her dharma and earning a comfortable livelihood. She maintains her own yoga practice and creates art on nights and weekends. She's shining example of looking to one's dharma and receiving the benefits of the integration of The Gift and The Times.
*Cathy Malchiodi, Ph.D.,  founder, director, and lead faculty member of the Trauma-Informed Practices and Expressive Arts Therapy Institute, and the president of Art Therapy Without Borders. (http://artbusinessnews.com/2015/12/the-expanding-reach-of-art-therapy/)
About the Moderator