By Deborah Schroder
Thanks to a very generous donation from a local therapist, we now have a lovely sand tray collection to use in the Art Therapy building. We have several rooms at Tierra Nueva that are well equipped for sand tray or sand play work, and now we have that opportunity available in the small Art Therapy classroom.
 I am so excited to incorporate sand tray into supervision when I teach Practicum this fall! What a fasci-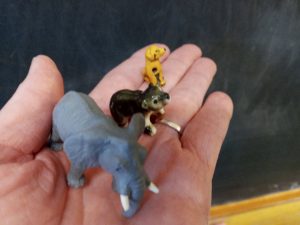 nating opportunity to access metaphor while exploring client work and what it feels like to be a new student art therapist.
Spent some time chatting with my new friends and they're quite eager to meet students and get to work!
About the Moderator