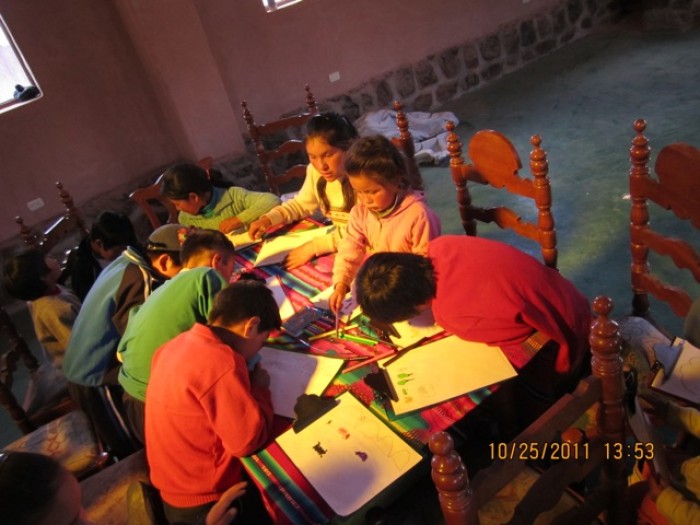 Craig "Tomas" McAdams – Southwestern College (Santa Fe)  
Internship in Maras, Peru
A couple of days ago one of the boys I meet with for individual sessions – let's call him Steve – came in for our meeting with his older cousin, John, and I was pleasantly surprised, almost shocked when he ran up to me to give me a hug.  Little Steve seemingly transformed, he was now talkative, energetic and excited, saying, "Profe Tomas!  Buenas Tardes! A-B-C-CH-D-E-F!"  This was a remarkable transformation indeed, as only two weeks earlier he was a very quiet boy who rarely spoke a sentence or made eye contact, who knew none of the letters of the alphabet, being held back in the past year of school for this reason.  Many members of Steve's family had told me that they were very concerned; because in the last year Steve's physical and cognitive deterioration happened so suddenly and rapidly.
A couple of weeks earlier I went out in the fields with Steve's father, grandfather and older brother to help harvest the maize.  It was then that his older brother told me that a year ago Steve was much more energetic and was able to learn and walk much better than he can now.  His family could not afford to send Steve to a specialist, so Steve just sort of fell through the cracks at home and school.  The school had neither the time nor resources to meet Steve's needs.  I am reaching out to the Andean Research Institute and Southwestern College, the two institutions sponsoring this internship program to find or raise funds to send this boy to a specialist, perhaps in Lima, for the physical ailments, which seem to be either infection-related or spinal issues. 
As for the cognitive issues, I decided meet with Steve for five sessions a week, teaching him and teaching his older cousin how to mentor and tutor young Steve.  Exposing Steve to different forms of learning such as through reading, writing, speaking, singing, using the body to form, and lots of repetition has seemingly started the cognitive engine running once again, and this could not be more fulfilling for either of us.  He started out being able to learn and retain one letter a day, but now the process seems to be speeding up, which is very exciting, and I feel that he feels that.  Positivity, humor and excitement definitely seem to help this process of learning.  Also, Steve's cousin, John, has been very engaged in this process and I believe he will continue this beyond my time here.
More about John: he has really taken to learning chess, as have about 15 other kids in Maras, which got me thinking that a chess tournament later in July would be perfect.  Teaching the kids chess has turned out to be a pleasant surprise as it has increased their ability to concentrate and think creatively, they grasp more and become more creative in this process every day.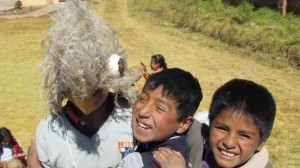 Speaking of creativity, here is cop-out (creative) way of showing what I do here in a day:
Monday through Friday:
1)    Wake up around 6:30 a.m. and eat a little something.
2)    Practice a massage technique from Yoga using a tennis ball, golf ball and foam roller.
3)    Practice Yoga
4)     Meditate, or practice Hamut'ay (from the previous blog)
5)    Exercise practicing "Crossfit"
6)    Practice Hamut'ay
7)    Dance and practice Spanish
8)    Eat Lunch
9)    Hike the Mountain behind ARI and practice Andean Spiritual Cosmology (see previous blog)
10) 1:30 to 2:30 Individual Session, teaching and teaching mentorship – using art to initiate emotional topics – emotional regulation techniques.
11) 2:30 to 4:30 – Class with anywhere from 22 to 40 kids.  Art making, craft making (such as beaded bracelets ;), soccer, volleyball, chess, puzzles, Legos, ABC's, shapes, colors, numbers, emotional regulation techniques and trivia games using Andean Spiritual Cosmology terms.
12) 4:30 to 5:30 – Individual Session with another 7-year old boy struggling in school and his older brother as mentor/tutor, teaching and teaching mentorship – using art to initiate emotional topics – emotional regulation techniques.
13) Until sunset – helping harvest with different families.  Cooking with different families.  Working with the bulls and donkeys with different families.
14) Reading for internship or watching TV or a movie or sometimes even street, moonlight soccer with the older guys, the full moon is perfect for this.
Why tell you my entire day?  This is because the most important lesson I have learned while being here by myself is to practice self-care.   This is a great experience, but it is not easy by any stretch of the imagination.  I quickly learned that I need to take care of myself on every level, physical, mental, emotional and spiritual, to be able to do this job effectively.  In fact, I believe all service jobs, well, all jobs require this self-care in order to be effective, efficient, and most importantly, happy.  Here I am encountering entirely new multi-culture, two new languages, and new bacteria and viruses, which my immune system seems to want to try all of them on for size.  Without self-care, this is a doomed enterprise.
On another note, the major project I am working on is to carry out an intention of teaching a play to the children that is based on a local tale about Andean Spiritual Cosmology in their native language of Quechua.  This is a proverbial triple-play in this work with the children, because many of them know nothing of theatre, only a few know Quechua, and Andean Spiritual Cosmology is being lost in the new generation.  On Saturday's, Eli and an art teacher, Yurico, come and teach the kids how to make masks, which will be used in the show.  We collected a story from the Grandmothers in Maras that included Apus, Pachamama, and Ayni (see previous blog).  Eli, who works with the mother's and grandmother's in Maras then translated this story into Spanish and told the children.  I then condensed and translated this story into English and into a short play form.  Eli is now working on translating the spoken parts into Quechua.  Once that is done, I will spend the next five weeks taking some of the class time to rehearse this play with the kids, and then have them perform it for their families on the last day. 
Wish me luck. 
With Love,
Craig Tomas
About the Moderator