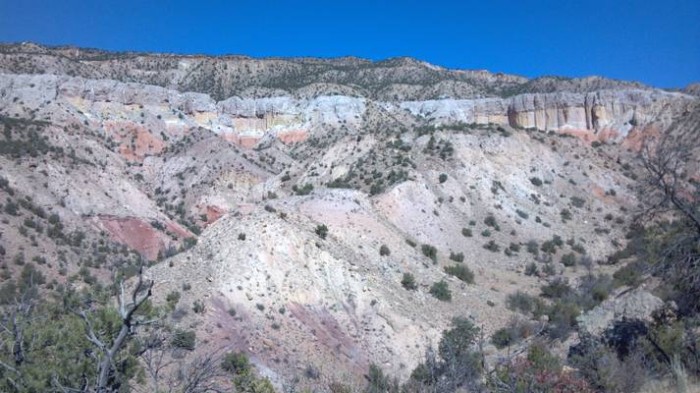 Psychopathology (and seeking Authenticity) In the Chama River Canyon
About to embark upon a day alone with Mother Earth, my Psychopathology class and I ceremonially share our hopes and thoughts before surrendering to what She has to give (or take from) us. At this point, I am well-adjusted to the process of intention-setting, and yet this time the intention of compassion lands in me like a brick unexpectedly. I don't know what my inner knowing means by that, but I break out of the group to rummage through the Chama River Canyon and my psyche to find out.
Hiking far enough to establish distance from my peers and climbing high enough to feel distance from the energy with which my day began, I find myself crouched under a scraggly tree enjoying the shade it offers. "Okay what am I supposed to do?," I ask myself. "Build an altar, sing to God, meditate, write and draw? Or keep climbing, do sun salutations, chant, pray, paint and eat? Relax," I think. I remind myself to drop the mental checklist; this whole day is about dropping the checklist. I lie down, and remember my teacher's words to let the experience be what it is, just as a river flows as it does without trying or an agenda. Let it be.
But it's difficult to relax; an anger brews under the surface of my skin taunting me to own it. I source today's particular anger to feeling stuck when it comes to authenticity. My authentic self can be volatile, moody, lazy and intense. It's an energy that causes me to doubt whether I am good enough to be accepted by others, and leads me to overcompensate by chronic achieving. Usually upon asking myself the question of what I am supposed to be doing in a given moment, a dozen projects flood the space: run a half-marathon, learn Russian, start a charity, throw a party, clean the house, end global warming, and so on, and not being enough quickly becomes doing too much. In the words of the Medicine Wheel, an ancient compass used to navigate the human psyche; I am stuck in the North Shield, the shield of the adult. Learning about the Medicine Wheel as part of the coursework for the class shows me that I am caught in a mentality of responsibility, planning, scheduling and self-discipline.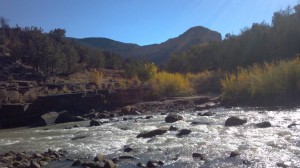 I am stuck in seriousness because I am not sure if my community or society is able to weather the storm of my mood swings. I'm afraid pf letting go of getting everything done means I will be left behind. But using the Medicine Wheel as my guide, I know that to move out of adult-mode I must call upon the East Shield, the shield of spirit. Looking to the East, I see majestic yellow and rose cliffs that invite me to chant the Gayatri mantra as the means by which I can make the shift. Here, at the Chama River Canyon, lying in the rocks of one of the thousands of dunes in the Santa Fe National Forest, I let the natural pulse of my being sync with the pulse of the Earth. Her embrace can absorb me and my mental patterns without consequence, and I feel content in a space of non-doing. My being stuck is not going to go away in its entirety today, but connecting to Mother Earth reminds me that I am not my achievements and to not compare my sense of authenticity to anyone else's. She gives me the resolve and foundation to recommit to learning about the tendencies of my human psyche, and with compassion towards my habit of making checklists.
– Allegra Borghese
About the Moderator