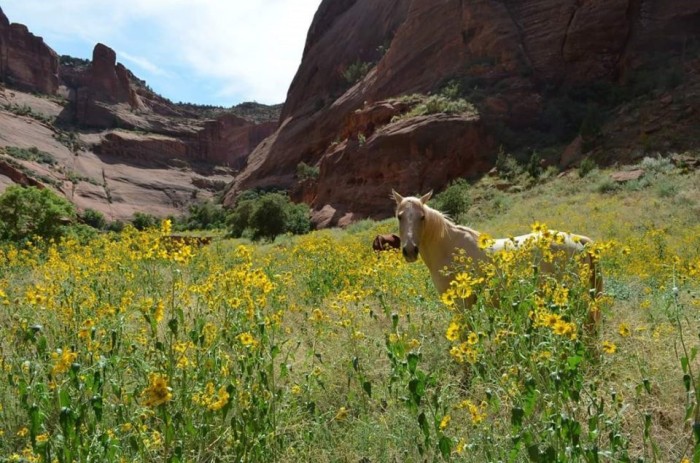 As a second year Art therapy/Counselor in training, I have recently begun practicum. Practicum is the hands-on application of my accrued training from over the course of my graduate and undergraduate programs. At Southwestern College I have come to understand and appreciate the art of transforming consciousness through psycho-eco-socio-education. As an indigenous woman I have overcome many obstacles throughout my young lifetime and I am honored and humbled to be a descendent of the Bitterwater Clan, Dine. In this life I have grown-up straddling two worlds; a traditional maternal Navajo worldview and one of a Western paternalistic viewpoint.
From infancy, my mother and grandfather exposed me to cultural traditions and philosophy that speaks to my spiritual inclinations as a sentient being. My experience of non-ordinary reality from a young age has informed my perception of the world. I have seen and felt the inexplicable. Reconnecting with my ancestral land and lifeways over the past ten years, since being displaced and returning home, has been a significant part of my healing journey. 
On the other hand. I have been blessed in this world to have two fathers. They have both come from humble beginnings. My biological father; from the Brigham Young/Latter-Day Saint lineage, of Southern Piute descent, Jewish heritage, and ancient Spanish royalty. My step-dad, who raised me from a young child, comes from a Lutheran upbringing and is a 3rd generational descendant of Danish ancestry and Knighthood.
During my Consciousness I & II courses, I have come to better understand my personal conflicts and way of being in the world. I am thankful to commune with my Mother God and Father God. I am hopeful and intentional in working towards forgiveness and gratitude. I believe I am my own creation and redeemer. I am overwhelmed with appreciation and humility to be a piece of the whole. I am at home and attuned to the collective unconscious and inspired by many light beings.
My split spirit, of Anglo and Indigenous descent, has caused me much conscious and unconscious turmoil since my youth. Recently in practicum was asked if I practiced "shamanic" techniques. I have often wrestled with this term and it speaks to my inner conflict and exposure of a diverse heritage. Where does the term come from? Why does the term bother me? What does it mean to be a shaman? What does shamanism look like? Can anyone be a shaman? What's the difference between a Medicine person and a shaman? 
As a modern indigenous woman I wonder how I can integrate and bridge these cultural gaps so that we can begin to repair and heal historical wounding. It has been my calling and endeavor to be right here, at Southwestern College, right now. I am thankful for the many teachings and blessing I have come to recognize over the past two years. I appreciate and better understand my own resilience and authentic-self.
About the Moderator