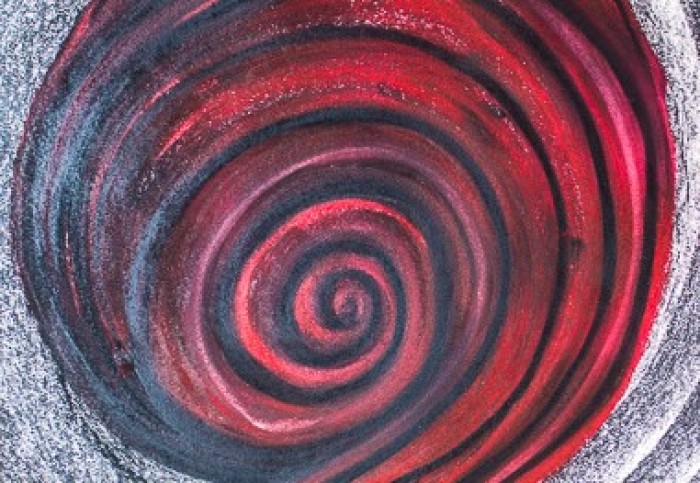 Honoring the Spectrum of Self 
On May 20, 2016 the Wild Heart Gallery hosted the opening night of Honoring the Spectrum of Self, an exhibition where Southwestern College staff, faculty, and students were invited to investigate the sacred pieces that have shaped them as an individual or within the collective. The show featured a variety of works installed within the gallery – including an interactive piece – and presentations on opening night of video, song, and spoken word format. It is our privilege to present the first in a series of blogs which showcase the shared voices of this exhibit that ran thru August 8th.
---
Artist: Beth Lykins
Title: Cosmic Connection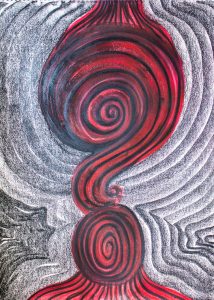 This image is a perfect example of the idea that "the art leads." During my journey as an art therapy and counseling student here at SWC I have come to understand this on a fundamental level. Often, as I approach a blank piece of paper, or any of a myriad of other artistic outlets, I have come to find that I have a key to open a door that my logical mind is not ready to step through just yet… But every time, if I allow it, my creative self, that sojourner of the right hemisphere, is perfectly capable of exploring what is through this logically-locked door. In fact, the act of expressing these non-verbal messages often lead to the words I need in order to make sense of whatever the image has to say to me. For you see, these images talk. And wow, do they have a lot to say!
The images become like living beings waiting to enter into dialogue; a bridge between the unconscious and the conscious. Through art, the hidden is revealed and each image represents a message from the subconscious, bursting with stories to explore. As a result, each creation is a sacred being. Each sacred being that appears through the channel of creation is a facet of my soul, ready to speak to me of things I will soon be ready to hear, but that no amount of logic or reason can access until the image first appears.
The image accompanying this blog entry is a wonderful example of this process of letting the art lead. As I contemplated creating this image, I was gripped with a sense of purpose from the beginning, intending to capture an image from a meditation where I found myself surrounded by a darkness I could only describe in words as "anti-light." I had visited a place where all things, and no things, existed simultaneously. It was a world of paradox and pure potential. It was a world beyond logic and reason and I had trouble communicating what the experience had been like… Although I knew exactly what the experience had been, I could not find any words to explain the experience. I was intimidated to attempt to create an image of it, but my logical mind was prepared to create what I had experienced as a black egg with branches surrounded by a black void. I could see it in my mind's eye and it all made "sense" to me, but it lacked the paradoxical nature of the experience… It was too concrete. Thankfully, that misleading image never came to life. Instead, when I surrendered to the flow of what my right hemisphere wanted to create instead of what my logical left hemisphere dictated, something much better came to life. I let the experience flow through me instead of trying to narrate and define it.
I drew the image prior to reading a key passage in one of my textbooks, so when I read that section about currents, I immediately understood what I had drawn! The art had led me to a way to share the experience I had lived, even though I had no idea at the time why my hand had been so insistent upon creating such rhythmic lines. My logical mind screamed that it was not the story I was supposed to tell, but my body ignored my screaming control-freak-of-a-brain and did what it felt. And I still reflect on how it had been imperative that I follow my hand, mind rather blank except for that inner critic who eventually slunk off into the corner and was forgotten in the heat of the moment as I drew this image, instead of the carefully planned image I thought I should create… The form of the spiral was very spontaneous and perfectly representative of the feeling I had while visiting the place in my meditation. This image contains a totemic quality for me and captures the experience of tapping into a place where all is present and nothing is present, simultaneously; where pure potentiality exists. It perfectly represents the mystery. This is not just an image for me, but rather an expression of the currents that accompany the presence of Silence. I call this image "Cosmic Connection."
I was in the space of Silence, or at least a close approximation, when I created it and it is not a narrative of my journey during the meditation in class, but rather a communication from within the currents that encompass and create all. Had I stuck with my original intention for the image it would have been narration, but by allowing the Silence to be present, I spoke from within that experience. I allowed the art to lead, and instead of me telling a story with the art, I allowed it to tell the story to me! That is a HUGE shift in my perception of the role of art and will be invaluable to my work with clients (and myself) in the future. The interesting part is that I suspect that it might not communicate the same experience to others, and that is fine. In fact, that is perfect. The message is for me. The being that is this image is a message from my deep, hidden self, to myself. In fact, at the risk of sounding arrogant, I believe it is a message from the collective unconscious, not just my own, individual, unconscious.
The lesson I learned from this image is that there is great power in releasing control and letting the currents flow and move through me, telling the story that I need to hear, not the story I think I want to tell. It is about listening with my soul to the song of the cosmic connection that is right in front of me. All I have to do is surrender to the mystery.
About the Moderator